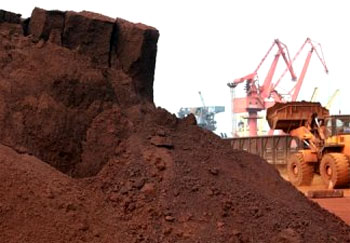 China's blocking of rare earth elements to Japan is easing after Beijing pledged to "speed up" exports amid a thaw between the Asian powers in a territorial spat, traders said Monday.
"Shipments of rare earths started the week before last week at a Tianjing port," an official of Daido Electronics, manufacturer and trader of rare earth-related products based in Gifu prefecture, told AFP.
Another trader specializing in rare earths, who requested anonymity for his Tokyo-based company, said "Procedures at Chinese customs resumed on Monday, although the actual shipments have not started yet."
Tokyo had complained that shipments of Japan-bound rare earth minerals were being stalled amid a territorial row, which stemmed from the arrest of a Chinese trawler captain whose vessel collided with Japanese patrol boats near a disputed island chain in September.
Tokyo has speculated that Beijing was using its near-global monopoly on the trade in rare earths, minerals vital to Japanese high-tech manufacturers, as a weapon in the simmering spat—an allegation rejected by Beijing.
Zhang Ping, chairman of China's National Development and Reform Commission, told Japan's Trade Minister Akihiro Ohata on Saturday that he had "instructed (officials) to speed up inspections at customs, to be more efficient," Ohata told reporters.
Their meeting, along with talks between Japanese Prime Minister Naoto Kan and Chinese President Hu Jintao, took place on the sidelines of a summit of the Asia Pacific Economic Cooperation group of nations in Yokohama, Japan.
Kan and Hu pledged to improve relations in their first talks since the dispute erupted.