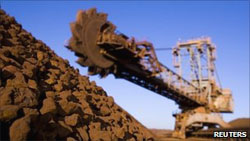 The Organization for Economic Cooperation and Development (OECD) has called on Australia to extend its controversial mining tax to all mining companies operating in the sector. The agency said the planned tax, which has proved very unpopular with miners, was "justified" and should also be extended to all commodities. Under current plans, the tax will only hit the largest miners in some sectors. Several mine firms had threatened to cancel projects because of the tax.
Strong Prospects
Former Prime Minister Kevin Rudd had set the Australian mining tax at 40% of miners' profits.
However, following strong opposition from mining giants, such as Rio Tinto and BHP Billiton, a compromise to set the rate at 30% for coal and iron ore miners was agreed in July with his successor, Julia Gillard.
Only firms with annual profits above AUD$50M (US$49M; £31M) will be subject to the tax.
But the OECD said some of the potential gains from the tax would be lost "by its relatively low level and by its coverage of only larger firms and certain sectors."
"A well-designed resource rent tax extended to all commodities and all companies irrespective of their size would be desirable," the body said.
It also said that the Australian government should use the proceeds from the tax to build up a reserve fund to protect against future economic downturns. It argued that "weaker growth in China" posed a risk to Australia's mining sector. However, the body said that Australia's overall economic growth prospects were "among the strongest" of the 31 countries that make up the OECD.