Dips and dives in the auto industry, the largest end-user of platinum and palladium, are key considerations when looking at prices. Especially important is keeping an eye on whether profits will be rising or falling. How well auto companies do in the next few quarters, and where auto demand will be, should give us a sense of where palladium is headed.
According to the USGS' 2009 and 2010 Mineral Commodities Summaries, American auto manufacturers are continuing to practice "thrifting," which results in lower amounts of platinum in auto catalysts. Also, this leads to the assumption that "automobile manufacturers will continue to change PGMs ratios in gasoline-engine vehicles in favor of palladium." In the past, only platinum had been used in diesel catalytic converters—now, new technologies are allowing them to incorporate up to 25% palladium.
This shift from platinum to palladium, while good for palladium prices, is conversely harming the shorter-term platinum forecast. Lagging demand coupled with no mining/production interruptions in South Africa has caused platinum's value to underperform. (Contrary, certainly, to 2008, when platinum soared to an all-time high of $2,275/oz. following a five-day shutdown of all SA mines, according to the USGS summaries.) Following is a two-year historical graph of platinum prices.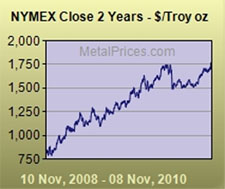 Platinum production may exceed demand by 350–400 Koz. this year. By contrast, palladium will have a shortage of about 600 Koz., the first deficit since 2000, according to GFMS.
Andrew Dunloy, an independent metalsmith and jewelry maker, says palladium is the way to go. "It will be getting big; it ages well and it has a lot of character" and it's still half the price of platinum.
Palladium does not require plating, will not tarnish and is hypoallergenic. As an up-and-coming industrial commodity, palladium should continue to make waves in the jewelry sector.
Winner: Palladium.