As a material with a key role in power generation and an active spot market, uranium deserves periodic review. The market has been moving up. A Bloomberg article last month called out advice from Macquarie Group of significant risk of higher prices in the event of supply disruptions. At the time, uranium prices were $45–48/lb.; since then, and even though there have not been any supply disruptions, prices are now at US$53.50/lb. and annual sales volumes are up a third over 2009.
In some parts of the world, massive nuclear programs are underway as a way to limit carbon emissions and environmental damage from coal. Credit Suisse reports China has 24 reactors under construction, about half of which were started in just the last 12 months. China's target for installed nuclear capacity is 70 GWe by 2020 and with only 11 reactors providing 8.6 GWe at present, the program will require around 60 new builds. According to the World Nuclear Association, such build rates are not unprecedented. During the 1980's, the world was adding one new nuclear reactor every 17 days, including 47 in the U.S., 42 in France and 18 in Japan.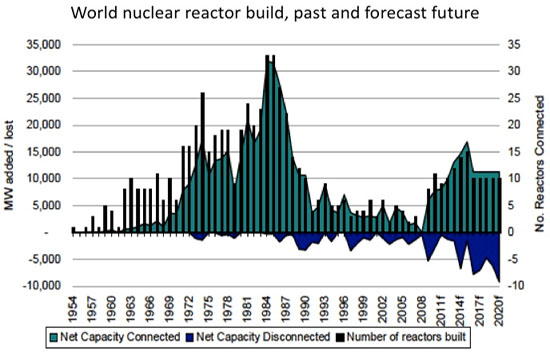 Despite planned reactor new builds, a number of those old reactors are now coming to the end of their lives and, as in the UK, will be replaced later this decade. To some extent, closures will mitigate new builds so that the sum of new capacity added each year will drop as the decade goes on. Even so total nuclear generating capacity is estimated by Credit Suisse as likely to rise from the current level of 373 GWe to approximately 425 GWe by 2014 and 495 GWe by 2020, representing annual growth of about 3%.