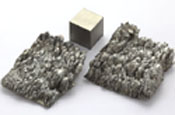 In a quest to reduce dependence on foreign imported oil and natural gas, many countries are turning to green technologies. In July 2010, former CIA Director James Woolsey told a group of over 250 people at Temple Beth Jacob in Los Angeles that if the U.S. could undermine oil's monopoly on transportation, then Americans can free themselves from having to kowtow to "dictators and autocratic kingdoms," such as Saudi Arabia and other OPEC members.
Woolsey compared oil to salt. Through the end of the 19th Century, salt was considered a strategic commodity, making it a source of conflict because it was needed to preserve meat. It was only through such innovations as refrigeration, freezing, etc. that salt was finally stripped of its strategic value, ending the salt wars.
Today, we are faced with a new issue—the ever-increasing concern over energy security. As anxiety over energy security and global warming rose during the 21st Century, the concept of green energy became increasingly prominent. Not only do they reduce the consumption of fossil fuels, but they're also viewed as more environmentally friendly.
Unfortunately, green technologies are turning out to be not that simple. Green technologies rely heavily on rare earth elements (REE), and China dominates the REE industry.
In 2008, the global REE consumption rate was approximately 124,000 tons. Of that, 74,000 tons were consumed by China; 24,500 tons by Japan and 15,500 tons by the U.S. By 2014, global demand is projected to be 180,000–200,000 tpy, with Chinese supplies falling short of global demand.
Countries have been scrambling, trying to secure adequate future supplies of REEs.
In March 2010, Congressman Mike Coffman introduced a bill, the Rare Earths Supply Chain Technology and Resources Transformation Act (RESTART) of 2010, aimed at re-establishing a competitive domestic REE supply chain.