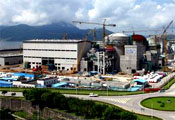 China may be planning to have 86 GW of national nuclear power capacity in 2020, a doubling from the 40 GW planned earlier in 2007, reports
National Business Daily.
According to market rumors, the State Council is currently reviewing the change in target.
Tian Jiashu, head of Nuclear and Radiation Safety Center, estimates that national nuclear power capacity could hit 75 GW in 2020, with 40 GW of capacity under construction.
China Energy Research Society's vice chairman, Zhengjian, forecasts that national nuclear power capacity will hit 80–120 GW in 2020, with 40–80 GW of capacity to be built by 2016.
The Government had in 2007 published plans for the long-term development of nuclear power for the 2005–2020 period with a target of building 40 GW of nuclear power capacity by 2020. At present, the development of nuclear power in China is proceeding faster than expected.