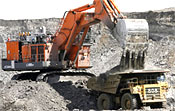 European politicians toured oilsands sites this week. Some European politicians are praising Alberta's oilsands operations after a tour of the region. A 12-member delegation from Europe ended a visit to the province Wednesday morning.
The European Union is currently considering an initiative that would impose a negative label on oil from Alberta. Europe does not buy oil from Alberta, but the European Parliament's influence could damage the province's reputation.
The delegation met with politicians at the Alberta legislature earlier this week and toured a number of oilsands sites Tuesday.
United Kingdom Member Philip Bradbourn said pictures and stories in the media tell a different story from the impression he now has of northeastern Alberta.
"I think. . .we came with a preconceived idea [that] maybe we would be looking at some sort of disaster area and actually we weren't," he said. "We were very impressed with the working together of the provincial government, the national government and the companies there."
"I think we were all satisfied that everything is being done that can be done to mitigate against any damage," Bradbourn said.
The delegation met with members of the environmental watchdog Pembina Institute earlier this week. It will meet with First Nations groups Thursday in Ottawa.