Uranium prices have found a bottom.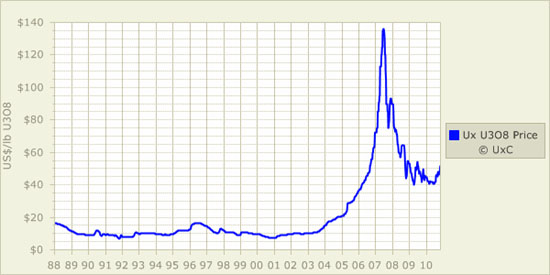 The spot price of uranium has jumped about 25% in the past few months, and small uranium companies like Dennison Mines have almost doubled.
In other words, junior miners are leveraged about four to one.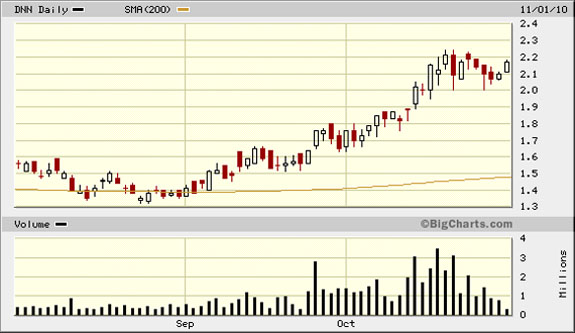 The spot price of uranium bottomed after hitting $40 a pound three times in the past two years.
More recently, the spot price has climbed to $52. This is a clear indication that the supply/demand scenario has evened out.
As you can tell by the first chart above, the price of uranium went parabolic back in the heydays of the super-commodity boom. During this time, the price of oil hit $147 a barrel and ethanol stocks were are the rage among the gamblers.
Kazak Mafia
Not only was uranium supply crushed by the global economic meltdown, but it was also impacted by a surge of new mining from Kazakhstan.
Production from this Central Asian country went from 5 million pounds (Mlb.) U3O8 to 40 Mlb. Kazakhstan now has 15% of the global uranium production.
And yet, in spite of this, uranium prices have jumped 25% in two months.
This is due to other large mines coming up short, and the long-term supply of former Soviet weapons-grade uranium drying up.
For example, both the Ranger uranium mine operated by Energy Resources of Australia Ltd. and BHP Billiton Ltd.'s Olympic Dam suffered production shortfalls.
These companies had to buy uranium on the market to fill their contracts.
In other words, production shortfalls elsewhere have equalized the expansion in Kazakh production. The market has swung to the demand side.
Demand Continues to Grow
According to the World Nuclear Association, there are some 440 nuclear power reactors operating in 30 countries—plus Taiwan, with a combined capacity of over 376 gigawatts (GWe).
In 2009, these provided 2560 billion kWh—about 15% of the world's electricity.
Nuclear power capacity worldwide is increasing, with almost 60 reactors under construction in 15 countries.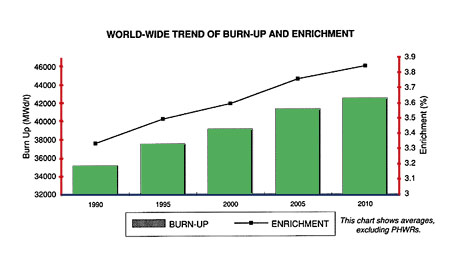 And this market is going to continue to grow over the next decade. . .
Uranium demand is expected to grow by at least 33%. This increase in capacity is needed to fuel the demand for electricity; the OECD expects electricity demand to double by 2030.
New nuclear generating capacity is expected to grow from 73 GWe in 2009 to 807 GWe in 2030.
Nuke Building Boom
New deals and proposals are coming fast and furious, and may make these numbers seem amusingly conservative...
Just today, Vietnam signed two deals on nuclear power plant construction with Japan and Russia. Saudi Arabia is talking with Russia.
Singapore has said, "The use of nuclear energy is going to be a matter of time. . ."
The obvious way to play the rebound in uranium prices is to buy small, highly leveraged uranium miners. I've discovered a company that has been so beaten down they are practically giving it away.
All the best,
Christian DeHaemer