The U.S. government has
dramatically reduced
its estimate for the amount of oil and gas (O&G) found in the
National Petroleum Reserve
—a vast, 23-million-acre expanse of Alaska's North Slope. The new estimate, updating 2002 Bush administration estimates, put the oil reserves at less than 10% of the last estimate, and natural gas reserves at 13% less than the last estimate.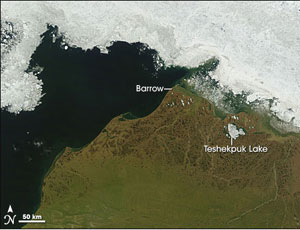 The findings should also cast doubt on estimates for other areas considered ripe for oil and gas exploration, including the Arctic National Wildlife Refuge, a 19-million-acre expanse also found on Alaska's North Slope. Environmentalists, energy companies and their political allies have been battling for years over whether to open that wilderness to O&G exploration.
"These new findings underscore the challenge of predicting whether oil or gas will be found in frontier areas," Marcia McNutt, director of the U.S. Geologic Survey, said in a statement accompanying the release of the new estimate. "It is important to re-evaluate the petroleum potential of an area as new data becomes available."
The new estimate for undiscovered oil and gas in the National Petroleum Reserve (NPR)—896M barrels of conventional, undiscovered oil—could still more than triple Alaska's oil output (250M barrels in 2008), but amounts to only about two years' worth of oil, compared to
the amount the U.S. imports
.
The 53 trillion cubic feet of conventional, undiscovered non-associated gas believed to be in the NPR will remain untapped because there is no pipeline connecting its reserves to markets.
The decreasing estimate of domestic O&G reserves is also a reminder that fossil fuels are a finite resource. Without developing renewable energy sources, the U.S. will be importing oil, from nations friendly and unfriendly, for decades to come—and at a higher and higher cost as reserves dwindle.