Over the past two decades the world has experienced a massive surge in technological innovation and advancement. What is fancy and fastest today will be obsolete tomorrow.
In 2009, total lithium demand reached ~92,000 tons—expressed as lithium carbonate equivalent (LCE)—with batteries comprising 22% of demand. Trending toward compatibility and portability, stereos have become iPods; desktop computers, laptops; and huge cell phones, Blackberries and iPhones.
At the end of 2003, lithium-ion (Li-ion) batteries became the preferred power source, replacing nickel metal hydride (NiMH). Now research is focused on scaling up Li-ion batteries, while containing costs and maintaining safety to become the provider of choice to power electric vehicles (EVs).
We forecast LCE demand will grow to ~137K tons by 2013, based mainly on battery-sector growth. Cell phones have increased >20%, and we expect the number of laptops to increase 30M/year.
Anticipated demand growth has sparked interest amongst major global suppliers, raising oversupply concerns. Exploration has increased significantly with >60 new lithium projects, mainly concentrated in Canada, Australia, Argentina and the U.S.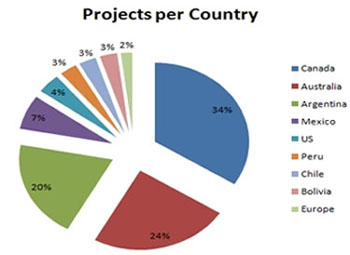 We expect lithium will perform well as developing nations lead the global economy out of the 2008 downturn. EV market anticipation will keep lithium upbeat in the long run, as carmakers are a mob frenzy to be the first manufacturer to commercialize the EV and bring it into the market. We estimate that global plug-in hybrid electric vehicle (PHEV) sales as a percentage of total light duty vehicle sales will reach 1.5% in 2015 and 6% in 2020.
Demand for lithium carbonate, lithium hydroxide and lithium salt in lithium secondary batteries, alone, is projected to rise 14.5% per year to reach 7,462 tons Li (39,552 tons LCE) in 2013. In addition, portable consumer goods will also provide some growth in demand for lithium secondary batteries.