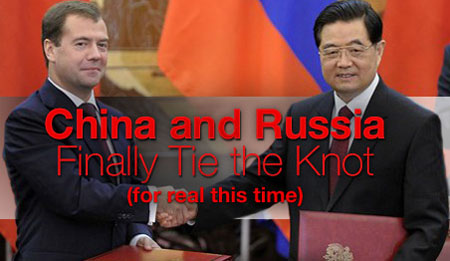 While U.S. energy remains mired in ideologically imbued debates, China and Russia initiated a geopolitical energy deal that will resonate for decades.
During the last week in September Chinese President Hu Jintao and Russian President Dmitry Medvedev inaugurated a new pipeline that would allow Russian oil to be shipped to China which, not unrelated, just surpassed U.S. energy consumption for the first time.
The new pipeline is a southern spur of the massive West Siberia-Pacific Coast pipeline system, currently under construction in Russia with much Chinese financial support. The recently completed pipeline which, in true Chinese can-do attitude, was built in record time, connects Skovorodino in East Siberia with Daqing in China—site of China's largest but declining oil field and the beginning of its pipeline infrastructure.
The pipeline is expected to ship 15 million tons of oil/year (300,000 bpd); and even before oil started flowing, China already requested to double shipments to 30 Mt./year.
Until the pipeline was built, Russia was exporting oil to China by far less efficient and environmentally harmful trucks. In 2009, Russia exported about 180,000 bpd to China—4.4% of the country's total imports of 4.08M bpd—which amounted to more than 50% of Chinese demand. The new oil shipments will increase Russia's share of Chinese oil imports to over 11%. This is bound to increase in the future.
The Russia-China energy deals, in another era, would arguably be considered the largest geopolitical events of the year, bringing together energy-rich superpower Russia with the undeniably emerging economic superpower, but energy-deficient, China. It is a sign of the times and the misplaced national priorities that the news barely received minimum inside page coverage, if at all, in the U.S.