Brazil's been in the news this week following comments by Finance Minister Guido Mantega that a currency war is being waged as countries devalue their currencies in a beggar-thy-neighbor race to export. Mantega, through good management and good fortune, guided the country through a great recession. The economy briefly dipped along with the world's but bounced back strongly, powering ahead for the last year or more. By keeping a close control on inflation, currency reserves and capital inflows—Brazil was praised by IMF for its economic management. Brazil has been riding the crest of a resource wave as iron ore, metals and agricultural exports helped power it to >7.5% growth this year. Inflation is edging up, but for an open economy like Brazil's it's still a respectable 4.57%—particularly when the labor market is as tight as 6.7% unemployment and falling.
What does this have to do with metals? In addition to Brazil's growing economy, steel demand has been strong. Surely the same dynamics must apply to other metals, right? Wrong, aluminum production has remained stagnant this year. YOY production edged up 1.4% in May but was down in the first five months of 2010. While smelters are clearly struggling, demand is rising. Associação Brasileira do Alumíni (Brazilian Aluminum Association) fears the country could become a net importer by 2014 if investments in new capacity are not made.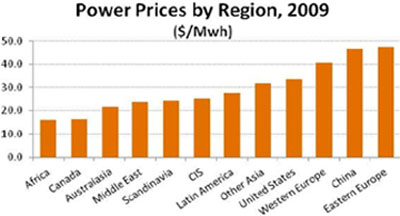 Brazil's problem is power costs. With imports rising, lower-cost suppliers are setting the market price for aluminum domestically and Brazil's smelters are can't compete. Smelters are calling for reduced power costs and taxation to spur investment but with a rising population placing every larger demand on the countries hydroelectric resources the government may be reluctant to subsidize aluminum production at the expense of domestic supply.
It would seem Brazil has an old world problem in a new world setting.