A couple of weeks ago I mentioned the dollar was on the verge of a collapse. My
September 15 article
highlights the imminent breakdown of the U.S. dollar. The dollar has significantly fallen since then and is now reaching extremely oversold levels, as evidenced by the stochastics and RSI. A dead cat bounce may be beginning in the USD, which may put short-term pressure on equities and miners.
Could we be on the verge of the next deflationary crisis? Bernanke said he is still concerned about deflation. The financial system is still under pressure with high unemployment, foreclosures and defaulting credit. There will be further sovereign debt issues from Europe, and weakening in real estate as defaults continue to rise. This tug of war between deflation vs. inflation seems to be an ongoing cycle, and we may have further news surface soon out of Europe.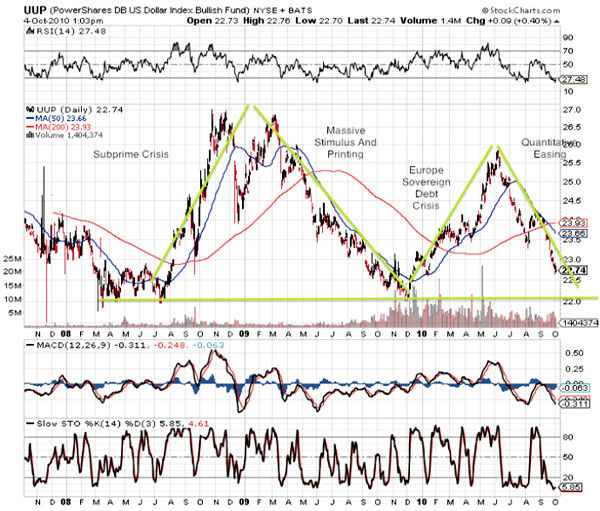 On the dollar chart, you can see the cycles of deflationary periods vs. inflationary periods. The USD is reaching extremely oversold levels and a price floor, which means we may see a dead cat bounce. This may put pressure on gold and silver temporarily. It will provide further market entry points for precious metal investors who enter the trend when gold and silver is on sale and oversold, reaching long-term trend support.
There may be further dissent from central bankers to complete a new round of asset purchases unless we see further debt issues from Europe. Many are concerned about the deteriorating USD and rise in gold and silver, indicating that investors are concerned about the stability of the U.S. currency. This lack of confidence in a sustainable recovery will put into question the past monetary easing of the Fed. The quantitative easing (QE) is not making a sustainable recovery and producing any real economic growth. Although the equity markets have recovered, it's been a direct result of the dollar collapse. The housing market doesn't show any signs of improvement from the record low interest rates and hasn't been able to penetrate its 200-day moving average (MA), which I discussed in the above-mentioned article. The unemployment rate is still high, and the devalued USD is putting further pressure on wage earners.
The falling USD has hurt emerging markets that rely on a favorable exchange rate in order to export goods. Recently, the Bank of Japan had to intervene to push the yen lower. However, that was short-lived as the market shrugged off that news item and reversed higher.
Although the Fed's monetary policies may be good for the equity markets, they're not making a significant impact on the average American. The rapid decline in the USD will spark further pressure on emerging economies, particularly in Asia. This decline in the dollar will increase merger and acquisitions (M&As) in the natural resource sector as many Asian nations becoming net importers of certain commodities try to increase their supply. While the downtrend in the USD has confirmed a short-term bounce from oversold levels, it may provide further buying opportunities in gold and silver.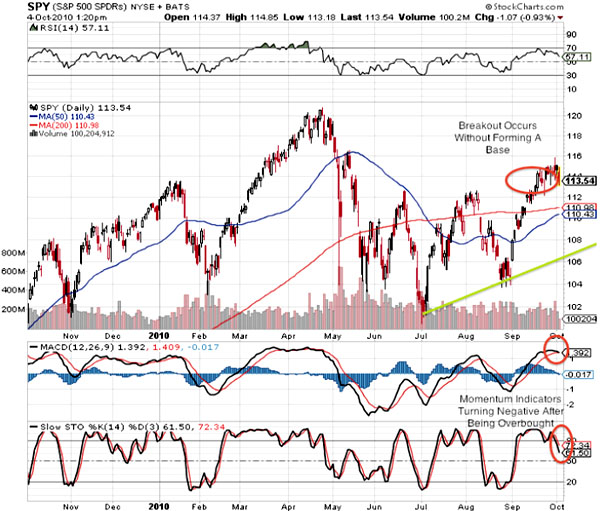 The S&P 500 appears to show signs that the rally is losing steam. The MACD is making a bearish crossover, and the significant rise without any pullbacks shows an extremely volatile move that could see a nasty pullback. The breakout of $114, which I did not expect to occur, seems to be a fake breakout. It occurred without forming any real base. Thursday appeared to be an outside-bar day indicating that the uptrend of September is losing strength. The price volume action is bearish, and now the MACD has made a bearish crossover. Stochastic indicators have also flashed a sell signal from extremely overbought levels. Caution needs to be exercised.
Although gold and silver may be under pressure from a weak equity market and dollar dead cat bounce, I believe it will provide another opportunity for PM investors to enter the trade at a more reasonable level.