Industry supporters of clean coal technology, endorsed by the administration, aim to keep the issue in the public eye and counter environmental critics. "With so much change expected in the next congress, our challenge will be to educate people about the importance of advancing clean coal technology," says Lisa Miller, spokeswoman for American Coalition for Clean Coal Electricity.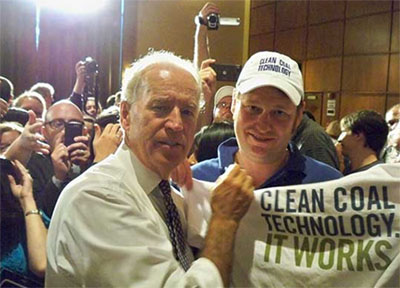 "We think the energy issue can rise above the partisan divides and provide an opportunity for policymakers to. . .solve long-term economic and environmental challenges. Coal and clean coal technology will play a pivotal role in a post-partisan, pro-growth economic and energy agenda."
The industry and organization provide mobile classrooms to show the public and congressional lawmakers how the technology works and how it can cut emissions dramatically by capturing carbon gases. The show has visited several congressional districts.
Even VP Joe Biden has gotten in on the act, holding up a "Clean Coal Technology: It Works" T-shirt for photographers.
The mobile classrooms have also traveled to state fairs and participated in local community events. The campaign comes as protests are heating up to push the federal government deeper into alternative fuels, not coal. It also comes as the administration's push to fund clean coal technology has hit a snag with the Senate's delay in considering the energy bill. Still, the administration is a proponent of the industry's plan, and recently funded another $1M to help develop future generation clean coal technology. "The next big challenge for policymakers. . .should be envision[ing] how a national energy strategy can leverage new technologies to deliver abundant, affordable and cleaner energy whatever the source. Coal and clean coal technology play a big part in that vision and it will be our job to tell that story," says Miller.