Since observing in my September 22nd commentary that the U.S. Dollar Index is "
staring over the edge of the precipice and is ready to plummet
," it has been basically all downhill for the dollar. The Dollar Index over the past seven trading days has dropped 1.74 points, or 2.18%. That is approximately an 88% annualized rate of decline. Clearly, it has fallen over the edge of the cliff. The U.S. dollar is plummeting. The following chart of the U.S. Dollar Index indicates that it has further to fall. . .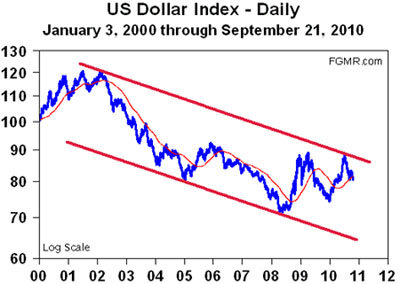 I do not expect the green uptrend line in the above chart to hold. If it doesn't, the Dollar Index will then fall toward its record lows. Given that the Dollar Index is within a major downtrend and that Federal Reserve policies continue to debase the dollar, it would not be surprising to see the record lows in the Dollar Index tested before the end of this year.