Two of our three requirements for a major uptrend developing across the precious metals sector that were set out in the last Gold and Silver Market Updates have now been met—first silver has broken out to clear new highs, then gold broke out above the top line of its potential bearish rising wedge—the only condition remaining to be fulfilled is a breakout by the stocks indices—and that may be imminent. The important complication is that both gold and silver are now critically overbought as a result of being in unbroken uptrends for many weeks and we will come to the implications of that shortly.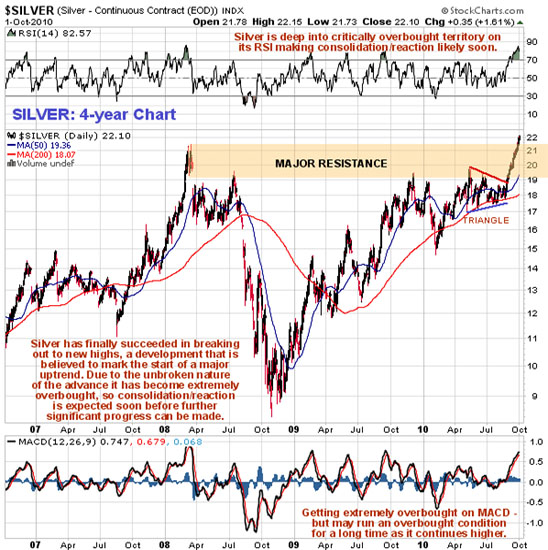 On its 4-year chart, we can see how silver has made a clear breakout to new highs this past week. This is an IMPORTANT BULLISH DEVELOPMENT that is believed to mark the start of a major uptrend in silver. However, the latest gains came at the cost of driving silver deep into critically overbought territory making consolidation/reaction very probable soon. This is evident from the RSI indicator at the top of the chart. Thus, we have a situation where a major new intermediate uptrend has been signaled but where further short-term potential is limited by the extremely overbought condition. What we should therefore look for is consolidation/reaction soon to alleviate this overbought condition somewhat and restore upside potential. The current gap between the price and the 200-day moving average is about $4; but, early in 2008, this gap widened to $7, which gives some idea of the medium-term potential for silver. And there is nothing to say that this gap cannot be wider. While the short-term overbought condition clearly needs to moderate; we should note that silver will be expected to maintain a generally overbought condition for weeks and possibly months as it continues to climb.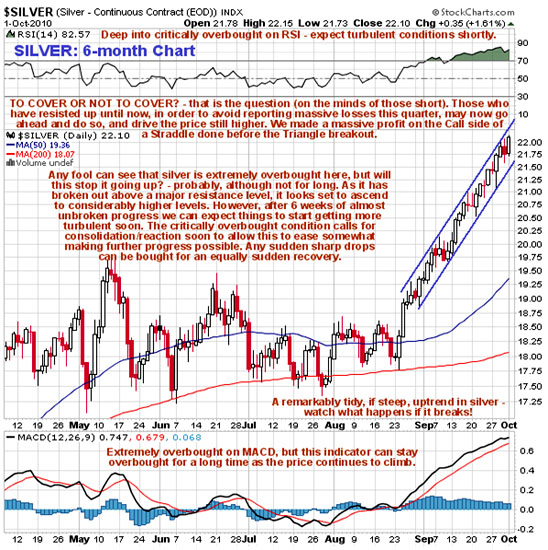 The shorter-term 6-month chart shows that silver has been in a remarkably tidy, if steep, uptrend since it broke out of its triangle in August. Because it's now deep into critically overbought territory on its RSI indicator, failure of the steep uptrend can be expected to lead to a rapid convulsion as short-term traders suddenly hit the exits. However, any such sudden weakness can be bought into as the medium-term trend, which is up, can be expected to suddenly reassert itself once the sudden correction has done its work of easing the overbought condition. We can expect numerous "air pockets" of this type as the price ascends, mostly minor and lasting perhaps a few days, with a few larger ones thrown in to keep traders on their toes. Any such sharp drops can be bought into aggressively. The now large gap with the 50-day moving average is making a "short sharp shock" increasingly likely.
It is obvious that the steep advance of the past few weeks has been fueled in part by a short squeeze, but, with regard to this, it is believed likely that some shorts have held out up to now in order not to book massive losses for the third quarter. Now that we are into October, they may finally decide to "take their lumps"—and their buying in coming days could force the price even higher, resulting in an even more overbought extreme.