Yesterday's forecast in Comex Silver caught the high of the day within $0.01, in theory allowing
Rick's Picks
subscribers to short the December contract moments ahead of a $0.28 plunge. Here's the analysis as it went out Sunday night:
"We've been focused on an important target at 22.505. That's a Hidden Pivot, and I suggest using it as a minimum upside target. However, there is another significant Hidden Pivot at 21.635 with potential stopping power, so I suggest extreme caution if and when the futures get there. The provenance of this target is shown in the accompanying chart, and you don't need to be a Pivoteer to understand why it deserves to be closely watched. Scalpers can attempt shorting with a stop-loss as tight as $0.10."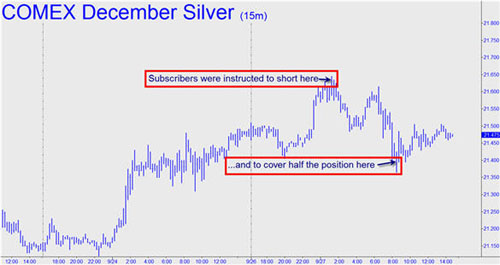 Subsequently, when the futures did indeed fall from an intraday high of $21.645, we advised covering half the position at a price that turned out to be pennies from the intraday low. Here's the update as it was appended to the original trading "tout" at 10:23 a.m. EDT:
"Having topped this morning $0.01 above the 21.635 target, the futures have since fallen $0.25. Cover half of any short position now and use a fixed stop-loss at 21.515 for the rest. That's where the 3-minute chart would turn bullish again. My minimum downside target for the very near term is 21.31; but, at that point, you should check back for further instructions. . .we may want to implement a stop-loss based on the creation of an impulse leg on the lesser charts."
The futures traded no lower than 21.365 intraday, thus we ended the day hypothetically still short a single contract, based on an initial two-contract trade. On paper, the position profit thus far would be about $2,000, based on a settlement price of 21.471.