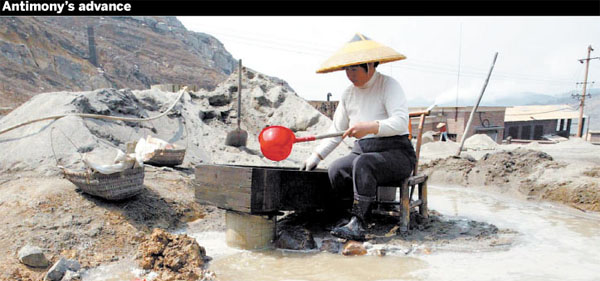 China's efforts to clean its environment are sending some metals prices to record highs as Beijing forces closures of polluting mines and processing plants.
China is the largest producer of minerals and metals ranging from coal and lead to little-known commodities, such as antimony.
The impact of Beijing's environmental push has been felt most acutely in the market for antimony, a metal used for fireproofing items, including children's clothing. China produces 90% of its output.
Lengshuijiang, known as the world's antimony capital, is where much of it is mined. Indeed, China's dominance in antimony is so great that any change in its environmental policy is felt immediately in trading and prices.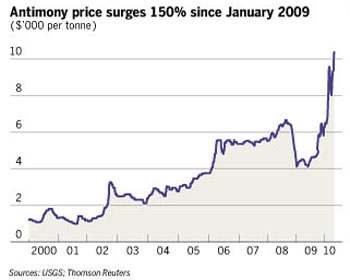 As Beijing has clamped down on polluting mines, the antimony price has risen to a high of nearly $11,000/ton—a 150% increase since January 2009. A decade ago, antimony, for which there are no real substitutes, traded as low as $1,200.
This year, the government's forced mine closures has resulted in about a third of antimony capacity across China being shuttered. The price spikes are hurting users, who have little option but to continue buying the small amounts of antimony available.
"Consumers are hand to mouth due to the high prices," Wogen Antimony Trader Allan Kerr.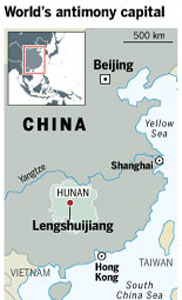 In Lengshuijiang, in a remote area of mountainous Hunan province, officials have closed over 100 illegal mines and processing facilities, leaving only two large processors still functioning.
A handful of other facilities could reopen once they comply with environmental regulations, but the rest will remain permanently closed, industry executives and officials in the area say.
Years of indiscriminate mining have stripped the area's lush vegetation, turning it into a moonscape of naked dirt and mine tailings, or leftovers. One small child was seen playing among the toxic refuse when the Financial Times visited.