Nothing works like gold when you need to hedge against your own currency. . .
WEDNESDAY'S NEWS
that, at last, Standard & Poor's has caught up with the bond market—and the steady trickle of fleeing bank deposits—by downgrading Spanish debt had a marked effect on the euro.
So did Tuesday's downgrade to "junk status" of Greece's government bonds. And the cut to Portugal's credit rating, too.
It all had a marked effect on
gold
as well, not least versus the euro, but also against the USD and Japanese yen—apparently the only beneficiaries of "
Ebola contagion
" in Europe. . .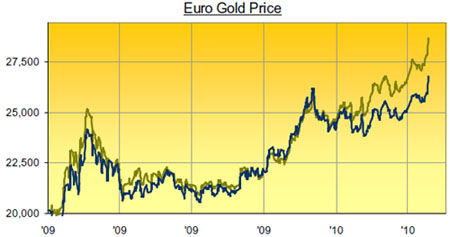 This week's action "demonstrates gold's ability to protect investors from crises that debase their own currency, but not those of other sovereign issuers," reckons Patrick Artus at French bank Natixis.
Investors seeking protection against the debasement of other currencies than their own are being just plain greedy, however, in our humble estimation. The four-month high in dollar
gold prices
should be enough for anyone trying to hide from Greek contagion, especially if they don't share Greece's currency. More to the point, and coming just after Italy's foreign minister called the Greek bail-out "
a rescue for all of us
," the mid-week contagion proves once again that nothing works like gold when you need to hedge against your own currency.
One third of gold's 38% rise vs. the euro since the start of 2009 has come thanks to the single currency's fall on the Forex market. But that only just brings the single currency's drop against gold into line with the dollar's 1, 3 and 5-year performance, however.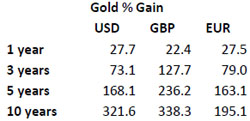 Even trading down to €28,760 per kilo of gold, in short—that "barbarous relic" thrown over in favor of Europe's post-historical unity 10 years ago—the euro has still got a lot of long-term devaluation to go.
No doubt it will get it as well—good and proper—whichever way Germany's politicians jump.
Adrian Ash
BullionVault
Gold price chart, no delay
|
Buy gold online at live prices
Formerly City correspondent for
The Daily Reckoning
in London and head of editorial at the UK's leading financial advisory for private investors, Adrian Ash is the editor of Gold News and head of research at BullionVault—winner of the Queen's Award for Enterprise Innovation, 2009—where you can buy gold today vaulted in Zurich on $3 spreads and 0.8% dealing fees.
(c)
BullionVault
2010
Please Note:
This article is to inform your thinking, not lead it. Only you can decide the best place for your money, and any decision you make will put your money at risk. Information or data included here may have already been overtaken by events—and must be verified elsewhere—should you choose to act on it.