Several Latin American countries have offered their support to Argentina in its long-running territorial dispute with Britain over the Falkland Islands.
This week Britain began drilling for oil in the waters off the archipelago, despite opposition from Buenos Aires, which claims sovereignty over the islands it calls Las Malvinas.
The project has reignited tensions between the two countries, which fought a brief war over the islands in 1982, with Argentine President Cristina Fernandez de Kirchner accusing London of ignoring international law.
Argentina says the natural resources around the islands, which lie in the South Atlantic Ocean off the Argentinean coast, should be protected, and Britain must accept international resolutions labeling the Falklands a disputed area.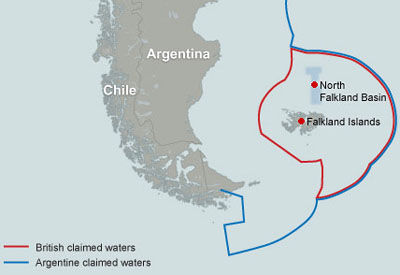 Mexico's President Felipe Calderon weighed into the dispute, saying numerous countries in the region had drafted a document in support of their South American neighbor.
Speaking at a summit of Latin American leaders in the Playa Del Carmen, Calderon claimed Ecuador, Chile, Guatemala, Bolivia and Venezuela had all backed Argentina's opposition to the drilling.
"We have approved a declaration in which leaders of countries and governments present here reaffirm their support for the Republic of Argentina's legitimate rights in its sovereignty dispute with the UK," he said.
On Monday, British oil and gas exploration company Desire Petroleum announced that its Ocean Guardian rig had started drilling an exploration well in the North Falkland Basin, some 100 kilometers north of the islands.
But the prospect of Britain making a highly lucrative discovery in region has infuriated Buenos Aires.
"This has to do with the defense of the interests of Argentineans, not just about sovereignty," Argentine Cabinet Chief Anibal Fernandez said, adding that Argentina lays claim not just to the islands, but to any resources that could be found there.