In the week when a new agreement by European central banks regarding gold sales, only a tiny sale of 0.15 tons of gold was made the week before last and last week saw no sales. In the first few months of the last year of the agreement, beginning on the 26th September 2008, as you can see from the Table below, around 140 tons of gold were sold by the signatories to the Central Bank Gold Agreement. Of these only just under 95.6 tons came from sellers who announced their intentions before they sold at the beginning of the agreement. 10.3 tons have yet to be identified and the E.C.B. sold an unannounced 35 tons as part of the final year's sales of around 140 tons.
This leaves a total of 215.5 tons of announced sales still to be sold. Of these announcements Portugal and Austria have not sold for the last two years [153 tons]. Leaving France selling at a trickle, if at all 50 tons?
So at first glance it appears extraordinary that a new agreement has been announced by the E.C.B. for another five years under which a new lower 'ceiling' of 400 tons of gold per annum has been announced. Where will the other 1,755 tons come from? None of the signatories have announced intentions to sell more gold.
Where will the Gold Come From?
Switzerland has now joined the ranks of those [Italy & Germany] who have made it clear that they have no plans to sell. Indeed, we can only see 50 tons of gold from France being sold in the five years of the new agreement.
A glance at the pattern of selling shows that sales dropped off significantly as 2009 commenced. The last six months has seen only a trickle of sales dropping to the tiny levels we are now seeing and occasionally weeks when
none was sold at all
.
On top of that the number of signatories has increased to number in all, 19 central banks, including the European Central Bank, Belgium, Germany, Ireland, Greece, Spain, France, Italy, Cyprus, Luxembourg, Portugal, Slovenia, Slovakia, Malta, the Netherlands, Austria, Finland, Sweden and Switzerland. Spain and Belgium have sold before despite not announcing sales ahead of the event. But neither have sold for the last two years!
What extremely obvious conclusion can be drawn from this?
That this is an agreement to reassure the market that under no circumstances will gold sales be made from central banks exceeding 400 tons in any one year, an amount that can be absorbed by the market easily.
More positively the realities are that sales of a maximum in one year will be nearer to 50 tons.
Please note the statement from the E.C.B. included this comment,
"The signatories recognize the intention of the I.M.F. to sell 403 tons of gold and noted that such sales can be accommodated within the above ceiling."
The I.M.F. and the New Central Bank Gold Agreement
As to the 400 ton 'ceiling' under the next agreement that comes into force on the 26th September 2009, we can now see that with a clearer perspective. With the I.M.F. hoping to sell that amount over time, or in one go, subject to members final decision later this year, room has been given to them to sell it
in either way
. If sold at one shot to other central banks, such as the Chinese or Russians the sale will fill that year's quota as other central bank signatories remain sidelined. If it is sold over the five years then it will be far less. Bear in mind this is a 'ceiling' not a floor, so allowing the other signatories to remain on the sidelines, not selling! With the I.M.F. still to make the final decision to sell, how and over what time,
whatever is
decided can now be accommodated.
So don't expect new announcements from the signatories to the agreement [of which the I.M.F. is not one] to sell more gold.
This agreement appears to be entirely for the benefit of the I.M.F
.
So it is still possible that the Chinese, Russians, another central bank could buy the 403 tons of IMF gold in one go. We will have to wait until the meeting of the I.M.F. until this is finalized.
The Future Role of Gold is Rising!
But all these central banks will continue to hold gold as a Reserve Asset and an important part of their reserves [as the statement reads] to provide protection, should the monetary system suffer extremely damaging fractures. As the Swiss National Bank put it as they confirmed that they would not be sellers,
"With gold holdings amounting to 1,040 tons, it [Switzerland] holds a substantial part of its currency reserves in the form of gold."
Other signatories clearly feel the same way! This is how they view the future role of gold at the moment.
Please note that China is buying gold [from local production at the rate of 91 tons a year historically] and that Russia is buying in the region of 4 tons a month on average, but bought just under 20 tons in July! The amounts purchased by Russia and China appear to be growing and have eclipsed this agreement entirely. E.g. if Russia continues to buy at this rate it will buy 240 tons in the next 12 months. While China has bought 91 tons on average over the last few years, they have the capacity to raise this to about 250 tons year too! This would exclude the amount of 403 tons, to be sold by the I.M.F. if it is sold at auction. That leaves central banks big net buyers!
Below shows the table of gold sold throughout the agreement and what's left of the announced sales to be sold.
What effect will this have on the Gold Price in the next few years?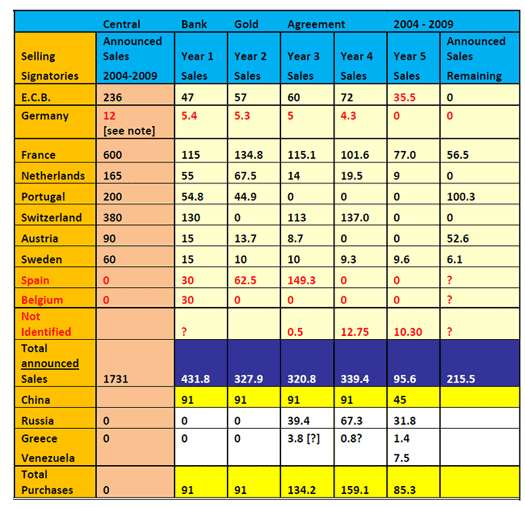 Subscribers onlyTo subscribe, please visit www.GoldForecaster.comGold Forecaster regularly covers all fundamental and Technical aspects of the gold price and specially selected Gold Shares, in the weekly newsletter.
As of the 14th August 2009Notes to table:
This now includes the unannounced sales for both years from Spain & Belgium, which totaled 177.1 tons for the two years.
We have excluded the unannounced sales from the totals as to retain accurate levels of decline in announced sales.
Germany's sales were for coins, which we do not regard as part of the announced sales for the purposes of this report.
The remaining sales for individual countries will be corrected once the three monthly figures are available. The total is the most accurate figure, but will then be adjusted too.
Switzerland's additional 250 tons sold has been included.
We have now included Russia's purchases for last two and a half years.
In the week ending the 14th August 2009, gold and gold receivables remained unchanged.

The full statement of the new agreement reads as follows:
Gold remains an important element of global monetary reserves.
The gold sales already decided and to be decided by the undersigned institutions will be achieved through a concerted program of sales over a period of five years, starting on 27 September 2009, immediately after the end of the previous agreement. Annual sales will not exceed 400 tons and total sales over this period will not exceed 2,000 tons.
The signatories recognize the intention of the IMF to sell 403 tons of gold and noted that such sales can be accommodated within the above ceilings.
This agreement will be reviewed after five years.
This is a snippet from a recent issue of the Gold Forecaster with Subscriber-only parts excluded.
Important Notice:
The fear of a repeat of, or a variation thereof, of the confiscation of gold in the hands of private owners is real. It is not enough to simply hold gold offshore. As is the practice in the U.S. currently, all assets worldwide have to be reported to the I.R.S. and U.S. citizens held accountable thereon. This puts offshore gold within their reach still! So as a matter of prudence, we have designed "The Ultimate Gold Fund" to ensure that your gold cannot be confiscated by central banks! For more information please e-mail us at [email protected] Legal Notice / Disclaimer This document is not and should not be construed as an offer to sell or the solicitation of an offer to purchase or subscribe for any investment. Gold Forecaster - Global Watch / Julian D. W. Phillips / Peter Spina, have based this document on information obtained from sources it believes to be reliable but which it has not independently verified; Gold Forecaster - Global Watch / Julian D. W. Phillips / Peter Spina make no guarantee, representation or warranty and accepts no responsibility or liability as to its accuracy or completeness. Expressions of opinion are those of Gold Forecaster - Global Watch / Julian D. W. Phillips / Peter Spina only and are subject to change without notice. Gold Forecaster - Global Watch / Julian D. W. Phillips / Peter Spina assume no warranty, liability or guarantee for the current relevance, correctness or completeness of any information provided within this Report and will not be held liable for the consequence of reliance upon any opinion or statement contained herein or any omission. Furthermore, we assume no liability for any direct or indirect loss or damage or, in particular, for lost profit, which you may incur as a result of the use and existence of the information, provided within this Report.