Millions of Americans have harmful "forever chemicals" in their drinking water. Clean tech company BioLargo Inc. (OTCQB:BLGO) said testing has shown its technology removes the chemicals to a level of "non-detection," or a level at which science can no longer detect them.
Per- and polyfluoroalkyl substances (PFAS) are long-lasting chemicals that break very slowly over time and persist in people, animals, food, and the environment. DuPont and 3M are facing massive lawsuits over the substances that could rival the tobacco settlement, and more than 200 million Americans have them in their drinking water.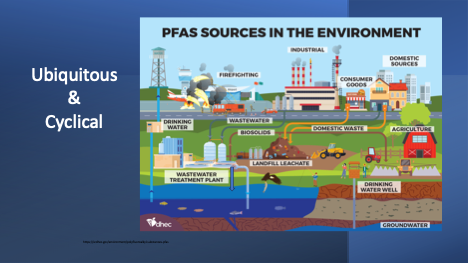 The cost to society of using PFAS across the global economy is as high as US$17.5 trillion a year, according to a recent report compiled by Swedish non-governmental organization ChemSec. The same study found that profits for the world's largest PFAS manufacturers totaled just US$4 billion annually.
The company's first contract for PFAS remediation using its Aqueous Electrostatic Concentrator (AEC) technology is forecast to bring in US$7.5 million. The first phase has been completed, but the pilot client has not yet signed to begin the next phase.
"Management expects the pilot project to still move forward, with revenue commencing in late FY:23 or early FY:24," wrote Singular Research analyst Michael Mathison in a research note. "BioLargo's patented AEC technology is one of the few commercially available technologies."
Mathison gave the stock a Buy-Venture rating with a US$0.28 per share target price.
Technical Analyst Clive Maund of CliveMaund.com wrote that PFAS lawsuits could be a "powerful catalyst" for the company's stock.
"Clearly, if even one of the defendants turns to BioLargo to address clearing up this mess, it should be a Big Deal for the company," he wrote.
Management, in its most recent earnings call, has also reported that it now has a number of new customers who want to engage BioLargo to clean up their PFAS and that the company is working to finalize contracts and get started.
From 'Cradle' to Maturity'
BioLargo's innovations also address industrial and pet odors, treat wastewater, improve energy efficiency, and control infections and infectious diseases.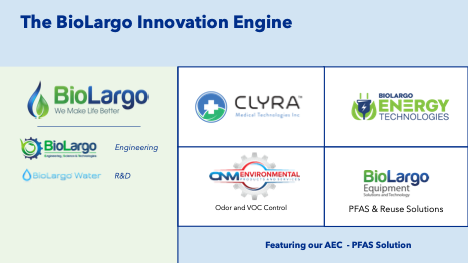 It really is four commercial companies: BioLargo Energy, BioLargo Equipment, ONM Environmental, and Clyra Medical Technologies, all supported by the corporate office, its engineering group, and a research and development team.
Its approach is to invent or acquire novel technologies and develop them into products that solve problems and lead to profits.
"BioLargo Inc. develops and commercializes disruptive technologies by providing the capital, support, and expertise to expedite them from 'cradle' to 'maturity,'" the company said on its website.
The AEC technology is the flagship of the engineering group. In addition to engineering services, the group also provides "environmental detective work" to resolve air quality, water purity, hazardous waste, and OSHA compliance issues.
President and Chief Executive Officer Dennis Calvert said the company was "really bullish on the engineering group," and engineers have been working on expanding PFAS solutions to the point of scale and building commercial readiness, Calvert said.
The Catalyst: Substances Found in All 50 States
Just this week, the Environmental Working Group updated its interactive PFAS map of contaminated sites in America, and it's likely underreported, as Environmental Protection Agency data released last week just looks at 20% of U.S. water systems.
Singular Research analyst Michael Mathison gave the stock a Buy-Venture rating with a US$0.28 per share target price.
The group said there is contaminated drinking water in all 50 states, the District of Columbia, and two territories.
Twenty-eight water systems had PFAS levels above 70 parts per trillion (ppt), the EPA's non-enforceable guideline.
Five systems had a PFAS level of 100 ppt or higher, including the Yeshiva Farm Settlement in New York, which reported 427.6 ppt.
"For decades, millions of Americans have unknowingly consumed water tainted with PFAS," EWG Senior Vice President of Government Affairs Melanie Benesh said. "The widespread presence of PFAS contamination is a huge problem that has persisted for years. This new testing shows that escaping PFAS is nearly impossible."
Thousands of Claims Filed
PFAS are known as "forever chemicals" because they do not break when released into the environment and can build up in blood and organs, EWG noted.
Found in thousands of products, from food packaging to clothing to toilet paper, they can lead to increased risk of cancer, developmental delays in children, hormonal disruption, high cholesterol, and reduced immune system effectiveness, the EPA said.
More than 15,000 claims have been filed nationwide against DuPont and its spinoffs and 3M, major manufacturers of the substance in the U.S., Time reported. So far, they have paid at least US$11.5 billion in damages, an amount that could grow to even exceed "the more than (US)$200 billion paid by Big Tobacco in the 1990s."
Technical Analyst Clive Maund of CliveMaund.com wrote that PFAS lawsuits could be a "powerful catalyst" for the company's stock.
It makes for an ominous precedent for the PFAS companies.
"Not 100% of Americans are walking around smoking tobacco," Erik Olson, senior strategic director for the Natural Resources Defense Council, told Time. "But basically 100% of Americans are walking around with PFAS in their bodies, and none of them asked for that."
BioLargo's AEC technology separates PFAS compounds in an electrostatic field, forcing them to flow across a proprietary membrane system. The company said it removes more than 99% of the PFAS from water at energy costs as low as 30 cents per 1,000 gallons.
Its waste stream is a fraction of that of traditional carbon or ion exchange systems, and the company combines the AEC system with a turnkey collection, membrane exchange, and disposal service. The system is modular, portable, and scalable.
The system is compact, energy-efficient, and creates water with higher purity than other methods, BioLargo said.
Pet Odor Product Drives Revenues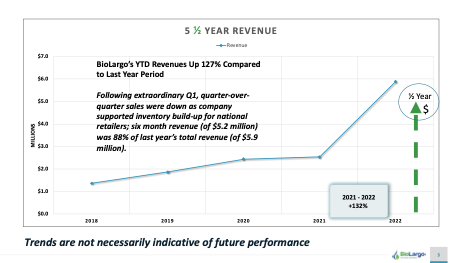 BioLargo recently announced its revenues year-to-date were US$5.288 million, a 127% increase over the same period last year, largely due to the Pooph pet odor control product that has been a surprise for the company.
During the first six months of 2023, the company has already achieved about 88% of last year's revenues (US$5.9 million).
Made by BioLargo subsidiary ONM Environmental and sold by partners at Ikigai, Pooph is finding success at Walmart stores and online at Amazon and now Chewy.com, with more than 12 major retailers now rolling out the product to their stores.
Its availability is expected to go from approximately 2,000 stores as of June 30, 2023, to more than 20,000 retail stores as contracts continue to expand through the end of 2023.
Streetwise Ownership Overview*
*Share Structure as of 7/21/2023
Pooph destroys odors instantly on a molecular level and is clear, odorless, and non-staining while remaining "safe for people, pets, and the planet," the company said.
Ownership and Share Structure
About 14.6% of BioLargo is owned by insiders and management, according to Yahoo Finance. They include Chief Science Officer Kenneth Code with 8.67%, CEO Calvert with 3.41%, and Director Jack Strommen with 1.5%, Reuters reported.
About 0.04% is held by the institution First American Trust, Reuters said.
The rest, about 85%, is retail.
Its market cap is US$45.58 million, with about 288 million shares outstanding and about 247 million free-floating. It trades in a 52-week range of US$0.32 and US$0.1601.
Sign up for our FREE newsletter
Important Disclosures:
BioLargo Inc. is a billboard sponsor of Streetwise Reports and pays SWR a monthly sponsorship fee between US$4,000 and US$5,000.
As of the date of this article, officers and/or employees of Streetwise Reports LLC (including members of their household) own securities of BioLargo Inc.
Steve Sobek wrote this article for Streetwise Reports LLC and provides services to Streetwise Reports as an employee.
The article does not constitute investment advice. Each reader is encouraged to consult with his or her individual financial professional. By opening this page, each reader accepts and agrees to Streetwise Reports' terms of use and full legal disclaimer. This article is not a solicitation for investment. Streetwise Reports does not render general or specific investment advice and the information on Streetwise Reports should not be considered a recommendation to buy or sell any security. Streetwise Reports does not endorse or recommend the business, products, services or securities of any company mentioned on Streetwise Reports.

This article does not constitute medical advice. Officers, employees and contributors to Streetwise Reports are not licensed medical professionals. Readers should always contact their healthcare professionals for medical advice.
For additional disclosures, please click here.