Lithium prices have soared and many related stocks as well. It seems to me, that likely many younger investors have a belief that lithium-ion batteries for EVs is all about lithium. In reality, lithium only makes up about 8.0% of a battery while manganese is 12%, nickel 21%, and graphite a whopping 48%.
I believe the biggest supply constraint will be graphite because not nearly enough investment capital has been applied here like lithium.
Benchmark Minerals Intelligence is the go-to place for battery metals research. They put out their recent findings on January 11th on graphite that is used for the anodes of the batteries.
"Demand for anodes grew by 46% in 2022, compared to a 14% growth in supply for flake graphite. In 2022, the lithium-ion battery anode market became the biggest end-market for natural flake graphite, overtaking the traditional industrial applications including refractory and foundry industries, which will see graphite market fundamentals and pricing increasingly be controlled and guided by the battery market. "
"This supply/demand imbalance during 2022 caused prices for -100 mesh flake graphite to rise by 25%, a trend which Benchmark anticipates to continue into 2023 on the back of incremental supply-side expansions in comparison to surging demand from the anode sector."
The other anode supply is synthetic graphite which is mostly made in China, but it is not very environmentally friendly. As a feedstock, they use petroleum or coal coke, but then it must be heated to very high temperatures. Northern Graphite Corporation (NGC:TSX.V; NGPHF:OTCQX)
Fossil fuel furnaces were not capable and the process could not be done until electrical arc furnaces were made to make the synthetic graphite they run at temperatures from about 2300 to 3000 degrees Celsius.
This is very energy intensive and the feed-stock, coke prices have risen substantially. Demand for this is high too as synthetic graphite anode supply grew by more than 30% during 2022, mostly supplying China battery makers.
China produces around 65% to 70% of the world's mined graphite supply, so a producer in the Americas or Europe is going to be looked at more favorably given geopolitical issues with China as well as the move away from China to resolve supply chain issues.
Many of you remember Northern Graphite Corporation (NGC:TSX.V; NGPHF:OTCQX) as we did very well with the stock in the past. I mentioned NGC last October and commented that the company has changed and advanced so much that it deserves a more in-depth look, so here we go.
The trajectory of NGC looks to make them a world leader in the graphite and battery market.
This slide from NGC's presentation gives a great summary of graphite in batteries.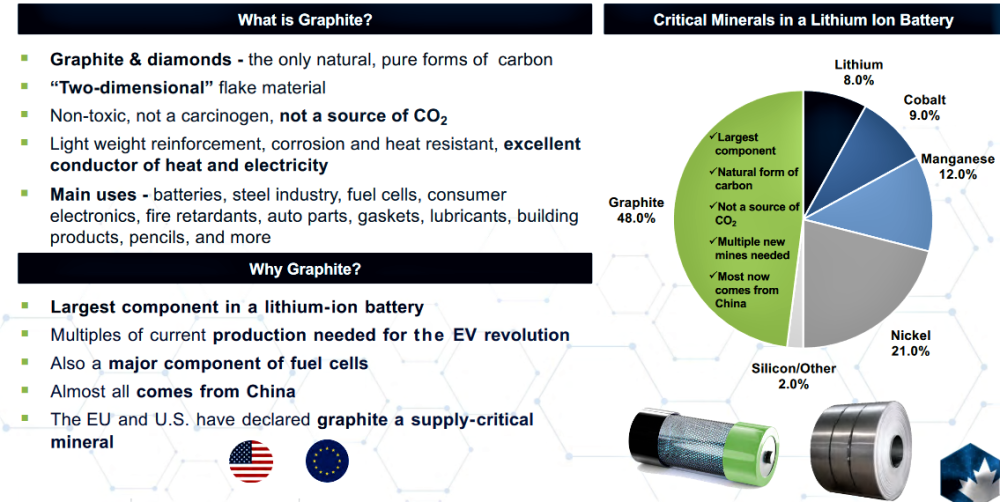 Another important aspect of graphite mining is to work with spherical coated graphite (SPG) or battery anode material (BAM) manufacturers to make your product viable for the battery market.
Northern Graphite Highlights
Northern Graphite: Shares Outstanding 121 million
NGC has JV'd with Graphex, the world's third-largest graphite BAM producer.

NGC acquiring 50.1% of NeoGraf, the world leader in graphite material science.

Only North American graphite producer with 15ktpa production.

With Namibia production, NGC will be the third-largest ex-China graphite producer.

Imerys acquisition gave NGC a competitive advantage.

Namibia production can easily be restarted at 31ktpa and then expand to over 100ktpa.

The construction-ready Bissett Creek property in Ontario provides strong future growth.

45-cent warrants expired about two weeks ago, taking the lid off the stock.

Share price is well below Sprott's major financial level at $0.75.
Management
I have known Cam Birge for about 20 years and invested through him at Bissett Creek when it was private. I got to know Greg Bowes when he joined NGC 13 years ago and I can say you won't find more honest and hard-working management.
Gregory B. Bowes, B.Sc. (Geology), MBA, P.Geo. Chairman has over 30 years of experience in the resource and engineering industries. In January 2023 Greg was appointed Chairman of the board. From June to December 2022 he was the Executive Chairman.
As CEO he lead Northern Graphite for over 13 years, a role which culminated in the financing and acquisition of Imerys' natural graphite division. He was previously Senior VP of Orezone Gold Corp. (ORE:TSX)and Chief Financial Officer of its predecessor, Orezone Resources Inc.
Cam Birge, B.A., B.Ed., M.Sc. Director has over 20 years of experience advising public and private companies in Canada, the United States, and Mexico. He also has over 20 years of experience in public and private education, including five years as an Adjunct Professor of Business and twice as elected Head of the Graduate Business Department at the United States International University, Mexico City campus.
He was the founder of Industrial Minerals, the original owner of the Bissett Creek graphite project, and was responsible for the management change that led to the formation of Northern Graphite Corporation. Mr. Birge previously was the VP of the Trust for Sustainable Development and was instrumental in successfully negotiating the US$3 billion Loreto Bay development project with the Mexican federal government.
Hugues Jacquemin, Bsc Hons. Dipl. Esp. CEO has over 30 years of senior management experience growing specialty materials businesses for listed Fortune 500 companies. This includes a broad spectrum of industries including graphite mining and processing, lithium-ion and other battery materials, fuel cells and hydrogen production, graphene and carbon nanotubes, synthetic graphite, and carbon materials as well as carbon and glass fiber composites.
He joined as CEO in June 2022, immediately closing Northern's option to acquire Mousseau West to extend the LDI mine life (80km away). Hugues didn't waste time, updating the Okanjande (Namibia) PEA in 3Q22 for a 31ktpa restart for just US$15m, but with a contained 2Mt of graphite making expansions to 100-170ktpa feasible, similar to Bissett Creek.
From April 2014 to September 2018, Hugues was CEO of the Graphite and Carbon Division of Imerys S.A. where he led the development of the Namibian Graphite mine as well as spearheaded a large investment program to develop a full line of Li-Ion battery materials for the fast-growing EV market.
From September 2018 to April 2020 Hugues was the CEO of the Americas for OCSIAL a leader in the Carbon Nanotube industry. From February 2021, he acted as an independent expert for NINE58 Advisors, an arm's length investment advisory firm based in the United Kingdom which advised Northern on the acquisitions of the Lac des Iles and Namibian Graphite mines from Imerys.
Hugues Jacquemin has brought in senior executives from his previous management teams at Imerys and Owens Corning to lead the Company. It is remarkable to have a multi-billion dollar corporate executive team.
Properties
Northern Graphite has three graphite projects — Lac des Iles mine in Quebec, the Bissett Creek graphite deposit in Ontario, and the Okanjande mine and a processing plant in Namibia.
The Lac des Iles graphite mine in Quebec (LDI) is the only significant graphite producer in North America. LDI has been in operation for over 20 years. It will produce up to 15,000 tpy of graphite concentrate over the next two to three years of remaining reserves.
NGC plans to expand production and extend the mine life by securing sources of ore from other locations. NGC acquired 100% interest in the Mousseau West Graphite deposit on October 5, 2022.
This property is located approximately 80 kms, and in economic trucking distance, from the Lac-des-Iles graphite mine in Quebec.
Mousseau West consists of 12 claims totaling 489 hectares in size. It is located approximately 150 kms north of Montreal in the Mont-Laurier area and can be accessed from Highway 117 over 12 kms of good quality logging roads. The Mousseau West deposit outcrops at surface making it very suitable for an open pit quarry. Mousseau West's 4.1Mt at 6.2% Cg could extend the LOM at Lac des Iles by up to 10 years.
The deposit has not been closed off by drilling and other conductors exist on the Property and represent additional exploration targets. NGC intends to update the resource estimate and complete a Preliminary Economic Assessment.
Namibia, Okanjande Graphite Deposit and Okorusu Processing Plant
NGC's Namibian operations consist of the Okanjande graphite deposit, located 22km south of the town of Otjiwarongo, and the Okorusu processing plant. Capital improvements had been underway at the plant to increase throughput and recovery.
This project can provide near-term growth in 2023/2024.
Namibia offers low-cost +30ktpa restart, which once complete would make the company the third-largest ex-China graphite producer. Namibia's large resource means it can start small selling to conventional markets (LDI books >US$1,500/t, ~2x peers) as it qualifies for fast-growing EV markets, potentially supporting expansion to 170ktpa.
Last July, Northern Graphite completed a preliminary economic assessment (PEA) for the restart of the Okanjande/Okorusu graphite operation. The report, concludes that Northern can bring the project back into production by mid-2023 at an average production level of almost 31,000 tonnes per annum of graphite concentrate with a C1 production cost of US$775/tonne.
The capital required to initiate production is US$15.1 million, which includes the installation of a new, two-stage grinding circuit, additional regrind equipment in the flotation plant, and a new tailings storage facility.
The PEA indicates very robust project economics with a post-tax internal rate of return (IRR) of 62%, a post-tax net present value (NPV) of US$65 million, and a payback of under two years based on a 10-year project life and a weighted-average graphite price of US$1,500/tonne.
NGC announced the start-up of operations in Namibia has been pushed back due to COVID-related delays in the shipment of new grinding mills from China. These delays present the opportunity to evaluate a potentially more sustainable and economically attractive development scenario for the Namibian operation.
This involves installing the new mills in a plant that would be built at the Okanjande mine site. While this would further delay the start-up of operations and require additional capital, it would eliminate more transportation costs and result in much better project economics.
Bissett Creek, Ontario
Bissett Creek mining leases and surrounding claims are located 17km from the Trans Canada Highway between the cities of Ottawa and North Bay, Ontario, Canada. The site can be accessed by a good quality all-weather road and labor, natural gas, equipment, supplies, rail lines and water are all readily available.
In 2021 Bissett Creek concentrates were independently tested by ProGraphite in Germany. It is one of the world's leading graphite R&D laboratories and concluded they are high value, quality, and well suited for batteries.
An independent study by Benchmark Mineral Intelligence said "Bissett Creek will have the highest margin of any existing or proposed graphite deposit. That is largely due to the simple metallurgy and the high-quality, large flake nature of its concentrates."
The plan is for Stage 1 production at 40,000 tonnes/year in 2025 and expanding to 80,000-100,000 as demand grows.
Battery Production Capability and Other Graphite Products
NGC is much more than a mining company and especially with the February 13th news. NGC announced an agreement with Edgewater Capital Partners to acquire an ownership 50.1% controlling interest (33.3% equity) in NeoGraf Solutions, LLC.
NeoGraf is a leading provider of specialty, value-added products manufactured from natural graphite and has a strong intellectual property portfolio and a blue-chip customer base. NeoGraf is one of Northern's largest customers. This investment will enable Northern to integrate downstream into the manufacturing of graphite products for a number of high-growth markets including lithium-ion batteries/EVs, fuel cells, graphene and nanomaterials, thermal management in consumer electronics, smart building products, and fire retardants.
Under the terms of the agreement, Northern has a six-month option to acquire an effective 50.1% voting interest and a 33.3% equity interest in NeoGraf and also has the option to increase its interest up to 100% at a later date subject to the terms and conditions of the agreement. NGC has the backing of Sprott who is a major shareholder and will act as financial advisor to NGC on this deal.
This is a huge deal because of what NeoGraf says on their website — NeoGraf is the world leader in graphite material science — and we have been for over a century. It's why engineers and material scientists around the world continue to rely on NeoGraf — we're the key ingredient that makes the future possible.
NeoGraf has a 395,000 sq. ft. manufacturing facility on 22 acres in Ohio and over 100 employees. This screenshot from NeoGraph's website says it all.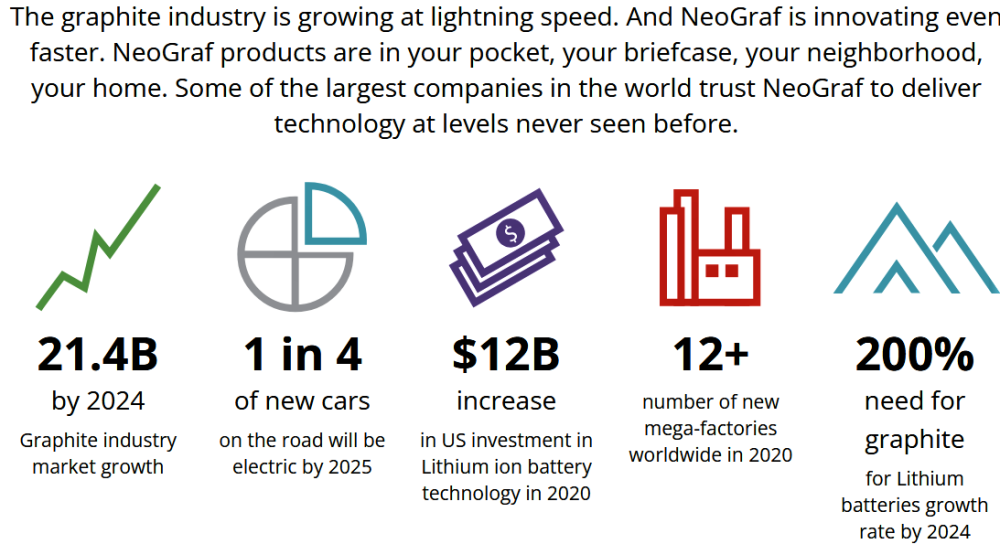 Comments from the February 13th news release:
Hugues Jacquemin, Northern's CEO commented, "The NeoGraf transaction is a major step toward integrating downstream to capture a greater share of the value chain and creating an industry-leading mine-to-market natural graphite company with the ambition to produce low carbon footprint products." He added that "We are very pleased to be partnering with Edgewater which will enable us to complete the transaction in a very capital-efficient manner. The combination of Edgewater's performance materials expertise and our knowledge of the graphite industry will help enable NeoGraf to achieve its full growth potential."
Drew Walker, CEO of Neograf commented, "Similar to NeoGraf, Northern is a noted thought leader in the worldwide graphite industry, an industry which sits at the center of several megatrends that will drive outsized growth opportunities for our products. Together, Northern and NeoGraf will be a powerful combination in the development of high-performance technical solutions that address our customer's application-specific needs. Additionally, Northern provides NeoGraf with greater security of supply and expands the geographic regions from which we source our graphite. This will be a key advantage as we execute our shared vision for growth."
NGC also has an agreement with Graphex Technologies a subsidiary of Graphex Group Ltd. (GRFX:NYSEAMERICAN).
The intent is to combine NGC raw material supply with Graphex's downstream processing expertise. Graphex is building a 15k tonne production site in Michigan US. NGC has announced they will build a 200k tonne BAM production site in Baie-Comeau, northeast of Quebec city.
In the December 21, 2022 news release — Hugues Jacquemin, Northern Graphite's chief executive officer, commented: "Collaborating with an existing anode material producer that has established technology and expertise will enable Northern to leapfrog the product development stage and to shorten both the product qualification period and our time to market. We look forward to working with Graphex to establish a secure, transparent supply chain for battery anode material in both North America and Europe."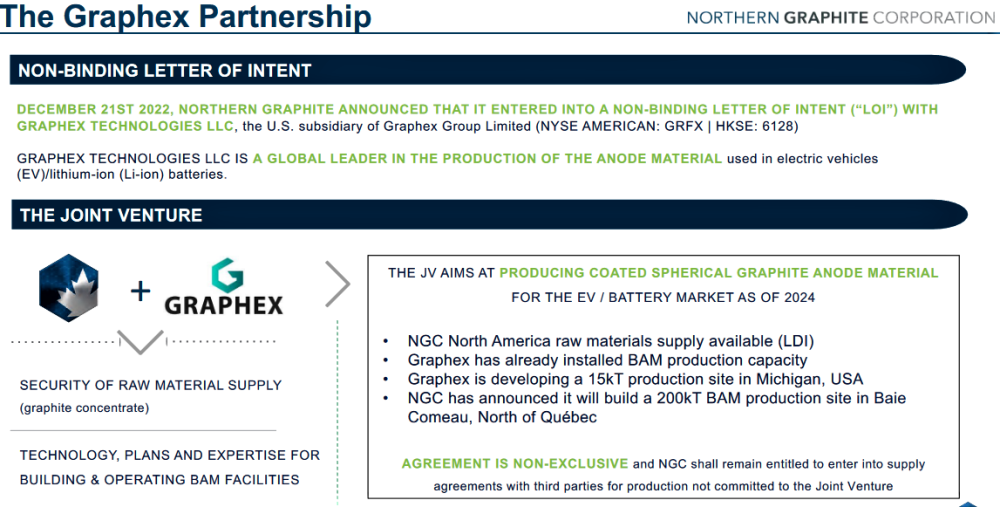 Financial
US$58 million was raised through Sprott to complete the Imerys acquisition and fund the Namibia Okanjande restart. The financing included US$36 million in debt, royalty, and stream financing provided by funds managed by Sprott Resource Streaming and Royalty Corp. and a CA$23 million equity offering lead by Sprott Capital Partners LP. Sprott invested CA$3.75 million in the equity offering and Imerys has received US$4 million in equity, on the same terms as the equity offering, as partial payment of the purchase price.
The brokered private placement of 30,762,500 subscription receipts was issued at a price of CA$0.75. Each unit is comprised of one common share and one-half of one share purchase warrant of Northern. Each whole warrant is exercisable to purchase one common share of Northern at an exercise price of CA$1.10 per Common Share for a period of 24 months
Financial statements end of September 2022 reveals CA$4.5-million generated based on 2,184 tonnes sold at an average realized sales price per tonne of graphite concentrate sold of CA$2,053/tonne (US$1,572/t). Concentrate sales of 2,184 tonnes were achieved in the third quarter. The sales staff has expanded, and new markets/customers successfully accessed in North America and Europe. The company expects sales to increase close to 4,000 tonnes per quarter in 2023 based on existing orders.
Working capital of US$27.5-million as of Sept. 30, 2022, and long-term debt of US$15.3 million. Working capital includes US$18.4 million of inventory consisting of 6,648 tonnes of graphite concentrate and approximately 7,000 tonnes of recoverable graphite in the ore stockpiles.
While inventories are recorded at cost, their market value is significantly higher and they represent a substantial source of future liquidity.
Income from mine operations was US$800,000 and I expect this to improve in 2023 with higher sales. An operating loss of US$900,000 was recorded, which includes general and administrative expenses, project evaluation, acquisition and integration costs, and a foreign exchange gain. A net loss of US$4.8 million (four cents per share) was recorded, which includes a non-cash, US$3.1 million foreign exchange loss on financial instruments.
Summary
"All these gigafactories around the world are being built without even thinking about building the mine capacity alongside. That's now coming back to bite the industry quite hard," Simon Moores of Benchmark Mineral Intelligence told the audience at the Vancouver Investment Conference, at the end of January.
Back in 2015, Benchmark Mineral Intelligence was tracking just three gigafactories — today that number has risen to 350, of which 145 are active. Battery plants in the pipeline mean battery raw material demand will grow about tenfold.
Graphite requires the largest production increase of any Battery Mineral. If the world is to meet the increasing demand for battery metals by 2035 without recycling, it will need more than 200 new battery mineral mines.
As you can see from these next two graphs showing graphite demand and NGC's expanding production plans, they are positioned perfectly to take advantage of the strong growth in EV batteries and graphite.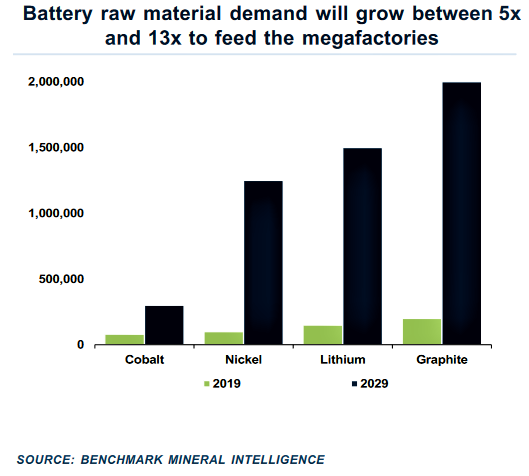 More important to understand, NGC is moving from mining to downstream products that will capture a major share of the value chain. NGC is on a path to be a world leader in graphite mining and graphite products.
I also want to add, that NGC has a big foot in the nickel market too. Voisey's Bay is one of the world's most significant nickel/copper/cobalt mines. Northern's South Okak property had some of the best drill holes outside of the Voisey's Bay deposits. Independent geophysicists are excited about its potential and this summer's pending drill program should reveal what South Okak has.
The South Okak property is located along the main structural break that hosts the high-grade Voisey's Bay mine. You can watch a CEO interview about the project on youtube. Also note on page two above that after graphite, nickel is the next largest component in lithium batteries.
The technicals on the chart are great for a good entry point. The stock broke to the upside in early January from a wedge pattern and ran to test resistance at US$0.70. Strong support is around high US$0.40s to low US$0.50s.
So, you can buy the stock now in a strong support zone and well below the last finance level at $0.75.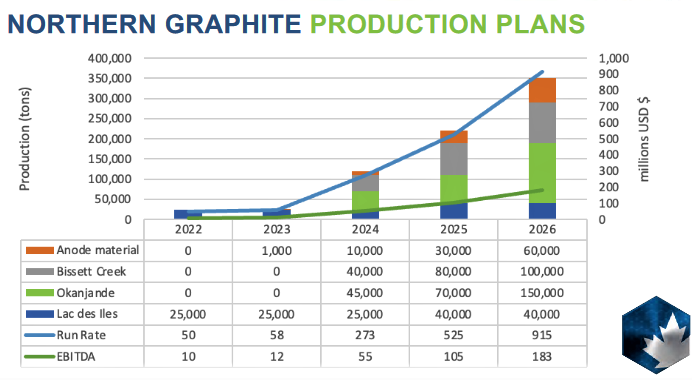 For your interest, I included this chart that Sprott sourced from Bloomberg on NGC's history.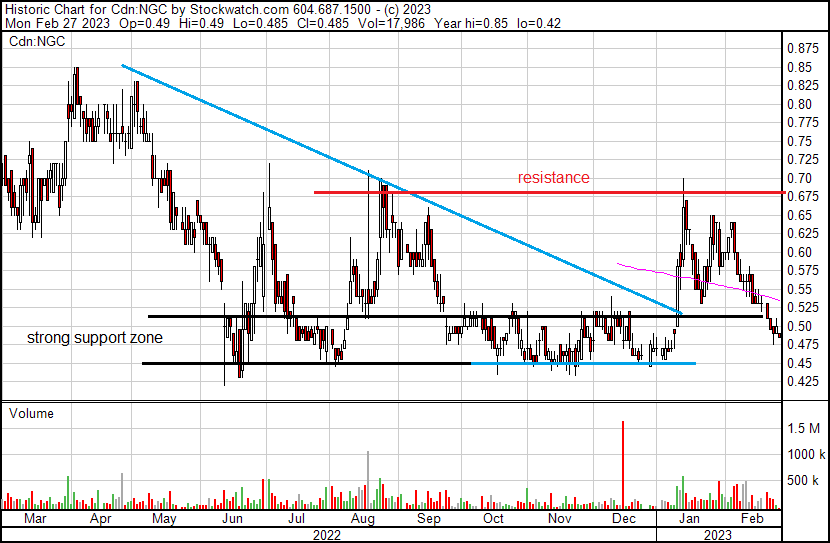 | | |
| --- | --- |
| Want to be the first to know about interesting Cobalt / Lithium / Manganese, Special Situations and Battery Metals investment ideas? Sign up to receive the FREE Streetwise Reports' newsletter. | Subscribe |
Struthers Stock Report Disclaimers:
All forecasts and recommendations are based on opinion. Markets change direction with consensus beliefs, which may change at any time and without notice. The author/publisher of this publication has taken every precaution to provide the most accurate information possible. The information & data were obtained from sources believed to be reliable, but because the information & data source are beyond the author's control, no representation or guarantee is made that it is complete or accurate.
The reader accepts information on the condition that errors or omissions shall not be made the basis for any claim, demand or cause for action. Because of the ever-changing nature of information & statistics the author/publisher strongly encourages the reader to communicate directly with the company and/or with their personal investment adviser to obtain up to date information.
Past results are not necessarily indicative of future results. Any statements non-factual in nature constitute only current opinions, which are subject to change. The author/publisher may or may not have a position in the securities and/or options relating thereto, & may make purchases and/or sales of these securities relating thereto from time to time in the open market or otherwise. Neither the information, nor opinions expressed, shall be construed as a solicitation to buy or sell any stock, futures or options contract mentioned herein. The author/publisher of this letter is not a qualified financial adviser & is not acting as such in this publication.
Disclosures:
Charts provided by the author.
1) Ron Struthers: I, or members of my immediate household or family, own shares of the following companies mentioned in this article: Northern Graphite. I personally am, or members of my immediate household or family are, paid by the following companies mentioned in this article: None. My company currently has a financial relationship with the following companies mentioned in this article: Northern Graphite could become a future advertiser at playstocks.net.
I determined which companies would be included in this article based on my research and understanding of the sector.
2) The following companies mentioned in this article are billboard sponsors of Streetwise Reports: None. Click here for important disclosures about sponsor fees. The information provided above is for informational purposes only and is not a recommendation to buy or sell any security.
3) Statements and opinions expressed are the opinions of the author and not of Streetwise Reports or its officers. The author is wholly responsible for the validity of the statements. The author was not paid by Streetwise Reports for this article. Streetwise Reports was not paid by the author to publish or syndicate this article. Streetwise Reports requires contributing authors to disclose any shareholdings in, or economic relationships with, companies that they write about. Streetwise Reports relies upon the authors to accurately provide this information and Streetwise Reports has no means of verifying its accuracy.
4) This article does not constitute investment advice. Each reader is encouraged to consult with his or her individual financial professional and any action a reader takes as a result of information presented here is his or her own responsibility. By opening this page, each reader accepts and agrees to Streetwise Reports' terms of use and full legal disclaimer. This article is not a solicitation for investment. Streetwise Reports does not render general or specific investment advice and the information on Streetwise Reports should not be considered a recommendation to buy or sell any security. Streetwise Reports does not endorse or recommend the business, products, services, or securities of any company mentioned on Streetwise Reports.
5) From time to time, Streetwise Reports LLC and its directors, officers, employees, or members of their families, as well as persons interviewed for articles and interviews on the site, may have a long or short position in the securities mentioned. Directors, officers, employees, or members of their immediate families are prohibited from making purchases and/or sales of those securities in the open market or otherwise from the time of the decision to publish an article until three business days after the publication of the article. The foregoing prohibition does not apply to articles that in substance only restate previously published company releases.