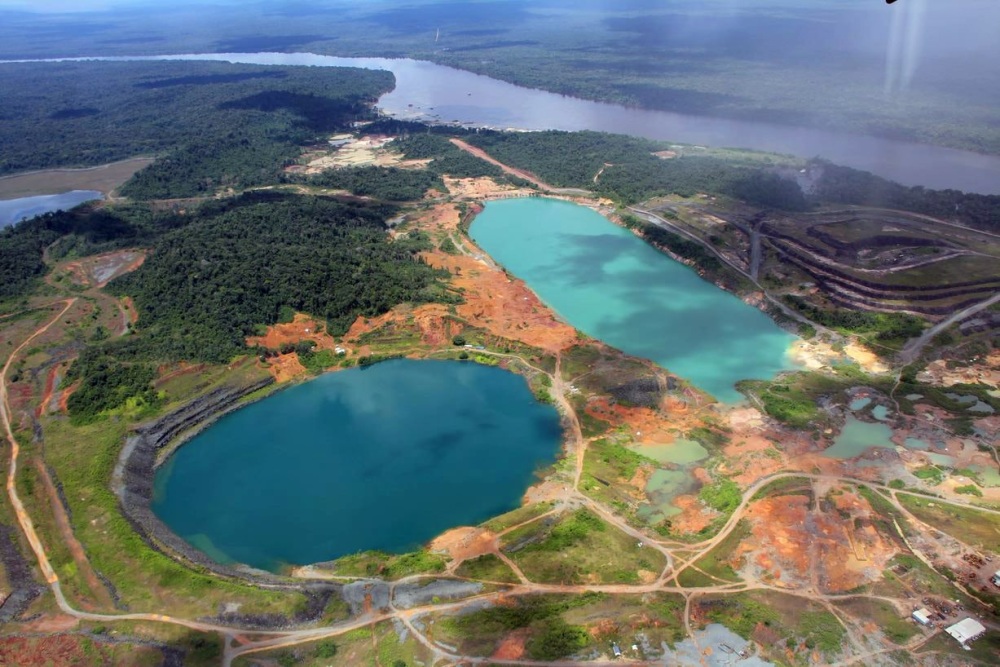 Although the U.S. dollar index recently broke through levels not seen since 2003, indicating great strength, caused by already announced and anticipated Fed rate hikes to counter the multi-decade high inflation levels, gold is still trading around $1850/oz. As the Russia-Ukraine conflict is still far from over, and markets are frothy over a potential looming recession, gold as the ultimate fear trade appears to be holding its ground firmly.
As an advanced gold explorer, Omai Gold Mines (TSXV:OMG) seems to be looking at the right metal, as they are in the midst of an ongoing trenching and drill program at their Omai Gold project in Guyana, after raising CA$2.6M, as a second and last tranche of CA$600k was closed on April 27, 2022.
Most of this financing came from a large UK gold fund that knows Guyana and recognizes the potential in this stock, jumping in at $0.12/share. New drill results were recently announced, stepping out 100 meters to the west at Wenot, and generated economic results, much to the delight of management.
As a reminder, Omai Gold Mines already has delineated the Wenot deposit with a 2022 National Instrument 43-101 resource estimate of 1.64 million oz (1.64 Moz) at 1.5 grams per tonne gold (1.5 g/t Au), another adjacent mineralized envelope (Fennell) has a historic resource estimate of about 1.5 Moz at 1.5 g/t Au. Omai is now expanding Wenot.
On May 27, 2022, Omai Gold Mines announced the first results of the ongoing exploration program at their Omai gold project in Guyana. The company already completed five diamond drill holes totaling 1,423m west of the Wenot deposit commencing at the end of March, and a sixth hole is underway. Eight drill holes west of the Fennell target for 1,213 meters and several trenches were also completed during February-April. An overall view of exploration can be seen on the map below, with among others the highlight holes 220DD-033/038/039 being featured, also discussed in the May 27, 2022 news release (and this article).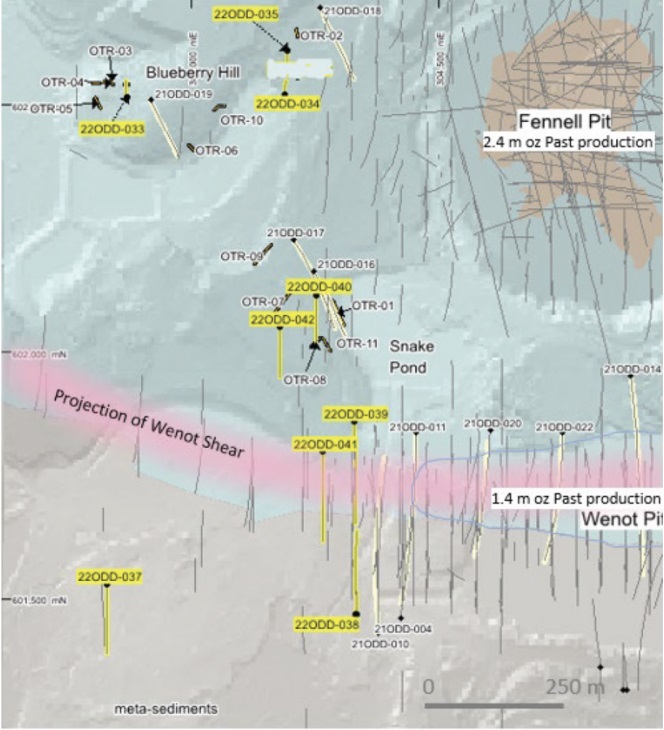 The results of these drill holes were solid:
Hole 22ODD-038 (West Wenot) 8.5 meters at 5.01 g/t Au from 215 meters
Hole 22ODD-039 (West Wenot) 17.1 meters at 2.32 g/t Au from 264 meters
Hole 22ODD-033 (Blueberry Hill) 0.9 meter at 41.73 g/t Au from 151 meters
Although these results were intercepted from significant depths, especially hole 039, this could still be economic ore, as real dmepth is 110 meters for hole 038 and 140 meters for hole 039, due to the inclination of both holes. The drilling for the West extension of Wenot can also be viewed in this section on the left.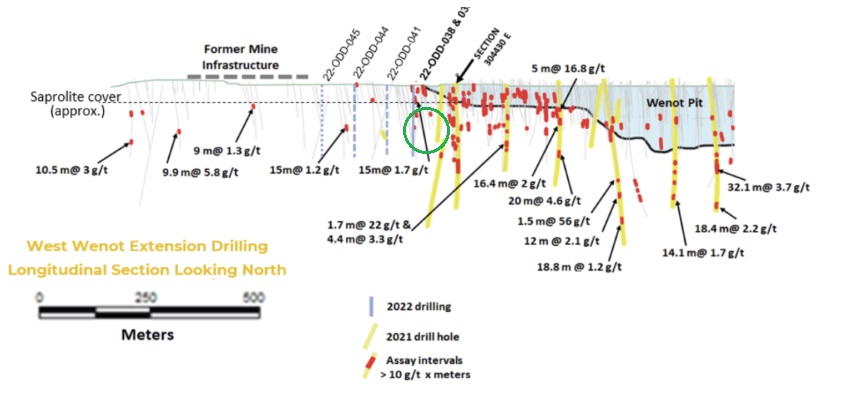 CEO Elaine Ellingham was excited about these first two results at Wenot.
"We are very pleased that our drilling has established that the Wenot shear zone extends to the west and continues to host significant gold mineralization. The gold mineralization in these new holes is similar to the main zones at Wenot," she said. "We recently deployed the second drill to commence step out drilling on the eastern extension of the Wenot deposit, roughly two kilometers to the east. Our objective is to work towards a revised NI 43-101 Wenot resource, assuming favorable results continue as we explore both the east and west extensions of the Wenot shear. Expanding the Wenot resource into these un-mined areas is significant for an ultimate mine plan as these could contribute to lower-strip-ratio starter pits for the larger Wenot deposit."
As these two results in themselves are hitting gold at significant depth and would have a substantial strip ratio related to the gold contents, and were drilled under a 50-degree inclination, I wondered if management anticipates more mineralization at lower depth, as part of vertical mineralized lenses as is the typical geological concept at Wenot.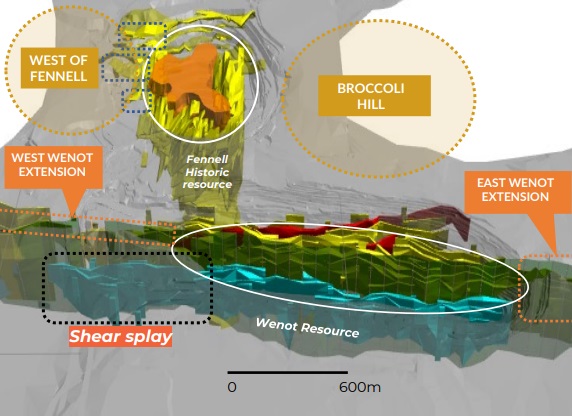 For that, management would have to drill fences perpendicular to the strike direction of Wenot to the west. CEO Ellingham answered, "Not in the short term, as historic drilling tested shallow mineralization in the saprolite layer, and the necessary data for a resource update is available. We will also wait for assays of more holes before determining about fences etc., and the focus is on expanding the strike length of the deposit. We are drilling pretty deep to catch zones at depth, and most zones run upwards to the saprolite anyway."
Some examples of more near-surface historic holes can be seen here (in green):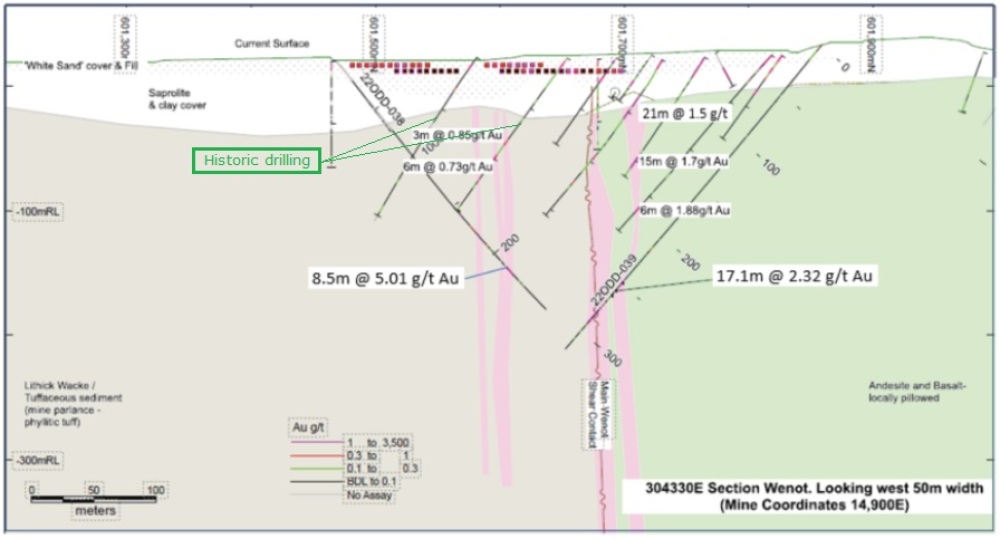 The full results for holes 038 and 039 are represented in this table:
| | | | | |
| --- | --- | --- | --- | --- |
| Hole ID | From | To | Interval (m) | g/t Au |
| 22ODD-038 | 160.0 | 161.0 | 1.0 | 2.92 |
| 171.0 | 176.0 | 5.0 | 0.48 | |
| 215.0 | 223.5 | 8.5 | 5.01 | |
| including | 221.8 | 223.5 | 1.7 | 17.80 |
| 22ODD-039 | 52.3 | 53.0 | 0.7 | 3.81 |
| 246.9 | 264.0 | 17.1 | 2.32 | |
| including | 246.9 | 253.8 | 6.9 | 3.54 |
| and | 262.9 | 264.0 | 1.1 | 5.58 |
| 277.3 | 277.9 | 0.6 | 1.36 | |
| 288.8 | 293.0 | 4.2 | 0.56 | |
Despite the inclination, the drill bit obviously hit several mineralized layers, often very narrow but clearly indicating a stockwork of veins/lenses. Hole 038 was drilled more to the north, to seek mineralization below a sediment cover into volcanic fresh rock, which was successful.
As the geologists put it, "the gold mineralization occurs within quartz-ankerite veinlets and stockworks, some with coarse visible gold and developed primarily in and along the sheared margins of variably silicified sub-vertical felsic dikes at or near the lithologic contact between the andesite-dominant lithologies to the north and lithic wacke sediments to the south." It was nice to read that the West extension of Wenot was the former site of the mill, service buildings, and other mine infrastructure.
When asked if the former operator didn't explore this area before building the mine, CEO Ellingham answered, "The former operators focused entirely on getting the known resource into production as soon as possible, and didn't explore much after the mine came into production. The area where we are drilling now was covered with haul roads and all of the Omai buildings, so certainly no drilling could be done in this area. Our current exploration offices, core logging facilities, and barracks are in this area, but we can drill right around them. In fact, one of the next holes will be between our kitchen and laundry facilities."
It is good to have solid drill results out right before PDAC, as investors were apparently looking at other opportunities it seems during the last difficult two weeks or so.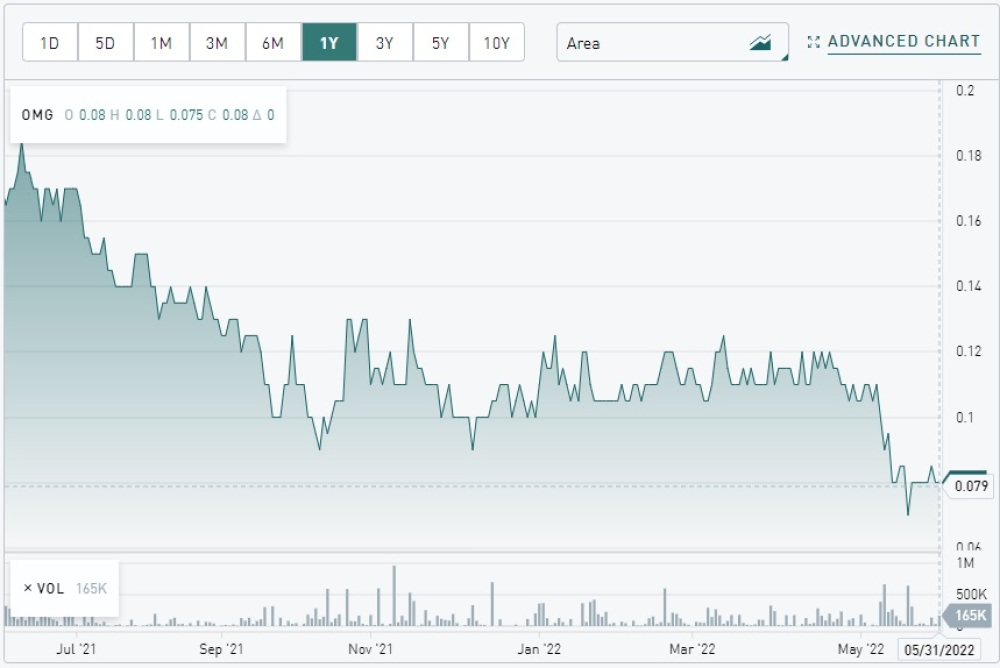 Share price one year timeframe (Source: tmxmoney.com)
According to CEO Ellingham, they have more results from the Wenot west extension drilling coming out soon, probably within two weeks, and it is very likely they will adhere to this timeframe this time and make it before the upcoming PDAC, as most lab delays are solved now.
Omai Gold Mines has also completed drilling, trenching, and sampling west of the Fennell pit and to the southwest of the Wenot pit. Eight holes have been drilled, and assays were returned for the first five holes totaling 1,213 meters. Drilling at the Blueberry Hill target provided the following results of three holes:
| | | | | |
| --- | --- | --- | --- | --- |
| 22ODD-033 | 150.6 | 151.5 | 0.9 | 41.73 |
| 22ODD-034 | 19.5 | 21.0 | 1.5 | 0.53 |
| Incl. | 58.0 | 59.0 | 1.0 | 0.81 |
| Incl. | 63.0 | 64.2 | 1.2 | 1.80 |
| Incl. | 69.5 | 71.0 | 1.5 | 1.71 |
| 22ODD-035 | 46.6 | 48.1 | 1.5 | 1.91 |
Hole 033 returned visible gold and a high-grade intercept, hole 034 hit several low-grade veins, and hole 035 hit just one low-grade vein. All three holes tested high-grade mineralization identified during trenching, where six of 11 samples assayed over 6g/t Au. Additional trenching is planned in order to find more vectors before more drill targets can be defined.
As the strong trenching results created some expectations for me, I asked CEO Ellingham how she viewed and interpreted these drill results, also in connection to the trenching results and other geophysical data.
She stated, "We did hit a very high-grade vein, but were expecting additional mineralization. We knew from the trenching that the structural setting is complex, so we will continue to model the data before further drilling. Our Guyana expert Linda Heesterman was recently on-site for 10 days and agreed that this area is complex but clearly has significant gold potential."
Trenching and sampling at the Snake Pond target returned equally impressive results like 1 meter at 5.2 g/t Au, 5 meters at 1.49 g/t Au, 5 meters at 4.5 g/t Au, 5 meters at 6.1 g/t Au, and 5 meters at 7.68 g/t Au. Two drill holes (040 and 042, which can be seen in the first map in this article) were completed, with assays pending.
The company also drill tested a target south of Wenot with two holes. Diamond drill hole 036 didn't intercept anomalous gold, and hole 037 (which can be seen in the first map in this article) returned anomalous values like 6 meters at 0.67g/t Au, 1 meter at 0.77g/t Au and 1 meter at 0.96g/t Au.
According to CEO Ellingham, this was the first of tests of the key airborne geophysics targets identified by their consultants. There are a number of such targets, any one of which could host another Fennell or Wenot deposit and these would be game-changers for the project. Hole 037 had a few intersections and some core loss around the quartz veining that had anomalous gold. They will likely do a follow-up hole in this area as the geology was very favorable.
Last but not least, the historic Fennell resource would take just four to five holes to convert into a NI43-101 compliant resource, so I wondered if this drilling and potentially maiden resource could be completed this year.
CEO Ellingham stated, "We need to focus on creating value for our shareholders in the short-term and we see the best use of our funds in exploring the extensions of the Wenot shear, with the goal of advancing to an updated NI 43-101 resource. The Fennell deposit was well drilled with 46 holes totally 27,000 meters, so we are fairly confident that the ounces are there. These holes to upgrade the Fennell historic resource will be long holes that will be slow to complete and more expensive, so in the shorter term, we see more value in expanding into a new area. Also, the areas we are exploring along strike of Wenot have not been mined before and will therefore be near-surface and ultimately cheaper to mine."
Conclusion
It was good to see Omai Gold Mines closing the financing for CA$2.6M, which enables them to keep exploring for the remainder of this year. The first stepout drill results at Wenot were promising, but need more follow-up drilling in order to add significant economic tonnage. Drilling at the Blueberry and Snake Pond targets did return significant gold mineralization as yet but needs a lot more follow-up trenching and drilling before delineating eventual satellite deposits. Historic drilling indicated prospective targets, so the search for more gold continues at the former Omai Gold mining camp. Converting Fennell into a compliant resource could instantly double the existing gold resources, so this would be an interesting development as there aren't too many juniors with over 3Moz Au with market caps hovering at just CA$23M.
I hope you will find this article interesting and useful and will have further interest in my upcoming articles on mining. To never miss a thing, please subscribe to my free newsletter at www.criticalinvestor.eu, in order to get an email notice of my new articles soon after they are published.
The Critical Investor is a newsletter and comprehensive junior mining platform, providing analysis, blog and newsfeed, and all sorts of information about junior mining. The editor is an avid and critical junior mining stock investor from The Netherlands, with an MSc background in construction/project management. Number cruncher at project economics, looking for high-quality companies, mostly growth/turnaround/catalyst-driven to avoid too much dependence/influence of long-term commodity pricing/market sentiments, and often looking for long-term deep value. Getting burned in the past himself at junior mining investments by following overly positive sources that more often than not avoided to mention (hidden) risks or critical flaws, The Critical Investor learned his lesson well, and goes a few steps further ever since, providing a fresh, more in-depth, and critical vision on things, hence the name.
| | |
| --- | --- |
| Want to be the first to know about interesting Gold investment ideas? Sign up to receive the FREE Streetwise Reports' newsletter. | Subscribe |
Disclosures:
Please note: the views, opinions, estimates, forecasts, or predictions regarding Omai Gold Mines' resource potential are those of the author alone and do not represent views, opinions, estimates, forecasts, or predictions of Omai or Omai's management. Omai Gold Mines has not in any way endorsed the views, opinions, estimates, forecasts, or predictions provided by the author.
The author is not a registered investment advisor, and currently has a long position in this stock. Omai Gold Mines is a sponsoring company. All facts are to be checked by the reader. For more information please go to https://omaigoldmines.com and read the company's profile and official documents on www.sedar.com, also for important risk disclosures. This article is provided for information purposes only and is not intended to be investment advice of any kind, and all readers are encouraged to do their own due diligence and talk to their own licensed investment advisors prior to making any investment decisions.
All presented tables are my own material unless stated otherwise.
All pictures are company material unless stated otherwise.
All currencies are in U.S. Dollars unless stated otherwise.
Streetwise Reports Disclosures:
1) The Critical Investor's disclosures are listed above.
2) The following companies mentioned in the article are not sponsors of Streetwise Reports: None. Click here for important disclosures about sponsor fees. The information provided above is for informational purposes only and is not a recommendation to buy or sell any security.
3) ) Statements and opinions expressed are the opinions of the author and not of Streetwise Reports or its officers. The author is wholly responsible for the validity of the statements. The author was not paid by Streetwise Reports for this article. Streetwise Reports was not paid by the author to publish or syndicate this article. Streetwise Reports requires contributing authors to disclose any shareholdings in, or economic relationships with, companies that they write about. Streetwise Reports relies upon the authors to accurately provide this information and Streetwise Reports has no means of verifying its accuracy.
4) The article does not constitute investment advice. Each reader is encouraged to consult with his or her individual financial professional and any action a reader takes as a result of the information presented here is his or her own responsibility. By opening this page, each reader accepts and agrees to Streetwise Reports' terms of use and full legal disclaimer. This article is not a solicitation for investment. Streetwise Reports does not render general or specific investment advice and the information on Streetwise Reports should not be considered a recommendation to buy or sell any security. Streetwise Reports does not endorse or recommend the business, products, services, or securities of any company mentioned on Streetwise Reports.
5) From time to time, Streetwise Reports LLC and its directors, officers, employees, or members of their families, as well as persons interviewed for articles and interviews on the site, may have a long or short position in the securities mentioned. Directors, officers, employees, or members of their immediate families are prohibited from making purchases and/or sales of those securities in the open market or otherwise from the time of the decision to publish an article until three business days after the publication of the article. The foregoing prohibition does not apply to articles that in substance only restate previously published company releases.