Companies I will discuss in this article are Enterprise Group Inc. (E:TSX.V: ETOLF:OTC), ProStar Holdings Inc. (MAPS:TSX.V: MAPPF:OTCQB, ATI AirTest Technologies Inc., (AAT:TSX.V; AATGF:OTC), Bion Environmental Technologies Inc. (BNET:OTCQB), European Metals Holdings Ltd. (ERPNF:OTC), Clean Air Metals Inc. (AIR:TSX.V; CLRMF:OTCQB)
Hyperion Metals Ltd. (HYM:ASX; TAOFF:OTC), Piedmont Lithium Ltd. (PLL:NASDAQ; PLL:ASX), Frontier Lithium Inc. (FL:TSX.V; LITOF:OTCQX; HL2:FRA), and
BacTech Environmental Corp. (BAC:CNSX; BCCEF:OTC).
I very much AM of the view that a great many resource-oriented stories and the best companies have incredible futures ahead of them. Whether we first must go through another deflationary market bust, and/or grapple with China now being a negative influence on metals prices especially, or whatever, the future is bright none the less.
And that is why—though I remain stand-offish on sector positions (like ETFs and such) where most base and battery metals go—I none the less have quite a few individual companies in these areas on my recommended list. A few of those that both represent superior opportunities and who I am especially close to are profiled below.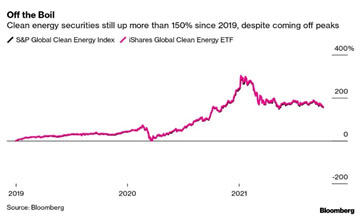 For those kinds of stocks especially, generally speaking, this is an especially good time to be looking at them. After a huge surge for most of 2020, these kinds of stocks generally are down a fair bit for 2021. As you see in the chart at right, as a group the clean energy-oriented stocks this year were recently down nearly 40% from their previous highs. Certain previously red-hot darlings have really been shellacked: hydrogen fuel cell maker Plug Power (NASD-PLUG) was recently down a bit more than half from its January high and QuantumScape Corp. (NYSE-QS)—a maker of batteries for E.V.'s—is but 20% or so of its late-2020 peak.
There are three major reasons as I see things. First, that the broad stock market, so-called "meme stocks," cryptocurrencies and the like have been on such tears more recently, it has taken attention away. Second, markets have seemed to understand that—for all its talk—the Biden Administration has badly handled all of this Green Economy, infrastructure and related business and has, of this date, NOTHING to show for its goals and promises.
Third, this space in some ways is akin to the behavior that was manifested by the Internet and dot-com stocks of the late 90s and the first big marijuana craze surge several years ago. Similarly to those two prior episodes (but especially now with the Fed making so much liquidity available that traders are more stupid and feel even more bullet proof than ever) piles of money flowed into most anything to do with batteries, E.V.s and whatnot. Now, some of that has settled back down. I.M.O., both Plug and QS are still too expensive for where things stand now. Yet—if anything of substance does come out in the days ahead from Washington and/or Glasgow—each may have seen their bottoms.
Look at Tesla (NASD-TSLA), which reported that Hertz has put in an order for 100,000 vehicles. That has catapulted its market cap to within a whisker of $1 trillion, valuing it even more so as worth more than every other auto company on Planet Earth combined.
Tesla's offtake agreement last year for lithium with Piedmont Lithium (NASD-PLL) took shares in that company (which you'll learn more about shortly) from the $6.00 area I was pounding the table on last summer to the $80 area. Tesla wanted to have some ability to tie up the raw materials it will need to meet Hertz's and other orders in years to come.
An investment theme going forward will be to ask "Who's next?" With resource nationalism…the need to build and control vertical supply chains as close to "home" as possible… and all, I am on the hunt for "the next Piedmonts" (a few of which you'll be reading about below, and more of which I am researching.) There are a good many battery/base metals projects throughout the world…and throughout North America and South America alike. But especially with the Biden Administration taking so many out of play, we'll need to look at those that aren't in Sleepy Joe's or Deb Haaland's sights to be killed.
As time goes on we'll be hearing more about moves such as Tesla's last year to tie up a portion of Piedmont's coming lithium hydroxide production. One example of many from just a few weeks ago (see https://www.upi.com/Top_News/US/2021/09/28/ford-campus-electric-vehicles/7991632824739/) was Ford's announcement that it's committing some $11 billion to build a total of three battery and related facilities in western Tennessee and central Kentucky. Among other things, this investment will mean 11,000 direct jobs; further, the automaker announced that about half a billion dollars will be earmarked for a trade school network of sorts to train mechanics.
Yes, there is near-term risk. Yes, the Biden Administration has ruined, so far, just about everything it has touched, and set back causes these companies are pursuing. BUT that does not mean we just sit on our hands. And also, as I alluded to earlier—and display just below with a few very unique story stocks—there are any number of compelling stories among companies helping to "green" the planet in one way or another that thankfully are not on the hit list of "milk comes from the grocery store crowd."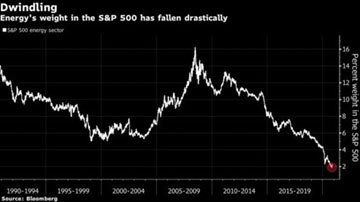 Apart from all this—and in addition to several other tidbits we've discussed on specific ideas—one very evident thing this year is that the oil and gas industry is STILL HERE. Oil and gas-related stocks have been among 2021's stars, and—notwithstanding the chance that a deflationary market event first causes a step or two backwards—I expect a lot more over the few years to come.
About the time several months back that—always the momentum player—CNBC's version of Bobcat Goldthwait, Jim Cramer, said that energy stocks were dead and buried— "Uninvestable"—I should have moved. If I was smarter, I would have had us piling back into them all then, instead of starting again piecemeal more recently; seldom do you get such a delicious contrarian signal!
Enterprise Group Inc. (E:TSX.V: ETOLF:OTC): a leaner company to benefit from Canada's energy resurgence...and LNG exports
Long before the U.S. energy industry was hit over the head with a 2" by 4" early last year, the Canadian oil and gas sector had been in the dumps for several years. Negative pricing had not prior been that much of an aberration at times where either heavy oil or excess natural gas production was concerned for many Canadian producers. A lot of them bit the dust over the last decade and many service providers along with them.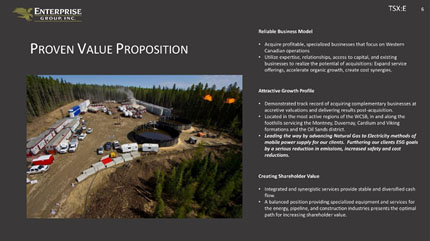 For St. Albert, Alberta-based Enterprise—a company I have known and followed for over a decade—it was a tough road. Along the way this consolidator of equipment and entire businesses servicing the construction and energy industries had to do some serious consolidation of itself to weather the multi-year energy bear market in Canada. It has successfully done so. And now a leaner, somewhat retooled and refocused Enterprise Group is poised for a potentially dramatic comeback.
When I have spoken the last couple times with the company's Senior V.P. Des O'Kell, his renewed exuberance is unlike anything I've heard from him in years. And to Yours truly that means something; not as much because O'Kell is jubilant about his company's prospects today, but that he NEVER sugar coated the more subdued environment over the last several years at any time when we visited along the way. That's the kind of straightforward management you look for in a small company.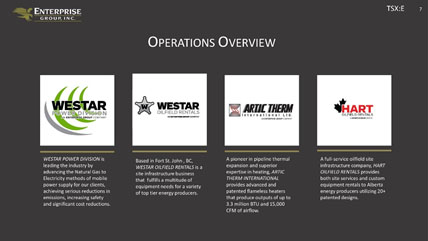 When you take some time to peruse Enterprise's web site (it's at https://www.enterprisegrp.ca/) you will get a better handle on the diversity of the company's businesses, which it has begun to augment once more in this better environment. As O'Kell told me, so powerful has the rebound been in Canada that its larger, client companies have gone from just battening down their hatches to—for the first time in several years—meaningfully spending money on repairs, development and more.
Of all the business Enterprise should be earning/earning back in the years ahead, the Big Kahuna is its part in LNG Canada's path to development and its first exports slated for 2025. This is by far and away the single-largest undertaking financially in Canada's energy history, and it further is taking on new significance now with the energy shortages and angst overseas, where natural gas and compressed LNG prices recently have been several times higher than North American prices. To gear up for this and otherwise as "upstream" companies require their services anew, Enterprise is poised to perform better than it has in quite a few years. For more on LNG Canada, take a look at https://www.fluor.com/projects/lng-canada-export-facility; this is through Fluor, Inc's (NYSE-FLR) own "lens" given its part in construction.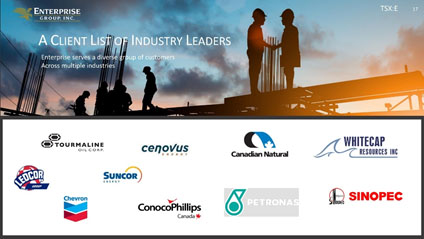 Putting its own money where its mouth is, management and other insiders have been consistently buying stock; they now own about a third of the company. Purchases of stock in the market continue as well. The company recently rolled its credit facility into a new and much larger one recently to help it better capitalize on the opportunities and business rapidly coming back.
Operationally, after treading water for so long, I expect to see Enterprise's quarterly financial performance enjoy a rebound in revenues and earnings again in big chunks. And as a value proposition, consider that the company's share price as of late October was still well less than half its net book value.
A more solid turnaround story in energy—and one still unknown to the markets, by and large, which have long forgotten Enterprise, even in Canada—will be hard for you to find.
ProStar Holdings Inc. (MAPS:TSX.V: MAPPF:OTCQB): "THE GOOGLE EARTH OF the UNDERGROUND"
From an infrastructure company serving the Canadian energy sector, we move to one of the more interesting individual stories I've ever heard: one that is transforming construction, utilities and more by being a state-of-the-art infrastructure company that bills itself as "The Google Earth of the Underground."
I want to again thank my friend Paul McKenzie—President of NexOptic Technologies (TSXV-NXO; OTCQB-NXOPF) for first bringing Colorado-based (with offices in Boulder and Grand Junction) ProStar to my attention. That was ahead of its I.P.O. back earlier this year, giving me time to "kick the tires" and get to know the story.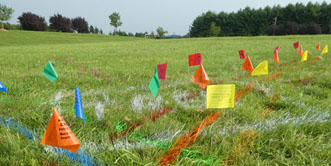 Especially with ever more infrastructure activity and spending set to take place in the coming years, most anything that moves the needle on cost savings and greater efficiencies has a bright future. But I have to tell you that when I learned and began to digest ProStar's story, technology, considerable business progress already and more, I was quite blown away!
We've all seen scenes like the one at right; maybe even on our own street or property in the past. Before many kinds of construction, utility, road and other work can begin, contractors, engineers, etc. must know where underground power, gas and other lines are located. The trouble is, the methods technologically for doing this are quite antiquated, often, beginning with YEARS-old, hard copy "maps." And that leads to accidents of one kind or another many times daily some place or other, when these underground lines are damaged. Indeed, as you see in the chart, the cost of these accidents is enormous.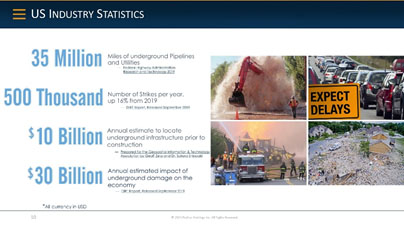 As I learned the story, it amazed me that there has not been a more precise way to locate these underground lines of various kinds previously. But ProStar has it; and backed by 20 patents (and counting) and in partnership now with Trimble Navigation (NASD-TRMB), one of THE premier infrastructure and engineering companies in America. At the company's web site (at https://www.prostarcorp.com/) you'll learn much more about its PointMan system. No flags. No spray paint. No accidents multiple times daily. But what contractors DO have is a state-of-the-art technology that allows them to pinpoint underground structures, lines, etc. to the centimeter.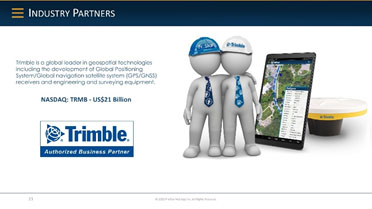 The company's technology is being endorsed and embraced rapidly. The State of Colorado now mandates that no state-funded infrastructure work may proceed without those in charge using PointMan. Other municipalities are following: most recently, the Township of Aberdeen, New Jersey, adopted PointMan as its system of record (SOR) to meet the New Jersey Department of Environmental Protection (NJDEP) mandate for Mapping and Digital Data Standards.
Getting back to ProStar's tie-up with $22 billion market cap Trimble, this is going to be a BIG part of ProStar's accelerating journey to really monetizing its technology…and getting the markets' attention. Last December, ProStar announced (at https://www.prostarcorp.com/prostar-successfully-completes-integration-with-trimble-receivers/, ahead of its public market debut, that it had completed its platform's integration with Trimble's receivers (the original tie-up with Trimble was first announced last Summer.) So now, ProStar is available through Trimble's dealer network as well. Engineers, contractors, etc., can buy ProStar's app straight from Trimble, and those customers are not Trimble's clients, but ProStar's.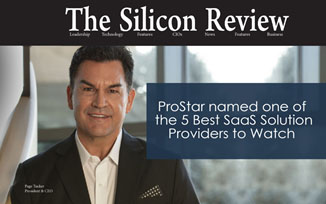 While at ProStar's site, I urge you (besides getting on their own mailing list; something you should do for each of the companies in here!) to spend some time looking at all their news from 2021, as they build critical mass (and business.) Especially check out, though, the item from September 1 (https://www.prostarcorp.com/prostar-named-one-of-the-5-best-saas-solution-providers-to-watch-2021/) where the company was featured as one of the year's Top 5 Saas (Software as a Service) providers to watch.
It's notable that even now—with Washington fiddling still over infrastructure spending—ProStar is growing more rapidly without this "help." This is yet another "under the radar" company—with a market cap of a mere C$40 million recently—that won't be down here for long, I.M.O.
ATI AirTest Technologies Inc. (AAT:TSX.V; AATGF:OTC): "Green Tech for Buildings"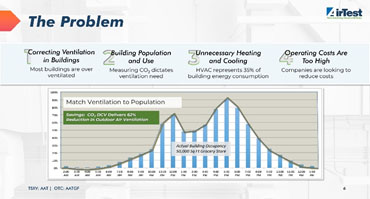 Often times, having "a good Rolodex" pays off. When a colleague contacted me over a year ago about tiny, Delta, British Columbia-based AirTest, this was yet another company that made perfect business and technical sense to me. More so, its technology in making ventilation, HVAC and such systems far more efficient told me that its desire and fresh game plan to grow its business perhaps exponentially had a chance to pay off.
In my first visit I sat down for a considerable length of time with Ted Konyi, who was a financial consultant to the company in the summer of 2020 when I first learned of the story. He was the "ring leader" of a small handful of investors who then owned about half the company. Then-C.E.O. George Graham was with us as well, as was a colleague of mine who had made this initial introduction.
Basically, (and you can get a broad and fresh look at the company via a video interview I did recently with now-C.E.O. Konyi at https://www.youtube.com/watch?v=yKoAfP85uh8) AirTest was a company that had had a comfortable existence, but whose wares were deserving of FAR better market penetration. Konyi had decided to get much more involved, lending his talents to put together a marketing game plan that was beyond Graham's skill set. So on that score, I felt that getting some of our Members (and myself) into a capital raise they were working on would be a good thing.
As for the company's technology and product offering—its Demand Control Ventilation system—the concept as explained to me made sense. Whereas older and more simplistic ventilation systems typically operate much more than needed (raising a large facility owner's utility costs) AirTests' measures the CO2 in a facility and—thus knowing the number of people and ventilation needs—runs a system only as needed.
Further, I had explained to me, AirTest was coming out with a new wireless version which appears to be the best in the industry (Where the company's presence is strongest regionally—in the Northwest U.S.—the company wins about 85% of new contracts for its DCV systems.) On that subject, part of my own due diligence on the company involved me visiting with a local friend who had retired from this very same field; vetting AirTest's products and claims with him.
In the end, several of us joined the financing, and I added AirTest to my recommendations.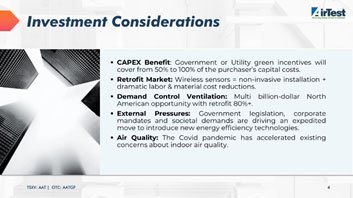 AirTest—with its Green-Tech IoT (Internet of Things wireless regimen) and proprietary sensor technologies has already made great inroads in major chains such as Canadian Tire, Shoppers Drug Marts, Lowe's stores, large enclosed parking garages and more. Especially nice is that—given the reduced utility costs and, thus, carbon emissions AND now with the more heightened desire for indoor air quality thanks to COVID—utilities typically subsidize the cost of the company's DCV System.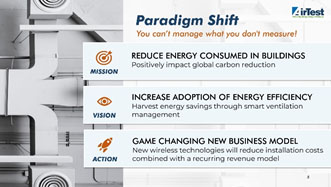 Though the company's share price as I write this is more than double from a bit over a year ago, its progress remains a bit slow (indeed, even its web site is still in need of a makeover; see https://www.airtesttechnologies.com/, though it will still give you some good info!) But just as important or more than Konyi taking the reins, it was announced on July 7 that AirTest had enlisted Robin Shaffer—one of the best-connected HVAC people in the western U.S.—as a Consultant. Among other things, Shaffer has considerable experience with both Trane and Johnson Controls; and—as he intimated to me in a lengthy conversation soon after this announcement—he feels there is a LOT of room to make inroads with AirTest's DCV System especially in California. (NOTE: See https://airtest.com/technologies/news/ for all the company's news, including a number of recent key sales.)
Bion Environmental Technologies Inc. (BNET:OTCQB): Making "Big Ag" Sustainable
One particularly humorous way in which some think they are helping the environment has to do with the recent craze over "artificial (plant-based) meat." A big part of this draw has less to do with people wanting to be vegetarians, but is aimed at large-scale livestock raising/"Big Ag." Among the more humorous things claimed is that it is farting cows that are releasing climate-destroying methane and which must be shunned.
The truth is that "Big Ag" DOES need to be made more sustainable; chiefly in the way untreated waste is handled which—among other things—has harmed water both above and below ground everywhere.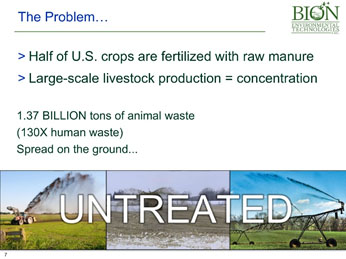 Simply put, you might gain an appreciation for what BNET does if you drive down the road past a typical farming operation with the windows rolled down! With the talk these days of reducing carbon emissions, a less understood but no less compelling need is to clean up agricultural waste; and this includes ammonia and greenhouse gases emitted in substantial quantities together with that polluting of surface and underground water.
Bion Environmental is one of the more compelling environmental remediation companies I have ever run across. A GREAT overview of its process to clean up agricultural waste of this kind is at https://bionenviro.com/bion-technology-platform/; and I suggest you also read through https://bionenviro.com/executive-summary-opportunity/, which lays out in considerable (and, I must say, alarming) detail the HUGE environmental problem Bion is pushing back against.
What's REALLY neat about Bion's story is that it not only has the means to clean up some agricultural waste…but to capture valuable and marketable products as a part of this process. Chief among these is an organic and non-volatile nitrogen fertilizer product—recovered in this waste clean-up process—that BNET can sell to all manner of agricultural operations.
When I spoke at some considerable length early on with Bion's Director of Communications Craig Scott, I came to a greater understanding of how—though some $100 billion/year globally is spent on water treatment of varying kinds—livestock waste has received little attention. Thus, as Scott quipped, Bion has been more of "a science experiment" than anything for most of its existence. But it's one now—following some key research breakthroughs and the evolution of how economics and government policy intersect in this area—poised to strike pay dirt.
At https://bionenviro.com/news/, you can read of the company's latest news. Notable among recent developments in particular is that announced on July 30 that the company is starting trials at Southern Illinois University to find out the efficacy of using its remediation byproduct—AD Nitrogen—as a fertilizer for cannabis in greenhouses.
Said Scott about this, "Obviously, with a unique product like AD Nitrogen, we are intrigued by the potential presented by the cannabis fertilizer market, especially the higher-value organic side of it. This is the first step in determining the real potential of that market opportunity as we move forward with trials for several fertilizer applications and product markets we intend to pursue. We are thankful that SIU has the growth trial resources and expertise in cannabis to run this study for us and we hope to be working with them on subsequent trials with our own AD Nitrogen."
You can learn much more about New York-based Bion Environmental at https://bionenviro.com/. Also, over the summer I sat down on a video call with Scott to delve into Bion's story, process and its exciting business prospects; that video is at https://www.youtube.com/watch?v=1NN-1XM6lzE.
European Metals Holdings Ltd. (ERPNF:OTC): Europe's Premier Battery Metals Resource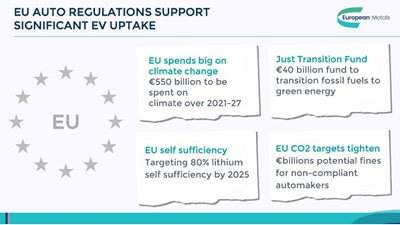 As you might surmise from the name The National Investor, I have—since we started publication under that name over a quarter of a century ago—focused chiefly on companies/stories in the U.S. (though when it comes to resources, I have often covered companies in Canada, Mexico and South America.) But when a colleague—who, notably, I met when we both were in on the ground floor at Piedmont Lithium—told me I needed to make an exception where European Metals is concerned, I didn't need much convincing. And that was especially after learning a SOLID story for this company that has the biggest lithium resource in Europe.
Relative to the U.S.A., Europe has more quickly embraced E.V.'s and other "green" technologies because of a stronger social construct and desire to do this. As the U.S. claims to want to do, Europe also says it wants to wean itself from everyone's inordinate dependence on China for all kinds of metals/refined products needed to build E.V. and other supply chains.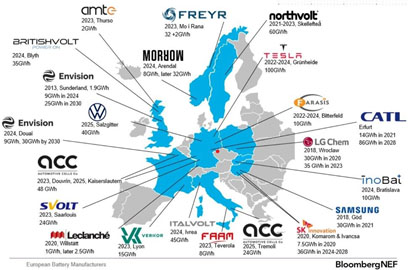 Now, just as is the unfortunate case with America, Europe's stated goal of wanting 80% "lithium self-sufficiency" by 2025 is at present a pipe dream. At the moment there is NO lithium production anywhere in Europe. But represented by that red dot in the northwest part of the Czech Republic at left and surrounded by new/planned battery and other facilities is a major lithium, tin (and more) resource: EMH's Cinovec Project.
Cinovec is 49% owned by European Metals and 51% owned by the Czech Republic's state utility, which has to date put up the lion's share of the dough to get Cinovec to near the development stage. A legacy mine very near Germany's border, that it is surrounded by all those new/planned battery facilities and the like you saw above seems without question to render as when, not if, this resource is glommed on to by one or more of them.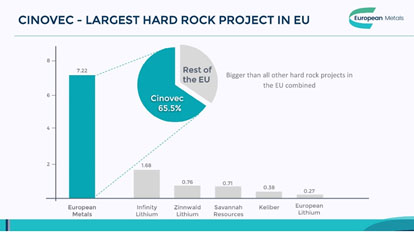 And the prospect of that was just bolstered recently when it was announced that a major "Gigafactory" will be built in the Czech Republic itself, with EMH's utility partner CEZ one of the owners; see https://www.electrive.com/2021/07/27/czech-government-cez-plan-battery-plant/. As I quipped in my recent video discussion (at https://www.youtube.com/watch?v=Y8WE77Jadx0) with EMH's Executive Chairman Keith Coughlin, our viewers' "quiz" here is to figure out which nearby lithium source is most likely to supply the feedstock for this new battery plant.
Cinovec is fully funded, according to Coughlin, to prepare a DFS (Definitive Feasibility Study) in the coming months. Presently, drilling remains ongoing to both increase and upgrade the present lithium resource (the main byproduct, tin, will likely provide credits to reduce the future cost of lithium production.) And via its considerable exploration and metallurgy work to date, European Metals has been developing a game plan where Cinovec would not only produce a lithium concentrate product and tin byproduct, but byproducts potentially of tungsten, potash and silica as well.
It doesn't take a genius to figure out that we are getting close to a deal for Cinovec, so don't let grass grow under your feet on this one especially. And as the company progresses fundamentally, steps have been taken to make it more accessible to investors as well.
Listed on the Australian Exchange under "EMH," (where you can buy them if you have the right kind of account) the company recently set up an ADS program overseen by Deutsche Bank allowing for the listing and trading of the company's shares more easily in U.S. markets under the symbol EMHXY (see https://www.investi.com.au/api/announcements/emh/3fbfd871-940.pdf). The volume has been tiny there so far however; so apart from those symbols there is also the "Nasdaq Int'l" one of ERPNF.
For more on European Metals and to keep up with them, visit https://www.europeanmet.com/.
Clean Air Metals Inc. (AIR:TSX.V; CLRMF:OTCQB): Premier Battery Metals Resource in Canada
As I write this, Clean Air Metals is one of the more egregious examples of investors chasing fads but ignoring substance…and a killer story. That its market cap for months has stayed vacillating around C$35 million or so is lunacy.
For starters, its substantial land holdings off the northern edge of Lake Superior have already demonstrated strong grades of PGMs (platinum group metals) and base metals you expect in one of the best geological formations for such in this hemisphere.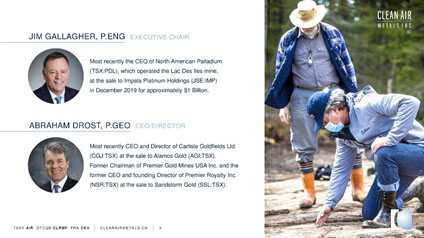 And more so, at the helm of Clean Air Metals is a management team led by C.E.O. Abraham Drost and Executive Chairman Jim Gallagher for whom this is not their first rodeos, (as you can see at https://www.cleanairmetals.ca/corporate/executive-management-directors/.) Most notably, Gallagher—while C.E.O. of North American Palladium, whose Lac des Isles Project is to the north of Clean Air's—turned that project around and ended up selling it to South Africa's Impala Platinum for around $1 billion. Thus one part of my interest in and recommendation of AIR to our Members involves one of my key themes: bet on the jockey. Or TWO of them in this case, both of whom have a track record of building companies and then monetizing them.
As for these gents' present project, the flagship Thunder Bay North (https://www.cleanairmetals.ca/projects/thunder-bay-north/) consists of 300 unpatented mining claims covering an area of approximately 30,000 hectares. More than one resource has been identified in this area and is being added to by the drill bit. Most recently—on September 7, at https://www.cleanairmetals.ca/news-media/news-releases/clean-air-metals-reports-new-drill-results-from-bo-122532/ --the company announced its latest eye-popping assay results from the Escape Lake and Current Lake Deposits.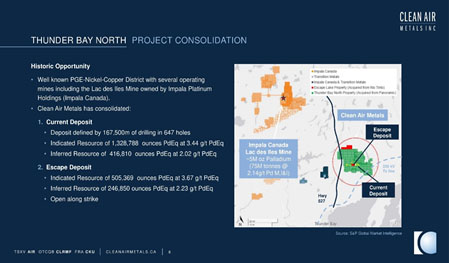 As you can read, drill intercepts over wide areas from 14 to as much as 76 meters returned high total grades of up to nearly 10 grams/ton of palladium equivalent. Those numbers consist of palladium, platinum, copper and nickel (with less relevant amounts of both gold and silver.) Along the way as AIR has done its drilling, metallurgical work and the like it's also been determined that cobalt and rhodium might also be a byproduct of production here one day.
Metallurgical optimization studies, the company has reported, continue with Blue Coast Research of British Columbia. The results of these studies on drill-derived bulk sample material and independent analysis of smelter recoveries and smelter payables are expected to input directly into a Preliminary Economic Assessment (PEA) mine cash flow model planned for publication imminently.
In the recent news, Drost epitomized management's aggressive game plan to bring Thunder Bay North to at least one major resource/development plan: "…infill assay results from the Beaver Lake Zone of the Current Lake deposit infill drilling ("CL" holes) is an affirmation of our understanding of the deposit and ability to target and execute on drilling which has the potential to materially impact the results of the upcoming PEA. This bodes well for future upgrade drilling on the large inferred resource down plunge which will occur at future study phases. The Company is looking forward to publication of a PEA in Q4/21 based solely on the Current Lake Deposit. As with the mineral resource estimate published in March, 2021, the PEA will be based on a ramp-access underground mine model constraining the existing mineral resource. In addition to the Current Lake Deposit, the potential to add scale to the Thunder Bay North Project with feed from the Escape Lake Deposit is potentially accretive to the project."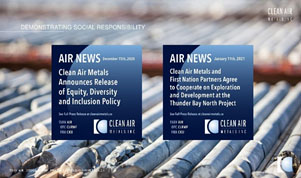 I have little doubt that this company won't go very far, either, before somebody makes a play for them. Drost and Gallagher have—relative to what you typically see elsewhere—moved at warp speed since rebranding a former company into Clean Air Metals scarcely a year and a half ago. The 2.5 million-plus ounces (total indicated and inferred) PdEq resources will both grow and—via the coming PEA—very likely be revealed as having compelling economics to boot.
Meanwhile, the company has made appropriate efforts to solidify its local ESG credentials and "social license."
Regrettably, Drost and I were unable to connect recently for our own video discussion; so I urge you to learn more at https://www.youtube.com/watch?v=cF4mjJ33_FA where Gallagher gave a quick overview ahead of the recent Beaver Creek, Colorado Precious Metals summit.
Hyperion Metals Ltd. (HYM:ASX; TAOFF:OTC): Betting on Another Jockey—in Tennessee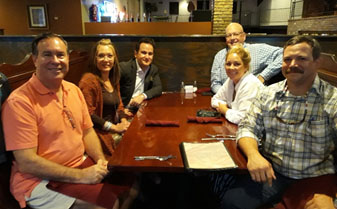 In yet another "betting on the jockey" story, I didn't have to be asked twice to stop on my way north this past spring when Hyperion's boss "Taso" Arima (black jacket in the photo at left, when he, I and his local team went to dinner one evening) learned I would be passing close enough by to make a small detour to his newest major project. Arima was the main driver behind my best performer of 2020—Piedmont Lithium—and certainly has earned a place at the top of our lists, likewise, for a past performer who we pretty much drop everything else for.
Arima had found a new opportunity to do the same thing in the Camden, Tennessee, area that he and his chief geologist Lamont Leatherman did in piecing together Piedmont's Project in North Carolina: go door to door, and parcel by parcel, to put together—in this case—a large, heavy mineral sands project containing (primarily) monazite, titanium and zircon. The monazite in this mineral sands-heavy part of western Tennessee is one feed which—with the proper processing—rare earth elements can be obtained from.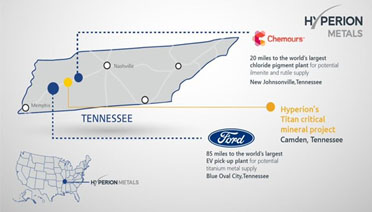 Indeed, the first significant "splash" Hyperion made in front of my eyes was back in April (see https://app.sharelinktechnologies.com/announcement/asx/5dab56d27e4497c983b165b3a4d2ad6a) when Hyperion announced with Energy Fuels a Memorandum of Understanding to investigate a potential relationship where Hyperion could provide monazite feed stock with which Energy Fuels can process the rare earth elements contained in it. Both companies, of course, want to be a big, early part of the desperately needed rare earth vertical supply chain here in the U.S. (though, as pointed out earlier, such a thing could be in jeopardy, at least for a while, under the current administration.) Energy Fuels IS already processing other rare earth materials; you'll learn more about them in my coming Special Report on the uranium space/nuclear energy, which is that company's primary focus.
Titanium—Hyperion's main focus—is yet another material that America is a big importer of. The U.S. is the second-largest global importer of titanium feedstocks of any country, in fact. As of 2019, 95% of our needs for titanium have been met by imports, material worth over $1 billion annually.
There are two chief uses. First, the right kind of "powder," which Hyperion has in its heavy mineral sands can be used to make a titanium dioxide (TiO2) pigment for the coatings and plastics sector. More so—and the reason why the government has previously put titanium on the critical metals list, ostensibly meaning we need to get serious about "homegrown" supplies—Titanium metal is also used in the defense, aerospace, space and medical sectors.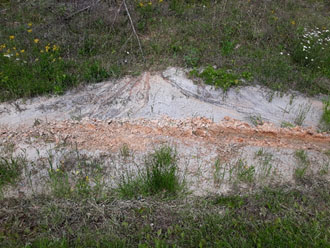 This resource—on a rapid growth trajectory into the several billions of tons—is but 20 miles or so from Chemours' New Johnsonville pigment plant, one of the largest pigment plants globally and within a low-cost barge, truck or rail-served distance to all other major U.S. titanium pigment and metal plants. And wherever it goes, as I said, there's LOTS of it. Among the many areas we visited, I marveled at the evidence of heavy mineral sands even on the roadside (At left, you can see where lighter sand was recently removed from water runoff in this spot, revealing the several fingers underneath of black, mineralized sand.)
As he and, now the President/C.E.O. of Piedmont, Keith Phillips, set up in North Carolina with that resource, Arima and his team at Hyperion have been busy putting together all the various parts of an integrated titanium company. On the exploration front, the company just days ago announced a new resource area that could add ultimately (and probably will) to the Maiden resource announced recently of 431 million tons. More land is being added at a rapid pace.
This newly discovered Camden Deposit is a near-surface expression of the lower McNairy Sands, with the results to date showing an average depth to mineralization of only around 4.5 meters and an average thickness of around 20 meters. So for those of you who have average (or above) understanding of such things, this is "fishing in the bath tub" kind of news: virtually at surface, thick, good grades. As Arima commented, "With a maiden JORC resource of 431mt, and now these shallow, high-grade intercepts, it is quickly becoming apparent that the Titan Project is one of the best undeveloped critical minerals projects globally. No other development has the Titan Project's compelling combination of scale, grade, high value critical mineral products, low-cost inputs, world class infrastructure and location."
Of the numerous other pieces of this powerful story have been put together, one of the most fascinating was Hyperion's entering a research agreement and option for exclusive license to develop titanium metal powders using the breakthrough HAMR technology invented by Dr. Z. Zak Fang and his team at the University of Utah. Funding, in part, will come from ARPA-E, with Boeing and Arconic (formerly Alcoa, Inc.) as industrial partners. ARPA-E is a U.S. Department of Energy agency which funds transformational advanced energy technology projects. For the VERY exciting details of this, check out https://hyperionmetals.us/titan-heavy-mineral-sand-2/ .
As you will read there, this potentially puts Hyperion in the cat bird seat with not only its massive HMS resource, but with the best, environmentally friendly means to process it.
When I visited, Hyperion had recently bought the building you see at left for its local headquarters (regrettably, I didn't make it back for the summer Grand Opening.) Here, too, Arima and his team are tending to everything; including becoming an integral part of the community.
A quick note for investors here: As he did with Piedmont, Arima is working on a full Nasdaq listing, which should be operational very soon.
Piedmont Lithium Ltd. (PLL:NASDAQ; PLL:ASX): Bringing Lithium Production "Back Home"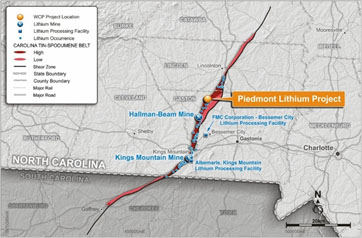 Back when I first became aware of the company which turned out to be my best performing stock pick of 2020 (catalyzed primarily by its offtake agreement with Tesla announced last September) I learned—among other things—that this area of southern North Carolina you see in the nearby chart has a major mining and scientific history. Even I—as much as I have followed extractive industries over the years, among others—didn't realize the extent to which this area has for decades been a significant mining center for lithium (and some other industrial metals) as well as a key technology and research center for the industry. For those who did not know or have forgotten, industry giant Albemarle (NYSE-ALB) has its global headquarters in Charlotte; its North American-specific HQ is to the West in Kings Mountain, site of one of the legacy mines in the area. Albemarle continues to process lithium imported from Chile at a plant there.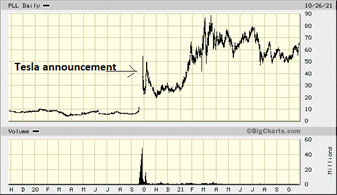 As I alluded to above where Hyperion is concerned, Principal Geologist Lamont Leatherman was the key early on for Piedmont in putting its land package/lease and mineral rights together by knocking on one door at a time. Leatherman (behind me in the nearby photo, wearing cap) and Vice President—Project Manager Patrick Brindle (right) spent some time together late in 2019 so I could get up to speed with the company (just a few weeks prior, I'd visited with both Leatherman and C.E.O. Phillips in New Orleans.)
Piedmont has grown a HUGE resource of lithium: one which is estimated to be able to ultimately produce 160,000 tons per year of spodumene concentrate, that will convert to 22,700 tons per year of battery-grade lithium hydroxide. Mica and gypsum will be among the marketable byproducts in this case. Ultimately, those above numbers could potentially increase if all goes well: Piedmont just announced (see https://piedmontlithium.com/piedmont-increases-mineral-resources-with-completion-of-phase-5-infill-drilling/) an effective doubling of its base project resource.
At present, the company is in the process of "massaging" the public: better informing and bringing them into the loop as the last of its various permits are being applied for. Management recently had to go on the defensive after a "hit piece" was published by Reuters; chiefly, more of the usual "milk comes from the grocery store" antics. Following this, management put out an update on its progress for shareholders (at https://piedmontlithium.com/piedmont-lithium-corporate-update/) which each of you interested in and/or invested in PLL shares should read in detail. And at the same time, Piedmont and Tesla jointly announced that they have agreed to push back the "start date" for their deal whereby Tesla would be supplied with material given that the final permits need to be in hand first. So clearly, Tesla understands that delays in development, permitting, etc. can and do happen; and they remain on board.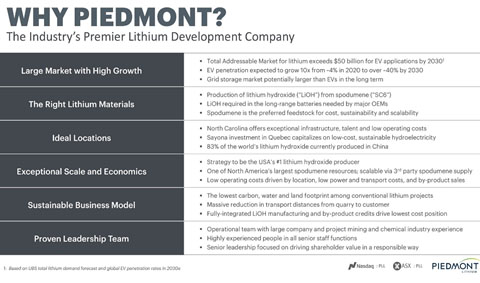 Beyond North Carolina—and its goal to be THE chief lithium miner and battery-grade hydroxide producer in America—Piedmont has been expanding its footprint. As you can read more of at its web site (https://piedmontlithium.com/) it has taken a major interest in Quebec-focused Sayona Mining, which recently completed its acquisition of North American Lithium and its assets (see https://piedmontlithium.com/piedmont-and-sayona-complete-acquisition-of-nal/.) Even more recently, Piedmont took an initial position in Iron Ridge Resources to have a piece of its lithium portfolio in Ghana.
Near-term, as you can see from my earlier chart of Piedmont, we can probably expect to see more choppy, sideways kind of action in the company's share price. This—and its being up 12-fold or so from last summer at last look—has my "status rating" in The National Investor on PLL at an "Accumulate" presently. Piedmont is a solid company with a bright future; and has all the potential one of these years to be on a par valuation-wise with presently-larger rivals such as Livent, Albemarle and SQM. But for the time being, shares should be best bought/accumulated on occasional pull backs. Of course—as with all my recommendations—when I change that view, Members are immediately notified.
Frontier Lithium Inc. (FL:TSX.V; LITOF:OTCQX; HL2:FRA): Canada's Premier Lithium Deposit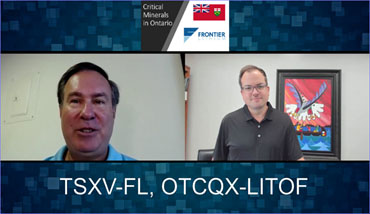 Let me say this right at the outset: As I have been saying for some months now, Frontier Lithium—a company I first met as a relative "baby" a decade or so ago and at a fraction of its present value—will not surprise me in the least if it is the next company on my recommended list to move the decimal place in its share price from left to right.
Don't say I never told you.
I first met C.E.O. Trevor Walker when he was at the long-running Chicago Resource Expo I have been a part of a good 10 or so years ago. Walker (at left here with me; WATCH us at https://www.youtube.com/watch?v=aSD32_K8QME) is one of the most deliberative, plain-spoken and efficient company heads I have ever met; and I have praised him regularly for building his own, now, multi-billion dollar resource (and still growing) with less fanfare, money and share issuances than I think ANY company I have ever known of.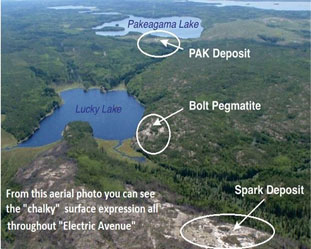 As you'll hear from Trevor in our video discussion of several weeks back, this boggy "moose pasture" in extreme northwest Ontario is the home to, perhaps, the most substantial spodumene-hosted lithium deposit in the world. Almost any place you look there is the telltale, chalky presence at surface of a high-grade and low iron content (KEY for applications in specialty and ceramic markets) lithium that, now is the anchor for TWO substantial resources: the originally-drilled PAK and the newer Spark Deposit. A third major discovery has been made (Bolt). The entire district-scale area has now been dubbed "Electric Avenue."
A few months back, Frontier received an investment from the Province of Ontario toward its test work to produce a lithium hydroxide concentrate for batteries. Said Greg Rickford, Minister of Energy, Northern Development and Mines for Ontario, in announcing this, "We are investing in innovative mining and refining technology developed right here in northern Ontario. Our government's investment in Frontier Lithium strengthens the development of our Critical Minerals Strategy and our position to become the supplier, producer and manufacturer of choice for certain critical minerals. There's a growing global market for reliable, responsibly sourced critical minerals, and we want Ontario to be the first jurisdiction on everybody's mind." I doubt Ontario is interested in a trade: we'll take Rickford here in the U.S., and send them Deb Haaland and throw in a couple trouble makers to be named later?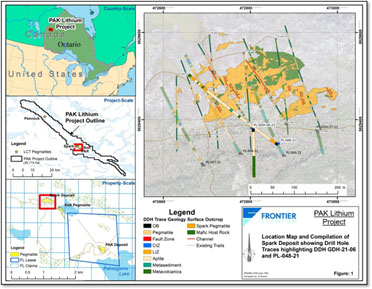 And just a few days ahead of this publication's release, Frontier announced that it indeed HAS successfully produced a battery quality lithium hydroxide product at its test plant: see https://mailchi.mp/frontierlithium/liohpilotresult. Said Walker in announcing this, "We continue to progress, de-risk and execute on our plan to build a fully-integrated lithium chemicals company to service the global battery and electric vehicle industry…We are looking to complete lithium chemicals process selection by year-end and will then commence subsequent piloting and demonstration programs necessary to deliver the feasibility of an optimized process with innovative technology necessary for building a commercial lithium chemical processing plant in North America."
And it just keeps getting better. With the news mid-September (https://mailchi.mp/frontierlithium/sparkixb) f the latest drill results from Spark—an impressive-enough 1.68% Li2O grade BUT OVER 320+ METERS!!!—the realization that Electric Avenue could end up the largest and richest district in the world started to sink in to a few more people.
Frontier has now just commenced Phase X drilling at Spark. Objectives will be to complete the geomechanical drilling and to upgrade the bulk of Inferred resource to Measured and Indicated as required for the Company's advancing PFS (which, last I checked, should be out in early 2022.) As Piedmont is doing, it is moving aggressively to show that it not only has a world-class resource/deposit, but the means to turn the spodumene-hosted lithium into a product to be sold directly to O.E.M.'s, Gigafactories or what-have-you.
It is simply a matter of time before Frontier announces one (or more) deals such as Piedmont's with Tesla. That management and insiders control the amount of Frontier they do may be the only thing left that has fended off a low-ball offer to this point. And as long and well as I have known Walker, he is in NO hurry; but will continue building this MONSTER story until someone is forced to pay up or lose any access to such a premier deposit.
Don't let grass grow under your feet on THIS one either!
BacTech Environmental Corp. (BAC:CNSX; BCCEF:OTC): "Green Mining" Story Is Reaching Critical Mass
Wrapping up things here (finally, eh?) I want to add a quick "Honorable Mention" and yet another VERY relevant "Green" company to this mix that will be profiled in more detail in my upcoming Special Report on Ecuador's nascent mining industry (where it is chiefly focused.)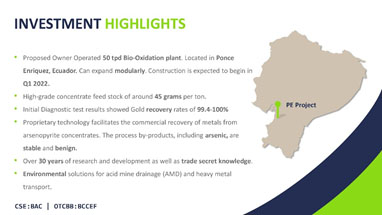 As I sometimes do with tiny, start-up companies, I watched BacTech and its snail's pace progress for several years before recommending the company officially about four years ago. Even for a while after that, things plodded along; variously, with modified plans/projects and other delays…and often with scarcely two nickels to rub together.
But as you can see at BacTech's web site by a cascade of recent news (at https://bactechgreen.com/) as well as in a video chat I had recently with the company's C.E.O. Ross Orr (that discussion at https://www.youtube.com/watch?v=d01tEMPapxc) this unique company with the means to "Recover Metals While Healing the Environment" has been putting the pieces together that could finally see it in production and with revenues in the coming months.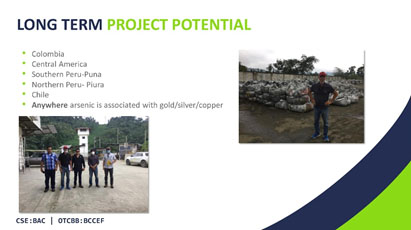 As said, the company's chief focus right now is in Ecuador; and I have on and off been privy to and even somewhat a part at times of BacTech's inroads there. A lot of success has been achieved—and the necessary funding obtained—recently by the company that should shortly lead to the building of its first pilot plants in the Ponce Enriquez area of Ecuador, where the company has already exhibited on a small scale that it can recover precious and base metals from old, toxic and arsenic-laced mine waste…remove and render inert the arsenic…and in the end be able to monetize ALL these various products, while cleaning up the environment.
The need and opportunity for this kind of thing globally is STAGGERING. Many of us believe that BacTech and/or companies doing similarly have bright futures ahead of them from similar clean-up opportunities the world over. While our Members have already made several times their money here in some cases, I think the best is yet to come. Stay tuned!
Tips on Buying Companies "Right"
One quick note before the main closing subject here…
I encourage each of you reading this to get to know more about the companies herein. I have done my darnedest to, first, make the "macro case" as best, honestly and effectively as I can. And in their own ways, these companies (and others I cover in The National Investor) "fit the bill" in one way or another.
Kick the tires (as I do.) Visit their sites. Follow them on social media. Get on their email lists so that, when news comes out, you'll KNOW IT.
And make sure if you are not already you are on MY various lists, etc. as well.
* On Twitter, at https://twitter.com/NatInvestor
* On Facebook at https://www.facebook.com/TheNationalInvestor
* On Linked In at https://www.linkedin.com/in/chris-temple-1a482020/
* On my You Tube channel, at https://www.youtube.com/c/ChrisTemple (MAKE SURE TO SUBSCRIBE!)
Subscribe to The National Investor here.
Chris Temple is editor and publisher of The National Investor. He has had an over 40-year career now in the financial/investment industry. Temple is a sought-after guest on radio stations, podcasts, blogs and the like all across North America, as well as a sought-after speaker for organizations. His ability to help average investors unravel, understand and navigate today's markets is unparalleled, and his ability to uncover "off-the-radar" companies is likewise. His commentaries and some of his recommendations have appeared in Barron's, Forbes, CBS Marketwatch, Wall Street's Best Investments/The Cabot Group, Kitco.com, the Korelin Economics Report, Benzinga.com, Palisade Radio, Mining Stocks Education, Mining Stock Daily and other media.
Read what other experts are saying about:
[NLINSERT]
Disclosure:
1) Chris Temple's and The National Investor disclosures are listed below.
2) The following companies mentioned in this article are billboard sponsors of Streetwise Reports: Frontier Lithium. Click here for important disclosures about sponsor fees. As of the date of this article, an affiliate of Streetwise Reports has a consulting relationship with Streetwise Reports: Bion Environmental Technologies. Please click here for more information. The information provided above is for informational purposes only and is not a recommendation to buy or sell any security.
3) Statements and opinions expressed are the opinions of the author and not of Streetwise Reports or its officers. The author is wholly responsible for the validity of the statements. The author was not paid by Streetwise Reports for this article. Streetwise Reports was not paid by the author to publish or syndicate this article. Streetwise Reports requires contributing authors to disclose any shareholdings in, or economic relationships with, companies that they write about. Streetwise Reports relies upon the authors to accurately provide this information and Streetwise Reports has no means of verifying its accuracy.
4) This article does not constitute investment advice. Each reader is encouraged to consult with his or her individual financial professional and any action a reader takes as a result of information presented here is his or her own responsibility. By opening this page, each reader accepts and agrees to Streetwise Reports' terms of use and full legal disclaimer. This article is not a solicitation for investment. Streetwise Reports does not render general or specific investment advice and the information on Streetwise Reports should not be considered a recommendation to buy or sell any security. Streetwise Reports does not endorse or recommend the business, products, services or securities of any company mentioned on Streetwise Reports.
5) From time to time, Streetwise Reports LLC and its directors, officers, employees or members of their families, as well as persons interviewed for articles and interviews on the site, may have a long or short position in securities mentioned. Directors, officers, employees or members of their immediate families are prohibited from making purchases and/or sales of those securities in the open market or otherwise from the time of the decision to publish an article until three business days after the publication of the article. The foregoing prohibition does not apply to articles that in substance only restate previously published company releases. As of the date of this article, officers and/or employees of Streetwise Reports LLC (including members of their household) own securities of Bion Environmental, ProStar, AirTest, Frontier Lithium and Tesla, companies mentioned in this article.

Additional disclosures:
The National Investor is published and is e-mailed to subscribers from [email protected] The Editor/Publisher, Christopher L. Temple may be personally addressed at this address, or at our physical address, which is: National Investor Publishing, P.O. Box 1257, Saint Augustine, FL 32085. The Internet web site can be accessed at https://nationalinvestor.com/. Subscription Rates: $275 for 1 year, $475 for two years for "full service" membership (twice-monthly newsletter, Special Reports and between-issues e-mail alerts and commentaries.) Trial Rate: $75 for a one-time, 3-month full-service trial. Current sample may be obtained upon request (for first-time inquirers ONLY.) The information contained herein is conscientiously compiled and is correct and accurate to the best of the Editor's knowledge. Commentary, opinion, suggestions and recommendations are of a general nature that are collectively deemed to be of potential interest and value to readers/investors. Opinions that are expressed herein are subject to change without notice, though our best efforts will be made to convey such changed opinions to then-current paid subscribers. We take due care to properly represent and to transcribe accurately any quotes, attributions or comments of others. No opinions or recommendations can be guaranteed. The Editor may have positions in some securities discussed. Subscribers are encouraged to investigate any situation or recommendation further before investing. The Editor receives no undisclosed kickbacks, fees, commissions, gratuities, honoraria or other emoluments from any companies, brokers or vendors discussed herein in exchange for his recommendation of them. All rights reserved. Copying or redistributing this proprietary information by any means without prior written permission is prohibited. No Offers being made to sell securities: within the above context, we, in part, make suggestions to readers/investors regarding markets, sectors, stocks and other financial investments. These are to be deemed informational in purpose. None of the content of this newsletter is to be considered as an offer to sell or a solicitation of an offer to buy any security. Readers/investors should be aware that the securities, investments and/or strategies mentioned herein, if any, contain varying degrees of risk for loss of principal. Investors are advised to seek the counsel of a competent financial adviser or other professional for utilizing these or any other investment strategies or purchasing or selling any securities mentioned. Chris Temple is not registered with the United States Securities and Exchange Commission (the "SEC"): as a "broker-dealer" under the Exchange Act, as an "investment adviser" under the Investment Advisers Act of 1940, or in any other capacity. He is also not registered with any state securities commission or authority as a broker-dealer or investment advisor or in any other capacity.
Notice regarding forward-looking statements: certain statements and commentary in this publication may constitute "forward-looking statements" within the meaning of the Private Securities Litigation Reform Act of 1995 or other applicable laws in the U.S. or Canada. Such forward-looking statements involve known and unknown risks, uncertainties and other factors, which may cause the actual results, performance or achievements of a particular company or industry to be materially different from what may be suggested herein. We caution readers/investors that any forward-looking statements made herein are not guarantees of any future performance, and that actual results may differ materially from those in forward-looking statements made herein.
Copyright issues or unintentional/inadvertent infringement: In compiling information for this publication the Editor regularly uses, quotes or mentions research, graphics content or other material of others, whether supplied directly or indirectly. Additionally he makes use of the vast amount of such information available on the Internet or in the public domain. Proper care is exercised to not improperly use information protected by copyright, to use information without prior permission, to use information or work intended for a specific audience or to use others' information or work of a proprietary nature that was not intended to be already publicly disseminated. If you believe that your work has been used or copied in such a manner as to represent a copyright infringement, please notify the Editor at the contact information above so that the situation can be promptly addressed and resolved.