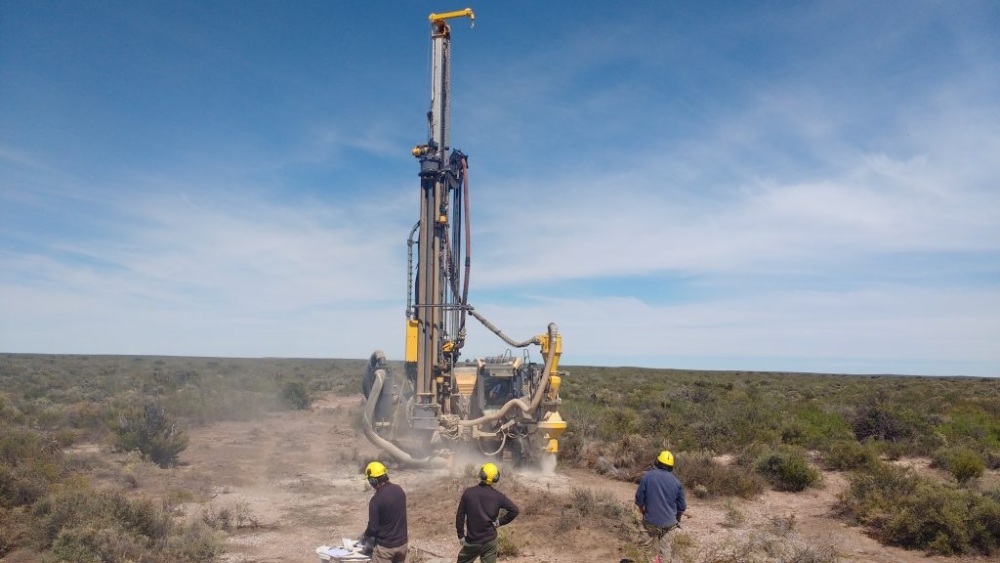 Ivana deposit; Rio Negro province, Argentina
Despite the summer doldrums and negative sentiment in mining, the uranium price spiked in September fortunately, and Blue Sky Uranium Corp. (BSK:TSX.V; BKUCF:OTCQB; MAL2:FSE) didn't stay behind, as the company diligently continues to advance their flagship Amarillo Grande uranium project in Argentina. The sudden move of the uranium oxide spot price is shown on this up to date chart provided by Tradingview, taken from my website.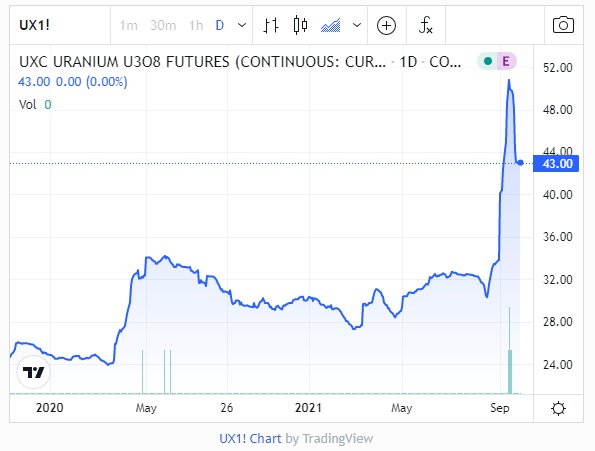 I used to take the chart shown on the Cameco website, with data provided by UxC and TradeTech, but the big disadvantage is the delay, as the data provided is updated only once a month. So this means violent moves like we are seeing lately are completely missed for the month of September, and this is not exactly useful for investors.
The cause for this dramatic move is assumed widely known by now, but in a nutshell it is the Sprott Physical Uranium Trust that is purchasing uranium oxide on the spot market in large quantities recently. It freed up cash to the amount of US$1.3B, culminating in adding 1.25Mlbs of O3O8 to its physical stockpile at one day. The trust started buying on August 18, 2021, and amassed 7.77Mlbs O3O8 on September 14, and I'm assuming this has grown to over 10Mlbs now, as huge buying lasted until September 21, 2021, causing the spot price to spike at US$51/lb O3O8.
Since then it dropped off to US$43/lb O3O8, and since 10Mlbs at an average purchasing price of say US$40/lb U3O8 equals US$400M, the Sprott trust still has about US$900M to spend. As everybody is waiting for utilities to start buying again, it seems Sprott is attempting to gobble up substantial amounts and take them off the markets (their other physical metals funds have the same tendency btw), to strain the buying of producers on the spot markets, so they will run into trouble to fulfill their long term contract obligations towards utilities. This can only work if you have a) huge amounts of capital at your disposal and outbid others, and b) if utilities are indeed close to buying large amounts for new long term contracts, so the Sprott Trust must be able to continue purchasing and strain the markets until utilities start buying.
"On September 28, 2021, the company announced the launch of a 3,500m reverse circulation (RC) drill program, in order to expand and upgrade the Ivana Deposit. The program will include about 260 shallow holes, as the mineralization is situated near surface (at -1m to -25m depth so far)."
If Sprott is just testing the waters they wouldn't have let the spot price spike at US$51 by spending US$400M, as it would drop back again if they stopped purchasing heavily, and it is back to normal for all other parties involved. If Sprott was acting just to stockpile physical uranium oxide, it would have been much wiser to buy gradually on the spot market, at much lower prices. In my view Sprott has other plans and expectations. It was also interesting to note that Rick Rule recently mentioned that he didn't see much upside in uranium stocks in the short term, right after the spot price spiked.
Although Rule recently retired officially from his managing roles at Sprott, he still is a director, and still plays an ongoing role in the management of certain Sprott investment strategies. Therefore, and as Rule still seems to be a force on the markets, I'm trying to decipher the Sprott uranium strategy. This entire first move could be a first gear of a multi-staged bull run on uranium, and ditto uranium stocks.
"Blue Sky Uranium seems to be perfectly positioned as a developer with an existing, growing resource and advancing it to PFS stage."
Blue Sky Uranium is working hard to be ready for this bull market. After raising CA$5.46M at the end of January and working on a 4,500m drill program, the company went to the markets again in August, this time for another CA$2.13M. Since then, the company has been preparing for a new drill program that was announced on September 28, 2021. In this update the current state of affairs will be discussed with CEO Cacos.
All pictures are company material, unless stated otherwise.
All currencies are in U.S. Dollars, unless stated otherwise.
On August 5, 2021, Blue Sky Uranium announced the closing of the final tranche of a CA$2.13M non-brokered private placement at CA$0.16, with a total of 13.32M shares issued, and a four month holding period. The financing units had full warrants, with an exercising price of CA$0.25, and with an exercising period of two years, expiring on August 5, 2023.
There were CA$49k in finders fees paid, and in connection to this 306k finders warrants (same terms as the financing warrants) were issued to the finders. Proceeds will be used for exploration, and general working capital. So far for the basics. Raising over CA$2M isn't a bad thing for a mining junior, and it was well timed in hindsight: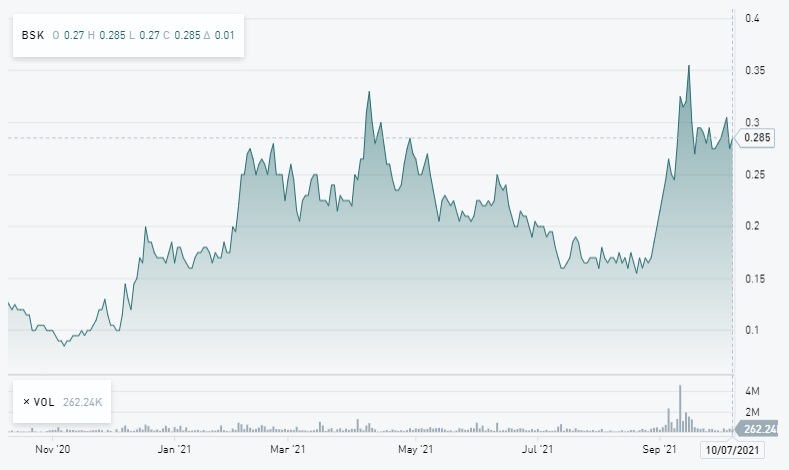 When talking to CEO Cacos, I learned that the treasury arrived at C$1.2M at the end of June 30, 2021, so it was appropriate to raise more cash at the time. As the company raised CA$5.46M in January as mentioned, I looked a bit closer at expenditures. Retiring a loan of CA$1.4M, doing process test-work and completing 1,500m of cheap RC drilling at the Ivana North target at their Amarillo Grande project in Argentina until July was only a partial explanation.
The Q2 financials (page 11) showed why exploration had seen CA$1.9M in expenditures: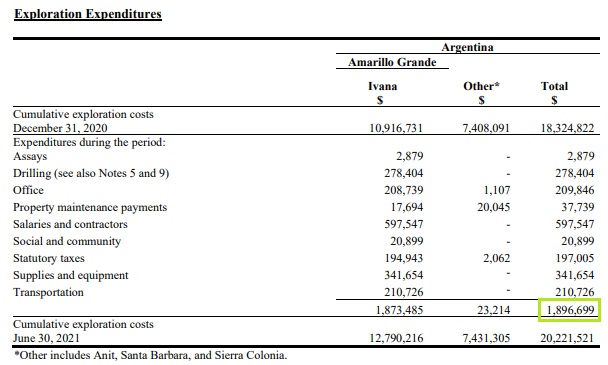 The amount of expenditures seemed high, as RC drilling usually doesn't cost more than C$100-150/m all-in, so 1,500m would result in C$225k max, this includes drilling, office, salaries, supplies, transportation, etc. CEO Cacos had this to explain:
"COVID has placed great restrictions on how we would normally operate. There are strict protocols requiring much larger camps, not being able to use facilities in nearby towns, etc. The pandemic has also slowed down the pace at which we could carry out our work programs."
He also believes exploration expenditures should go down from now on:
"Going forward, as matters in Argentina are improving, my team informs me that we will be able to begin to revert to more relaxed protocol procedures. Some of the workers will be able to commute from nearby towns so that we will not need to provide them with camps. With smaller camps, costs should be lower."
"We are now getting geared up to resume this program at Ivana North and to test Ivana Central and two other nearby targets to arrive at a total of 4,500 meters of drilling as you know. In addition to this, we just announced a 3,500 drill program to expand and infill our flagship Ivana deposit."
He also mentioned to me that the recently announced issuance of shares for drilling was already included in the CA$1.9M exploration expenditures. As a reminder, the company made the announcement in September 29, 2021 as it entered into an agreement with arm's length driller AGV Falcon Drilling to pay for their services by issuing 1.67M shares worth C$344k, or C$0.2063 per share, to preserve cash and the option to leverage a rising share price. This share issuance is part of a deal worth C$590k in three tranches, for the total drill program of 4,500m at the Ivana Central and Norte projects.
"As our exploration programs have intensified, we also owe it to our shareholders to increase our marketing and investor relations programs. This ensures Blue Sky's exploration activity reaches a wider investor audience."
As the company announced the start of a second phase test-work program in April of this year, targeting further process design tests for the Ivana deposit, I was curious about the status of this program. As a reminder, based on 2018 test-work, the overall process plant recovery was 85% for uranium (derived from 89% leach feed preparation recovery and 95% subsequent alkaline leach circuit recovery); and 53% for vanadium (derived from 89% leach feed preparation recovery and 60% subsequent alkaline leach circuit recovery). Since management is aiming at improving these already very good results, I was curious if they are succeeding at this.
CEO Cacos had this to say about it: "We have just shipped a bulk sample to the Saskatchewan Research Council where Chuck Edwards, a world-renown metallurgist and processing engineer, is carrying out advanced studies to improve recovery and cost for extracting uranium and vanadium. We will keep you posted as the studies progress."
An update would also be welcome on the most important requirements for the upcoming PFS, which are permitting and project planning, the ramping up of engineering work besides the process testing, and the expansion and infilling of the existing Ivana deposit, already containing a NI43-101 compliant Inferred resource of 22.7M lb U3O8 and 11.5M lb V2O5.
On September 28, 2021, the company announced the launch of a 3,500m reverse circulation (RC) drill program, in order to expand and upgrade the Ivana Deposit. The program will include about 260 shallow holes, as the mineralization is situated near surface (at -1m to -25m depth so far):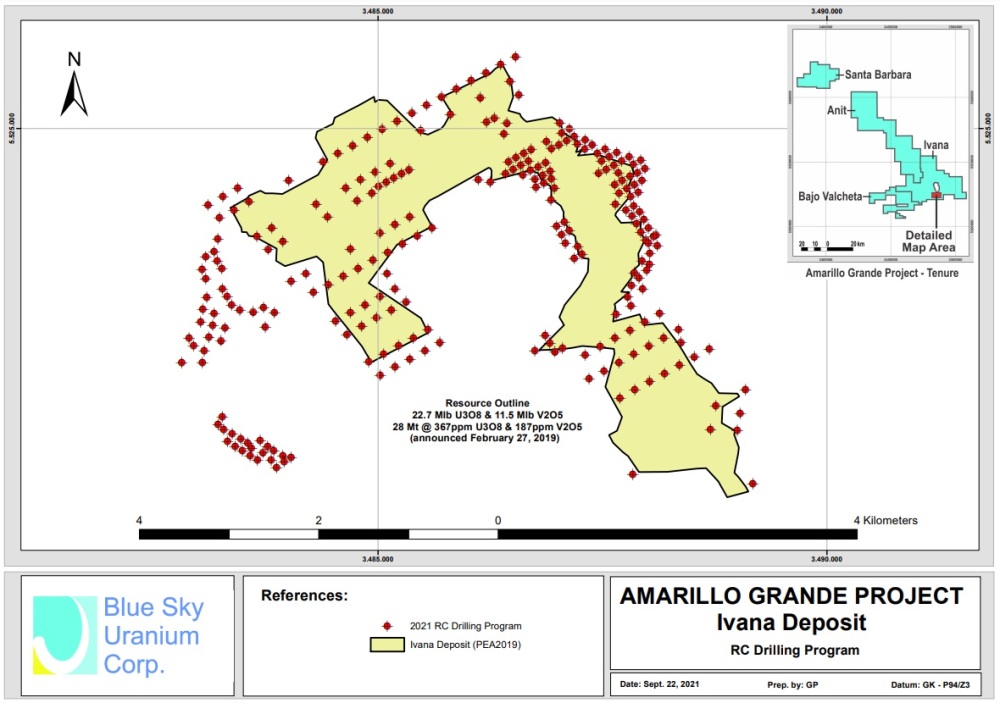 The goal is to test the zone west of the current Ivana deposit where 2018 sampling returned strong results. Some infill drilling of this deposit will also be completed, in order to upgrade categories of the mineral resource estimate, necessary for engineering work for the PFS. According to CEO Cacos, he expects the first drill results to be announced sometime in Q1, 2022, possibly January.
As mentioned, the company is still in the process of completing a 4,500m reverse circulation (RC) drill program, aimed at identifying new uranium resources near Ivana and throughout the district, focusing on the Ivana North (IN) and Ivana Central (IC) targets, located 10 and 20km north respectively of the Ivana deposit.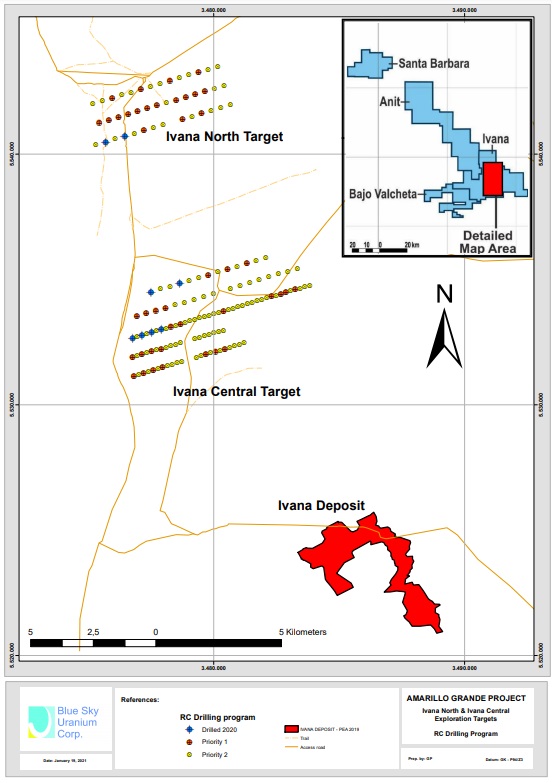 According to CEO Cacos, Blue Sky Uranium has completed 1,591m of drilling at the Ivana North target, and drill results will be released very soon, according to him in the next couple of weeks from now. The second portion of the program (approximately 3,000m), focused on Ivana Central will resume once updated drill permits are received.
This is expected around in the fourth quarter of this year, and drilling can resume one to two weeks after this, and results can be expected two to three months later, so roughly around towards end of Q1 2022.
In general, the determination of further exploration plans is constantly under consideration, as management has set their goals high, aiming at expanding the existing resource towards 100M lbs U3O8.
As a reminder, this would improve economics substantially, as the 2019 PEA, based on the current 22.7M lbs U3O8 resource, shows a decent but relatively small post-tax NPV8 of US$135.2M, with a robust IRR of 29.3%, at US$50/lb U3O8. It is not unlikely to assume the post-tax NPV8 to triple if they indeed achieve a 100M lbs U3O8 resource, conservatively accounting for a longer mine life as well, which would discount future cash flows more, so the NPV wouldn't equally more than quadruple just like the resource itself.
There would probably economies of scale kicking in, but I wouldn't like to see a quadrupling in production, and a fourfold capex as a consequence.
Besides economics, permits are also part of every mining project as you know. Since environmentalists seem to have noticed the Amarillo Grande project, they launched a lawsuit against Blue Sky Uranium, in order to "assert environmental protection rights", among other arguments, targeting their exploration efforts.
The defendants are the fully-owned subsidiary MCA and the Government of Rio Negro. Environmentalists can cause significant delays or even bigger issues for mining companies, but in this case the judge wasn't particularly impressed by the case, as mentioned in the news release from September 16, 2021:
"A preliminary request by the plaintiffs to have exploration activities on the Project suspended until the "Amparo" final decision was denied by the Judge hearing the case. The Company is conducting further investigations, but based on information received to date, believes that the lawsuit is entirely without merit.
The Company and MCA have obtained the relevant permits for all of its exploration activities to date and operated in full compliance with applicable laws and regulations and intend to vigorously defend the claim in Court. The Government of Rio Negro is also defending the claim. The Company will provide additional information as it becomes available. Further, this action does not impede the Company's ability to continue with its exploration operations in a business as normal mode."
Good thing is that Blue Sky Uranium can continue uninterrupted with their exploration programs, and most likely has nothing to worry about regarding this lawsuit.
CEO Cacos had this to add: "While we feel that this lawsuit is without merit, we take very seriously any actions that target our project or the activities of our project. As such, we will ensure to vigorously defend against this action. We feel the Government of Rio Negro will do the same as they have significant vested interests in the Argentinian uranium industry, and receive a lot of revenues from mining."
Regarding exploration, as management contemplated earlier this year to look for potential for in-situ recovery (ISR) zones, analogous to the Kazakhstan mines with comparable geology, it was good to see this concept being elevated to an actual target zone (Zone 6 on the map below).
As a reminder, the redox roll-front concept which is responsible for a 270M pounds U3O8 resource at the Inkai ISR Mine in Kazakhstan is also applicable at the Amarillo Grande Project. In fact, the Ivana deposit itself is a hybrid deposit, in part a surficial deposit, in part a sandstone-hosted deposit.
Blue Sky Uranium has eight different exploration target zones, of which only half have been drill-tested. The red zone in the map below is considered the redox front by the company's geologists.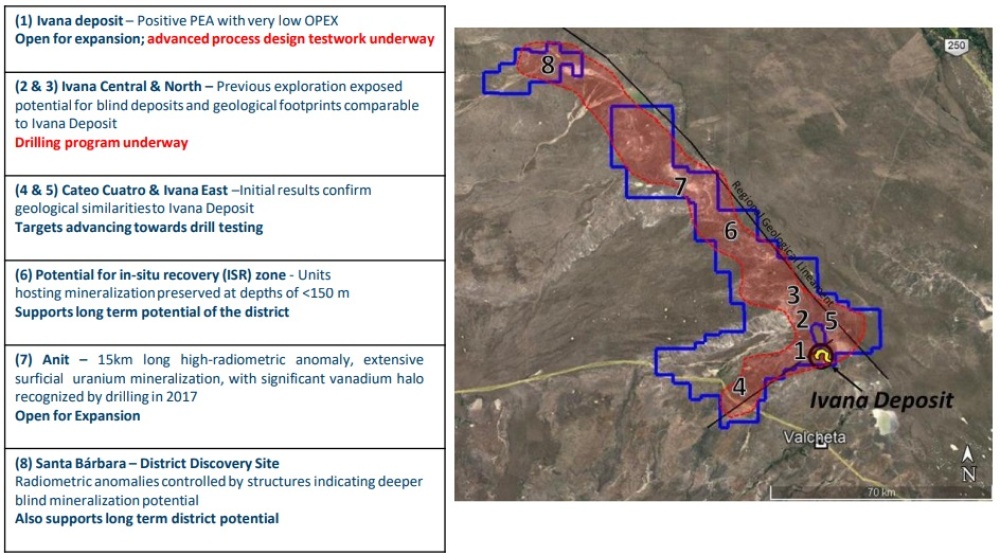 According to CEO Cacos, the next step in their exploration programs will likely be to focus on the Ivana Deposit and the immediately surrounding targets: Ivana Central (2), Ivana North (3), Cateo Cuatro (4), and, Ivana East (5).
These are targets that if they yield significant uranium/vanadium resources, they could conceptually by mined using a mobile processing plant, thus minimizing additional capital expenditures.
The treasury currently stands at an estimated CA$2.5M, which should be sufficient to complete the ongoing drill programs, part of permitting, met work and engineering, and commence working on the PFS.
Conclusion
As Blue Sky Uranium raised C$2.16M recently, a new 3,500m RC drill program commenced just over a week ago in order to expand and upgrade the Ivana deposit, and the first results are expected in Q1, 2022, possibly January.
The earlier commenced 4,500m RC drill program hasn't been completed yet as the company awaits drill permits for the last part, but the first results can be expected in the coming weeks. The process testwork is underway, just like engineering work for the PFS. As Sprott seems to be singlehandedly kickstarting the next uranium bull market, Blue Sky Uranium seems to be perfectly positioned as a developer with an existing, growing resource and advancing it to PFS stage.
I hope you will find this article interesting and useful, and will have further interest in my upcoming articles on mining. To never miss a thing, please subscribe to my free newsletter on www.criticalinvestor.eu in order to get an email notice of my new articles soon after they are published.
The Critical Investor is a newsletter and comprehensive junior mining platform, providing analysis, blog and newsfeed and all sorts of information about junior mining. The editor is an avid and critical junior mining stock investor from The Netherlands, with an MSc background in construction/project management. Number cruncher at project economics, looking for high quality companies, mostly growth/turnaround/catalyst-driven to avoid too much dependence/influence of long-term commodity pricing/market sentiments, and often looking for long-term deep value.
Getting burned in the past himself at junior mining investments by following overly positive sources that more often than not avoided to mention (hidden) risks or critical flaws, The Critical Investor learned his lesson well, and goes a few steps further ever since, providing a fresh, more in-depth, and critical vision on things, hence the name.
Read what other experts are saying about:
[NLINSERT]
The Critical Investor Disclaimer:
The author is not a registered investment advisor, and has a long position in this stock. Argentina Lithium and Energy is a sponsoring company. All facts are to be checked by the reader. For more information go to www.argentinalithium.com and read the company's profile and official documents on www.sedar.com, also for important risk disclosures. This article is provided for information purposes only, and is not intended to be investment advice of any kind, and all readers are encouraged to do their own due diligence, and talk to their own licensed investment advisors prior to making any investment decisions.
All presented tables are my own material, unless stated otherwise.
All pictures, charts and graphics are company material, unless stated otherwise.
All currencies are in US Dollars, unless stated otherwise.
Streetwise Reports Disclosure:
1) The Critical Investor's disclosures are listed above.
2) The following companies mentioned in the article are sponsors of Streetwise Reports: Blue Sky Uranium Corp. Click here for important disclosures about sponsor fees. The information provided above is for informational purposes only and is not a recommendation to buy or sell any security.
3) Statements and opinions expressed are the opinions of the author and not of Streetwise Reports or its officers. The author is wholly responsible for the validity of the statements. The author was not paid by Streetwise Reports for this article. Streetwise Reports was not paid by the author to publish or syndicate this article. Streetwise Reports requires contributing authors to disclose any shareholdings in, or economic relationships with, companies that they write about. Streetwise Reports relies upon the authors to accurately provide this information and Streetwise Reports has no means of verifying its accuracy.
4) The article does not constitute investment advice. Each reader is encouraged to consult with his or her individual financial professional and any action a reader takes as a result of information presented here is his or her own responsibility. By opening this page, each reader accepts and agrees to Streetwise Reports' terms of use and full legal disclaimer. This article is not a solicitation for investment. Streetwise Reports does not render general or specific investment advice and the information on Streetwise Reports should not be considered a recommendation to buy or sell any security. Streetwise Reports does not endorse or recommend the business, products, services or securities of any company mentioned on Streetwise Reports.
5) From time to time, Streetwise Reports LLC and its directors, officers, employees or members of their families, as well as persons interviewed for articles and interviews on the site, may have a long or short position in securities mentioned. Directors, officers, employees or members of their immediate families are prohibited from making purchases and/or sales of those securities in the open market or otherwise from the time of the interview or the decision to write an article until three business days after the publication of the interview or article. The foregoing prohibition does not apply to articles that in substance only restate previously published company releases. As of the date of this article, officers and/or employees of Streetwise Reports LLC (including members of their household) own shares of Blue Sky Uranium Corp., a company mentioned in this article.