The Life Sciences Report: Nobilis Health Corp. (HLTH:NYSE; NHC:TSX) owns and manages four surgical hospitals and five ambulatory surgical centers. The company is a marketing partner to 33 other facilities, and has a handful of brands. Though the company is Canadian, operations are all in the U.S. Why is that?
Kolin Ozonian: The U.S. is our primary focus and our core market. The Canadian aspect of the company results from having had an initial public offering (IPO) on the Toronto Stock Exchange (TSX). With that said, we have always been based in Houston, Texas.
Nobilis is focused in the U.S. because of the business model. The company focuses on procedures that are medically necessary but elective in nature. These are not trauma cases, where patients need acute care in an emergency room, or where they will have to stay in a hospital for a period of time. Our patients choose to have these surgeries due to medical reasons.
Canada has a different type of healthcare system. Patients can't easily have these procedures done due to the Canadian healthcare model. The U.S. model makes good sense for Nobilis because of both the reimbursement model and the physician model. The Nobilis model fits the U.S. commercial healthcare system.
TLSR: It sounds like Nobilis operates with a workflow model in which patients are assigned a designated time slot in advance. The company can, therefore, develop efficiencies around a predictable flow of patients. Is that it?
KO: That's correct. Additionally, the workflow component is aligned with a trend in the U.S. healthcare system right now. Large hospitals can't be efficient, and their biggest driver is to cut costs. As they cut costs, hospitals are moving these types of workflow procedures out of the hospital into a more efficient outpatient setting, which is where our business is focused.
TLSR: Do you think of freestanding, hospital-owned, day surgery centers as a source of competition, or do you see them as potential acquirers of your properties at some point?
KO: We look at them as potential joint venture (JV) opportunities down the road. Hospitals are putting their day-surgery centers in rural areas so that the hospital footprint touches more rural communities, but large hospital systems are not so good at operating these centers and more importantly, at driving cases to those facilities through any sort of marketing capabilities.
"The Nobilis model fits the U.S. commercial healthcare system."
We don't see hospital-owned day surgery centers as competition. They are just putting up a store, if you will, with their name on it to serve some patients. We have a different model, which is much more efficient and offers specific types of branded procedures. Some of these procedures include North American Spine; Migraine Treatment Centers of America; Evolve, a bariatric surgery brand; MIRI Women's Health; NueStep, which focuses on the minimally invasive relief of foot and ankle pain; and the newest Nobilis offering, Onward Orthopedics, which treats non-spine joint issues.
TLSR: You acquired a marketing organization called Athas Health in December 2014. Has the integration been smooth?
KO: Yes, from both a business and operational standpoint. Nobilis had a long-standing history of working with Athas and its management team, so there were a lot of old working relationships. That was helpful to the integration. 2015 is the first year that the two companies were completely integrated for 12 months. It's phenomenal what this integration has done from a business standpoint.
TLSR: President Obama's signature Patient Protection and Affordable Care Act (ACA), also known as Obamacare, has added 19 million (19M) new insured patients to the U.S. healthcare system. All Republican presidential candidates are vowing to kill Obamacare if elected. What happens if the ACA goes away, and how do you evaluate that risk going forward?
KO: Essentially, our risk is very minimal—if risk exists at all. Here's why. Regardless of what happens with the ACA, people still will have health insurance. The people who might lose that health insurance are on government-related health insurance. Our model is not built to take government pay. We do not focus on Medicare or Medicaid unless we have an in-network contract related to that. Government payers only serve about 1%—maybe less—of our overall revenues. Our core patient consumer is someone who works for a good employer and who has good commercial insurance. If the ACA goes away, we're not losing our target market.
TLSR: Your answer about who your target market is implies that Nobilis' patients are younger and, therefore, healthier. That must play very well into your workflow model. Is that right?
KO: It does, absolutely, because they are 1) incentivized to get a procedure done, and 2) they are not laying in a hospital bed. They are healthy enough to have surgery outside a traditional hospital setting. Our patients are motivated and are on their computers, searching and making phone calls to find the right doctor or clinic. They are proactive about their healthcare, and not reactive like patients who have chronic illnesses or diseases that force them into the hospital.
TLSR: You came to Nobilis last July from McKesson Corporation (MCK:NYSE), a large-cap healthcare company with a $35 billion ($35B) market cap. You were a mergers and acquisitions (M&A) principal at McKesson. I'm thinking that you were probably looking, in many cases, at public companies to acquire. Would that be accurate?
KO: Yes, absolutely. We also had a lot of international prospects.
TLSR: At Nobilis, you are with much smaller businesses owned by physicians who have skin in the game and are passionate about the practices and businesses they have built. How does your work at Nobilis compare to what you were doing at a much larger company?
KO: It's a much different game. At McKesson, everything was strategic and transactional. You're looking at deals for years, and you're trying to understand how major shifts in the healthcare landscape are transforming healthcare. You have teams of people trying to understand how the market is evolving. Then, once the decision has been made, you're moving rapidly to the transaction. It's a very swift process with a lot of third parties, such as advisory firms, involved.
"Our core patient consumer works for a good employer and has good commercial insurance."
With Nobilis, we do run across some rather large privately owned companies, but we also have physicians who have built their businesses over a long period of time. What's unique about that is that it is an emotional process, because most of the time, these physician practices are not in the greatest of situations. Surgeons are good at doing surgery, but they are not so good at running businesses. When we talk about acquisitions, it takes a lot more work to help physicians understand the value and the benefit of working with Nobilis, to help get them to understand the company can get them to the place they want to be. For them, it is not a numbers game. At a larger company, where you are doing larger acquisitions, it really is a numbers game. At Nobilis, we focus on how it makes sense on the people side as well.
TLSR: The physician practice management groups you're acquiring at Nobilis are not publicly traded companies, and that means they are not filing Qs every 12 weeks, and so the diligence process is more from the ground up. From the time you spot an acquisition candidate and sign a confidential disclosure agreement, how long does it take to perform your due diligence?
KO: It depends on the size. If it's a single facility, we could perform diligence in two to three weeks. If it's a larger portfolio company, which may have 10–15 centers scattered in different states, it will take us anywhere from two to four weeks to do complete diligence. Sometimes we get financials in a workbook that's been saved on a doctor's computer. Other times, at some of the larger private companies, we find audited financials that we're able to look at right away. I have a strong M&A team. I also have some strong outside resources that I rely on. We're able to move quickly to get these transactions done.
TLSR: How many potential deals are you looking at in any given time?
KO: We look at anywhere from three to five potential deals per week. That's how large the volume of deal-flow opportunity is.
TLSR: Coming from McKesson to Nobilis, I know you are very familiar with the law of large numbers. Certainly, you came to Nobilis because there is a tremendous growth opportunity. You can double the size of Nobilis in a very short period of time, but it would take half a lifetime to do that at McKesson. What would you say to an institutional investor who thought you might be maturing into a company with a more standard, lower rate of growth?
KO: The first thing I would say is that this company is unique in its marketing. The marketing strategy allows us to commit to a 20% organic growth rate year over year at our facilities. Whether they are new acquisitions or existing facilities, we continue to grow revenues at double digits. If you look at comparable companies, their growth rates are in single digits. I've seen some forecasting as low as 4–6% in organic growth. The company's growth rate will only continue to improve as we become a more sophisticated marketing technology company. That would be my first comment to investors regarding growth on the organic side.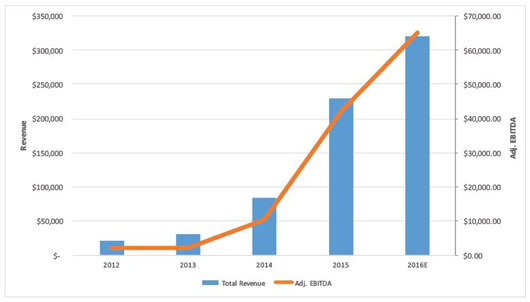 Second, we are an acquisitive company. There is a major fragmented market in the outpatient surgery world, and we are being very aggressive in consolidating. We have a great balance sheet. We have great sources of capital to do acquisitions. We believe that organic growth will get us there, but we now have the ability to scale with acquisitions. We are in three core markets today: Houston, Dallas and Phoenix. I can tell you that because of our relationships with 33 other facilities, we have the intelligence on where to go make acquisitions. We understand those demographics, and we understand the markets. Right now, we're sending volumes of procedures to those partner facilities, but we can also go talk to the 33 partner facilities about a potential acquisition. There is a great opportunity for mass scale.
"Our marketing strategy allows a 20% organic growth rate year over year."
There definitely is an opportunity here for us to be a part of a select $1B+ group focused on the outpatient services world, on a par with the likes of AmSurg Corp. (AMSG:NASDAQ) or even Surgery Partners Inc. (SGRY:NASDAQ), which had its IPO in September and is now about a $700M market cap company.
TLSR: Kolin, you had $50.8M of net income for the full-year 2015, which was $47.9M more than full year 2014, and you did that with a top line of $229.2M, versus $145.2M for 2014. You are guiding the Street for $320M in revenue for this year. How much of this will be from organic growth, and how much will you attribute to M&A activity?
KO: We expect to achieve organic growth on revenue and adjusted EBITDA (earnings before interest, taxes, depreciation and amortization) of 20% and 21%, respectively, from 2015. Based on our organic growth targets, we expect that acquisitions will account for approximately $45M in additional revenue and $14M in additional adjusted EBITDA.
TLSR: What are your plans for 2017? Is it possible you could accelerate your growth as your system is refined and sharpened?
KO: We're doing something pretty transformative, and can very easily build on the growth we've had, as well as accelerate that growth. We have a strong platform for scalable growth into national markets, have a solid balance sheet, and have limited capex and working capital requirements. Also, bundled payments are an opportunity for us to enhance relationships with commercial payers, attracting physician providers who are encouraged to cooperate for enhanced revenue incentives. This represents a significant marketing opportunity for Nobilis.
TLSR: Kolin, thank you.
With more than a decade of experience, Kolin Ozonian has helped his companies and their clients realize multimillion-dollar growth through mergers and acquisitions while overcoming financial, strategic and operational obstacles. Whether directly contributing to shaping a company's future, leading performance, or brokering deals, he thrives on gaining a competitive edge in an entrepreneurial culture. Prior to joining Nobilis Health Corp., Kolin Ozonian was instrumental in growing McKesson's Solutions Group to an internal firm serving over 50 clients in improving the business of healthcare via the execution of merger-and-acquisition transactions alongside strategic M&A advisory services, both in the United States and globally. In parallel, he spearheaded a five-year plan to quintuple the business through organic growth, new market penetration, acquisitions and funding. Directly impacting the evolution of the healthcare landscape, Kolin's artful way of strategic execution has garnered bottom-line results, key capital and equity market positions, and an impressive global healthcare client roster. He's exceeded expectations in identifying and closing accretive acquisitions, in addition to negotiating strategic agreements with an emphasis on disruptive models that align with a consumer-driven healthcare environment. Currently, Kolin Ozonian heads up the Corporate Development division for Nobilis Health Corp., which includes all mergers, acquisitions, joint ventures and investor relations.
Read what other experts are saying about:
Charts and images courtesy of Nobilis Health Corp.
Want to read more Life Sciences Report interviews like this? Sign up for our free e-newsletter, and you'll learn when new articles have been published. To see recent interviews with industry analysts and commentators, visit our Streetwise Interviews page.

DISCLOSURE:
1) Dr. George S. Mack conducted this interview for Streetwise Reports LLC, publisher of The Gold Report, The Energy Report and The Life Sciences Report, and provides services to Streetwise Reports as an independent contractor. He owns, or his family owns, shares of the company mentioned in this interview: None.
2) Nobilis Health Corp. is a sponsor of Streetwise Reports.
3) Kolin Ozonian had final approval of the content and is wholly responsible for the validity of the statements. Opinions expressed are the opinions of Mr. Ozonian and not of Streetwise Reports or its officers.
4) The interview does not constitute investment advice. Each reader is encouraged to consult with his or her individual financial professional and any action a reader takes as a result of information presented here is his or her own responsibility. By opening this page, each reader accepts and agrees to Streetwise Reports' terms of use and full legal disclaimer.
5) From time to time, Streetwise Reports LLC and its directors, officers, employees or members of their families, as well as persons interviewed for articles and interviews on the site, may have a long or short position in securities mentioned. Directors, officers, employees or members of their families are prohibited from making purchases and/or sales of those securities in the open market or otherwise during the up-to-four-week interval from the time of the interview until after it publishes.