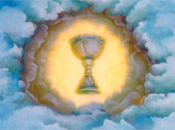 If there is a Holy Grail of efforts around the world to maintain coal in the power generation mixes of electric utilities, the technologies offering a way to separate and capture carbon dioxide have long been at the top of scientists' and policymakers' agendas.
But for all the attention, and the public and private dollars flowing into "clean coal" power and carbon capture initiatives, the results thus far have yet to identify potential solutions that meet stringent economic and environmental criteria with science proven by vigorous scientific tests. From this vantage point, the outlook is getting dimmer by the year.
Part of that is because the shale natural gas boom is re-writing the economics of power generation for utilities and manufacturers. The sense of urgency has waned as utilities close aging coal-fired power plants and decline to extend operating licenses for nuclear plants in favor of new gas-fired generators.
Yet even natural gas is still a fossil fuel. While the threat that carbon dioxide (CO2) poses to the world's climate may be less than many people have projected, the need for separating carbon in power plants and the opportunity to re-use it for industrial and even consumer applications means a potential bonanza may exist just beyond the horizon.
Let's be clear. There ARE carbon capture and storage technologies that have begun working in the real world. They just haven't made much, if any, real headway for power generation.
One carbon capture research and development effort getting traction is a technology that recently surpassed three months of continuous operations at a pilot plant at the U.S. Department of Energy's National Carbon Capture Center in Wilsonville, Ala. Perhaps the most interesting dimension of this technology is that its roots are in bioscience.
The owner and developer I'm talking about is privately held, venture capital-backed, Akermin, Inc. in St. Louis. Its core technology deploys and protects enzymes to separate carbon dioxide (CO2) from industrial gases, including those emitted by power plants.
Akermin has developed a proprietary process using enzyme-based, catalysts that promote, or speed-up, chemical reactions that capture carbon dioxide, thereby allowing it to be stored. The company's approach is in sharp contrast to more operationally challenging, more expensive and environmentally "unfriendly" approach based on chemical promoters.
If Akermin's signature pilot plant in Alabama bears fruit, its technology could be used not just for a variety of industrial gas applications experiencing strong growth. It could also help solve the power generation conundrum. In addition to reducing power plant emissions, other markets for Akermin's technology include enhanced oil recovery, biogas upgrading, LNG liquefaction, hydrogen production and refining "heavy" crude oil from the oil-sands in Canada.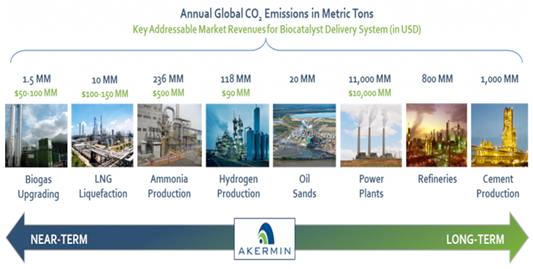 Given the stakes with the growing emphasis on reducing carbon emissions, these markets for Akermin's proprietary approach could reach well into the tens of billions of dollars. If this isn't a potential game-changing technology, I don't know what is.
The technology that laid the foundation for Akermin was the handiwork of a Saint Louis University graduate student, Nick Akers, and a professor, Shelley Minteer, an internationally recognized expert about biofuel cells, biosensors and enzyme immobilization materials. (The company's name is drawn from each of their last names.) Minteer now teaches chemistry and materials science at the University of Utah. She serves on Akermin's Scientific Advisory Panel.
While studying how to protect enzymes in harsh environments originally for applications in fuel cells and batteries, Akers and Minteer developed and Saint Louis University patented a new immobilization process. The concept wasn't new, but their process or formula was and it was deemed worth pursuing.
That formula earned seed funding in 2004 from Saint Louis University and BioGenerator, a privately-funded, non-profit 501 (c) (3) created to help launch sustainable bioscience companies in the St. Louis region. Saint Louis University licensed the patent to Akermin.
The company's first round of equity financing came in 2005 from three venture capital firms and a group of local angel investors, including now-CEO Barry Blackwell, a former banker who earned his MBA at the University of Missouri-Columbia. In 2010, the U.S. DOE's National Energy Technology Laboratory awarded Akermin a $2.25 million grant.
The Akermin approach that stabilizes enzymes is just one of the distinguishing features critical to the technology's success. A polymer process that "encapsulates" the enzyme allows it to perform as a catalyst not only over very long periods of time but also in harsh, high-temperature, alkaline environments such as those that exist scrubbers of power plants.
Longer-lived enzymes significantly reduce capital and operating costs, which have defeated many other carbon sequestration attempts. The Department of Energy's grant to Akermin was conditioned on its ability to enable coal-fired power plants to generate electricity at no more than a 35% increase in cost over first-generation coal-fired plants.
Blackwell and the company's 16 employees now are based in the Bio-Science Research & Development Growth (BRDG) Park at the Danforth Plant Science Center in suburban St. Louis. BRDG Park is a LEED Gold facility designed for early to mid-stage plant, life science and clean-tech companies.
The road ahead for Akermin remains filled with challenges and some unknowns, not the least of which is whether potential partners in the markets described above agree that it can work for their applications. It's possible that the U.S. Department of Energy's (DOE's) "Clean Coal Power Initiative" or other Carbon Capture Storage and Research still could produce a promising technology that connects with real-world applications.
While each of those paths is still struggling to produce economically and environmentally viable solutions, it's not for lack of trying.
The first two rounds of funding under the Clean Coal Power Initiative under then President George W. Bush focused on 12 projects. President Barack Obama steered funds in the Initiative's third round to another six projects using the American Recovery and Reinvestment Act legislation in 2009 and 2010.
But of those 18 Clean Coal Power projects overall, seven have been withdrawn by their developers, including some of the biggest names in the power business and biggest users of coal: Southern Company and American Electric Power. Two projects have been discontinued and negotiations over how to proceed on another have ceased.
While four clean coal power initiative projects are complete and another four are under development, neither seems positioned to achieve what Akermin might be capable of. Its technology is poised to leap frog all of them when it comes to establishing an economically viable and the most environmentally benign process for separating carbon.
"The beauty of incorporating our Biocatalyst Delivery System is it enables the use of simpler chemistry and process flows that should reduce capital and energy energy needs while leveraging off of commercially proven systems," Blackwell said in an interview.
"All of this provides further benefits in the resulting process' environmental profile, operational risks, water needs and the parasitic load on the power plant," he said. "We can hit the key economic and social issues that will drive any discussion about carbon capture."
Lowering parasitic load may prove to be one of the key distinguishing features of Akermin's technology. This is the energy that carbon capture systems suck out of a power plant, thereby reducing the plant's overall efficiency and driving up a capture system's overall cost. Blackwell said current carbon capture systems lose around 30-35% of their power-producing ability to parasitic loads. He said Akermin's is on track to reduce that to 15 percent or even less. According to National Energy Technology Laboratory, the "Akermin CO2 capture process will be applicable to both retrofit and new-build opportunities, with a smaller footprint than an equivalent (carbon) capture system."
Among the challenges Blackwell knows that Akermin must overcome is establishing partnerships with the industrial companies that can benefit significantly from the technology. He asserted such discussions with both local and global prospects are expanding. Among the current project partners are Novozymes, EPIC Systems and Emerson, the St. Louis-based electrical manufacturing giant which is also a key investor. Pacific Northwest National Lab and Battelle are modeling Akermin's process to demonstrate how to scale it up for integration into existing coal-fired power plants.
Blackwell is drawing on an increasingly 'deep' bench of carbon-capture and biocatalyst professionals. The company's CTO, Dr. Alex Zaks, spent more than 20 years in the pharmaceutical and biotechnology industries. While at Schering-Plough, Zaks led biocatalysis and separations groups and was directly involved in the development of the commercial enzyme-catalyzed routes to new drugs tackling invasive fungal infections and chronic ailments such as Hepatitis C. Zaks earned a Master of Science in Chemistry from Moscow State University and a Ph.D. in Biotechnology from MIT.
Sean Black, Akermin's VP of Business Development, worked previously on CO2 capture at international engineering heavyweights Alstom and Doosan Power Systems. He earned his MBA from the London Business School.
Blackwell hinted about a significant announcement looms this Fall but would not elaborate. "We have a lot of work to do to prove this value proposition at scale, but are extremely encouraged with our results thus far."
"We should be able to announce soon another project that helps validate our approach."
Jim Pierobon
The Energy Collective