This has been an interesting year for oil. There has been wild price swings due to extreme political, economic and weather events round the globe, making these commodities a little more difficult to trade than normal. That being said, if we look at the charts it appears we could be at the beginning stages of another major rally.
Let's just jump right into the charts. . .
Energy Sector Bullish Percent Index:
While these bullish percent charts are not the best for entry points in the market, they do warn us of possible tops or bottoms. This allows us to adjust our protective stops, entry prices and or profit targets. This BP chart of the energy sector looks as though it's trying to bottom. I would like to see the June high get taken out on both the BP chart and XLE etf before thinking energy is in a new uptrend.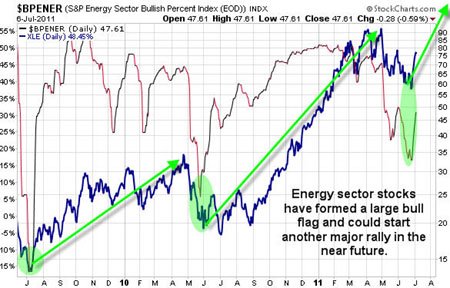 Crude Oil 4-Hour Futures Chart:
This chart shows the inverse head-and-shoulders pattern, which formed over the past couple weeks. Simple analysis provides us with a short-term bullish pattern and price target.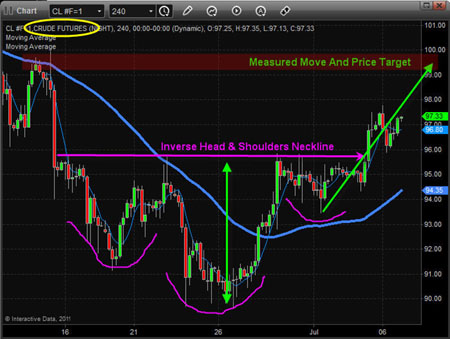 Mid-Week Trading Conclusion:
In short, I feel the U.S. dollar is about to start heading lower once again and that will help boost stocks and commodities. Most stocks and commodities are trading just under key resistance levels, so the next couple trading sessions are important. We need to see another push higher for these resistance levels to be taken out. If that happens, then the sky is the limit for the next rally.

I would like to see the energy and financial sectors start to rally here and we also need to see the U.S. dollar head back down in the coming sessions.

If you would like to receive these free weekly updated in your inbox please opt-in to my newsletter here: http://www.thegoldandoilguy.com/trade-money-emotions.php

Chris Vermeulen