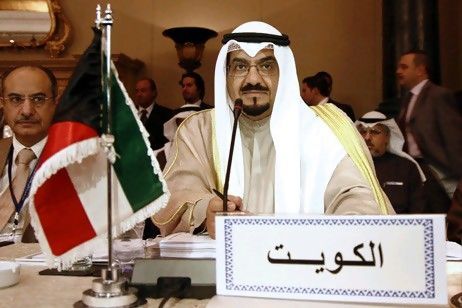 Sheikh Ahmad al Abdullah Al Sabah, Kuwait's oil and information minister
Ministers in Kuwait are today expected to unveil a plan to overhaul the nation's oil industry in a bid to bring its economic fortunes more into line with those of its neighbors.
Other Gulf oil exporters such as the UAE, Saudi Arabia and Qatar, are streaking ahead of Kuwait in terms of economic development. That is despite the nation's vast oil endowment, which has already transformed its living standards for its citizens who now enjoy an annual income averaging more than US$43,000 per head.
But Kuwait is the least popular destination in the GCC for foreign investment, and it ranked lowest in the World Bank's ease of doing business index for this year. Many development projects are on hold, leaving Kuwaitis short of vital infrastructure such as power plants and hospitals.
The government's long-term plans to boost oil production capacity are in disarray at a time when the OPEC exporter should be reaping huge financial benefits from buoyant oil prices and increasing demand.
Oil output from Libya, the biggest holder of African crude reserves, has fallen by more than three quarters because of the armed conflict there.
Today, at the start of a two-day oil and gas summit in Kuwait City, Sheikh Ahmad al Abdullah Al Sabah, Kuwait's oil and information minister, will unveil a plan for restructuring the state's oil industry, with the aim of enhancing global business opportunities.
A major element of the program is expected to be a government investment initiative aimed at promoting Kuwait's involvement in foreign oil and gas development.
The conference is being held against a backdrop of renewed political crisis in Kuwait, which is the only GCC country with an elected parliament. On Thursday, the 16-member cabinet resigned after politicians sought to question three ministers.
Parliament has been dissolved three times since 2006.