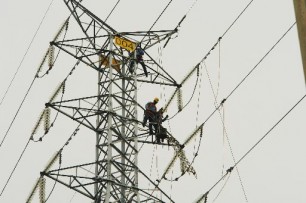 Texas electric customers are encouraged to continue to conserve power into the afternoon as a number of power plants around the state are offline due to a cold snap. A higher-than expected surge in power use due to the cold weather, combined with up to 50 power generating units going offline unexpectedly, led to the emergency.
The Electric Reliability Council of Texas said the size of the rotating outages has been cut in half to about 2,000 megawatts. Earlier this morning local line operations, such as CenterPoint in Houston, were asked to use rolling blackouts to cut up to 4,000 megawatts of demand from the system.
In Houston about one-sixth of area power customersóabout 330,000 homes and businessesówere experiencing temporary blackouts this morning.
The situation is expected to continue to improve as more power plants are brought back online. The Texas Commission on Environmental Quality is waiving air permitting requirements that might prevent power generators from producing power during the emergency, according to a notice from ERCOT.
The rotating outages are controlled, temporary interruptions of electric service, typically lasting 10 to 45 minutes per neighborhood, but some Houston area neighborhoods are reporting longer outages. They are designed to prevent a larger, system-wide failure.
The rotating outages started statewide around 5:30 a.m., with local power line operators asked to shed 4,000 megawatts of load.
CenterPoint predetermined which circuits and power lines would be systematically shut down temporarily across its service territory to reduce usage. The company isn't turning power off at critical facilities, such as hospitals, water treatment plants and other vital public services.
A spokesman for the Houston Indenpendent School District said a number of HISD schools lost power without warning today and they have no guidance on if it will happen at other schools.