Oil prices have been weak lately, falling to $73.52 per barrel as of yesterday. What is going on? First, the outlook for economic growth is not so hot and that means less use of oil products. Also, inflation is still moderate so that means oil prices are not being pushed up due to inflationary pressures.
Finally, there is the matter of supply and demand. It appears that supplies are running higher than demand as this chart demonstrates: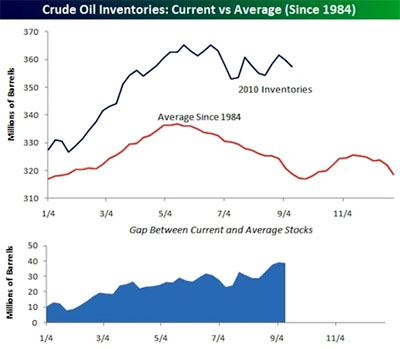 Source: Bespoke Investment Group
The line showing 2010 inventories is much higher than the historical average supply. Also, the inventory has stayed high, whereas it normally falls as the summer driving season ends. So, unless those making inventory decisions know something we don't know, then prices could be weak for some time until inventory gets back to normal levels.
Having said that, it is possible that there is some inventory buildup due to expectations of an adverse geopolitical event that would result in supply disruptions. Wonder what that could be?