Yes readers, the tide is coming in for mining juniors. That is, the major stock markets are turning around presently as witnessed by this
news
of housing starts rising more than forecast, or this
official news
of the recession having ended in June 2009. This will now ensure a fresh supply of investors, feeling flush with their monies, still withheld from the markets in the previous fearful stances of safety in bonds, and re-entering the markets with a scanning eye of where to put their monies in.
Doctor Copper has certainly forecast an uptick in economic activity, having returned to a similar high prior to the 2008 crash. The copper price, now at US$3.50/lb., usually leads the markets as industry depends on it for construction and growth. As confirmation for Doctor Copper, the prices of 19 key commodities in the CRB Commodities Index are also coming back to highs seen prior to 2008 crash: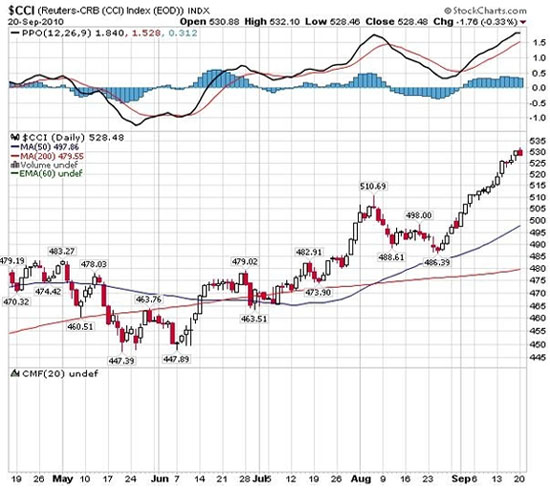 The CCI chart is indicating robust economic activity forthcoming.
With economic activity predicted to increase, the first segments of the economy to move forward should include the basic materials sector—especially mining companies. This author specializes in mining companies—particularly junior miners—and welcomes the incoming investment tide and its possible effect on the junior miners.
Why so much interest in juniors relative to established miners and underlying metals ETFs? Well, junior miners are usually focused on just one project; and the potential success of that project, or price moves of the underlying metal, has a large impact on that junior company. For a larger miner, the success of just one project is only incremental to all the other activity in the larger company, so the impact of the success is far muted.