Another update of the below chart is in order after gold's recent rise to a new all-time high, the surge in gold and silver mining stocks (in general) and the near-vertical course that has recently been charted by junior mining stocks.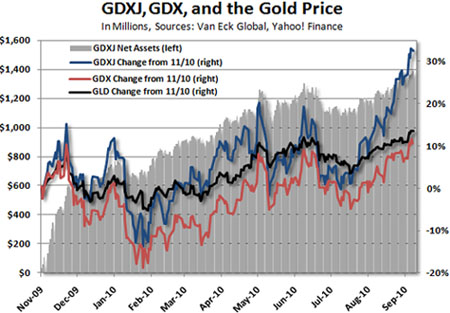 Any of you who own individual shares of these exploration companies are no doubt seeing some dramatic moves, as well (though your results will vary based on your individual holdings) and the Market Vectors Junior Gold Miners ETF (GDXJ) provides an excellent gauge of how this sector is faring as a whole.
It has been an astounding move for GDXJ in just the last two month—up almost 40% since the July low. And, after retreating briefly over the summer, the net assets of this fund have now approached the $1.4 billion mark—an impressive feat indeed after having been launched less than a year ago.
The much larger Market Vectors Gold Miners ETF (GDX), with net assets that just reached $7 billion, has also made some respectable gains over the last two months. Now up 16% from its summer lows, it trails the junior mining stocks by a wide margin in 2010 after outperforming the smaller stocks consistently in recent years when risk appetite was not nearly as a strong as it has been recently.
With gold again proving a far less volatile investment than mining stocks, as seen above in the relative calm of the SPDR Gold Shares ETF (GLD) curve, it's important to remember how investors' views change toward these three very different assets when their appetite for risk changes.
Should the current buying enthusiasm continue, this chart will likely appear again sometime in the weeks or months ahead with GDXJ continuing its remarkable move higher and with even more astonishing returns.