Just where to start is the question as the excitement zooms along with a new all-time high in gold prices partnered by silver prices coming through with a sparkling performance. First to gold prices where we can see the makeup of the move on the chart above, a weaker dollar accounts for $10.10 and buying pressure accounts for $13.20 for a gain of $23.30 with gold closing at $1268.70/oz. and silver at $20.48/oz., with big smiles all round.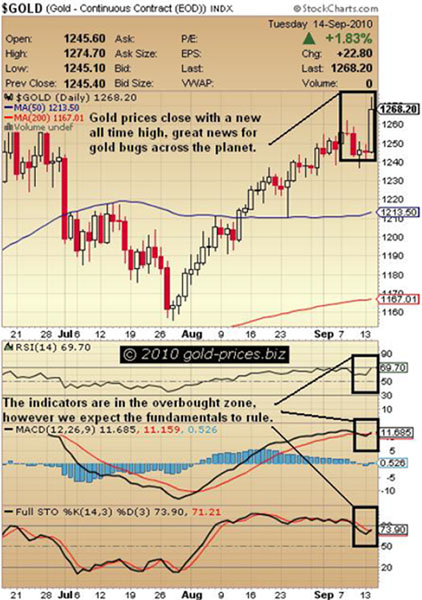 A quick look at the chart for gold prices depicts today's surge and the close with a new all-time high, great news for gold bugs across the globe who have kept the their faith in gold and shunned fiat currencies and the stock market in general. However, we can also see that the technical indicators are in the overbought zone, which normally would suggest that a breather was on the cards. On the other side of the equation are the strong fundamentals in favor of gold and silver and the fact that gold has now broken out and is in unchartered waters. It could move a lot higher and move quickly, despite the bears and naysayers; we do expect both metals to put in a decent rally from here to the year-end. New Years Eve for those who hold a position in gold and silver will be a bubbly one.
A quick look at today's action in the silver sector shows that silver prices were moving higher in Hong Kong and then sagged a little on the London Stock Exchange before moving higher again in New York. There's no doubt about it, the NYSE still rules the roost but from here on in we will see the other stock exchanges chipping in with more and more price increases albeit small ones as gold trades around the clock.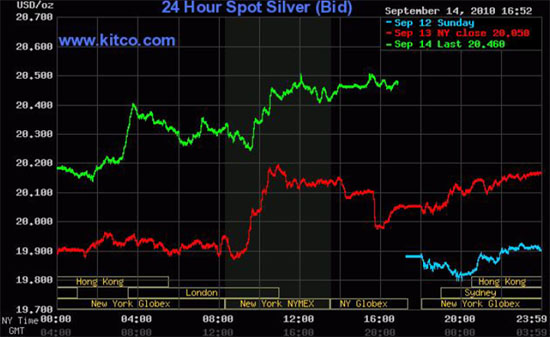 The USD has mimicked a dead cat as its bounce from 80 to 83 has gone into reverse as it is now trading at 81.17 on the US Dollar Index. This doesn't read as though it is a significant change, but it is now below its 200dma of '81.62' which is a worry for holders of the dollar. The shadow of QE2 looms and billions are being produced out of thin air to stimulate the economy. Giving a drunk another drink is not the answer and never has been. This state of suspended sedation for Joe Public will come to an end with a jolt as spending power diminishes to miserly levels. Attempts to stave of this recession are reminiscent of King Canute trying to hold back the tide. In our heart of hearts we all know that the party was terrific, but now it's over and it's time to front up and face the problems head on. It won't happen though, governments everywhere will continue to print money thus continuing the debasement of currencies and sending gold and silver to higher and higher levels.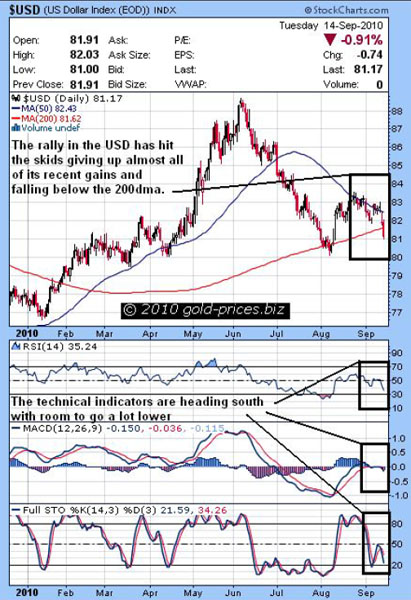 Hold firm to your core holdings, physical metal and your
options
trades, this may be a topóbut it's only the beginning of a much bigger rally.
Stay on your toes and have a good one. Got a comment? Please add it to this article; all opinions are welcome and very much appreciated by both our readership and the team here.
To stay updated on our market commentary, which gold stocks we are buying and why, please subscribe to the
Gold Prices
newsletter completely FREE of charge. Simply click here and enter your email address. (
Winners of the GoldDrivers Stock Picking Competition 2007
)
For those readers who are also interested in the silver bull market that is currently unfolding, you may want to subscribe to our free
Silver Prices
newsletter.
DISCLAIMER
Gold Prices makes no guarantee or warranty on the accuracy or completeness of the data provided on this site. Nothing contained herein is intended or shall be deemed to be investment advice, implied or otherwise. This website represents our views and nothing more than that. Always consult your registered advisor to assist you with your investments. We accept no liability for any loss arising from the use of the data contained on this website. We may or may not hold a position in these securities at any given time and reserve the right to buy and sell as we think fit.