In Title 31 of the U.S. Code, the United States Mint is required by law to supply "in quantities sufficient to meet public demand, one dollar silver bullion coins of specified size, weight, and design."
However, there is an incredible amount of confusion about a second law, which states that the U.S. Mint must supply its silver "blanks" from domestic resources. On June 5th, 2008, during the first massive Silver Eagle shortage, the director of the U.S. Mint published the following statement:
"By law, the United States Mint's American Eagle silver bullion coins must meet exacting specifications and must be composed of newly mined silver acquired from domestic sources. The United States Mint will continue to make every effort to increase its acquisition of silver bullion blanks that meet these specifications and requirements to address continuing high demand in the silver bullion coin market."
This interpretation of the law is extremely relevant because Silver American Eagle sales are now on the verge of surpassing total domestic silver mine production.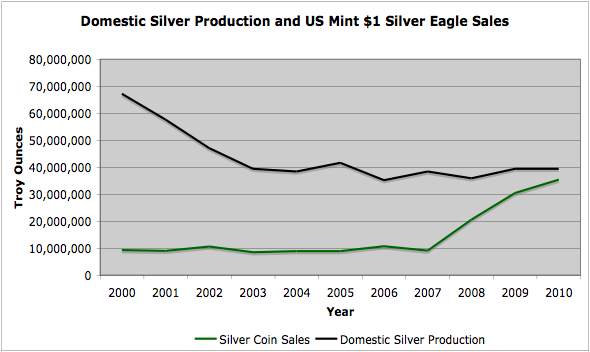 However, many contend that the 'domestic supply' law doesn't exist for silver, but has been confused with a different law on the books for gold,
PUBLIC LAW 99-185óDEC. 17, 1985 99 STAT. 1179
.
The only mention for silver supply chain requirements comes from Title 31: Denominations, specifications, and design of coins: "The Secretary shall obtain silver for minting coins from available resources."
The phrase "available resources" is ambiguous. In 2002, the Support of American Eagle Silver Bullion Program Act "to clarify the sources of silver for bullion coins" was passed by the House of Representatives. However, the Senate referred this legislation to the Committee on Banking, Housing and Urban Affairs, where it has since remained.