It's the last major commodity to enjoy a true price breakout, and it's already doing so India. This breakout signals the time is right for U.S. investors to make their move.
Silver is trading at just under $20 an ounce right now. I think it could hit $50 an ounce by the 2012 presidential election, which would represent a 150% move from here. Clearly, the "white metal" can be a major profit center for your portfolio during these uncertain times.
When investors think of silver, they tend to view it as a cheaper version of gold. That's a mistake. On one hand, silver is like gold in that it is an investment-worth precious metal. There is also strong industrial demand, which will only increase.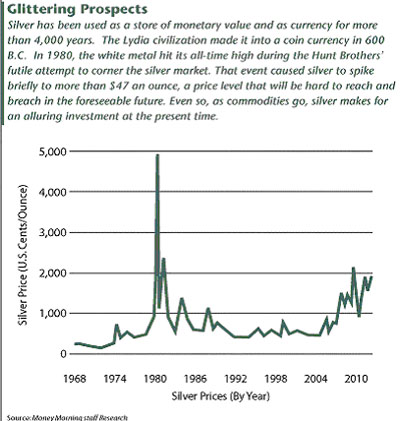 The Silver Bull's Early Warning Signal
The fact that silver is breaking out in a foreign currency (rupee) is tantamount to an early warning signal for U.S. investors to place silver bets in USD terms.
Silver is currently cheap, when priced in gold due to gold's new nominal high this year; however, silver failed to follow suit. This price divergence is attracting relative value traders, who might trade based on the gold:silver ratio—making money as silver rises
or
gold declines. Silver typical ratio is 61 oz. to 1 oz. gold. Currently, the ratio is ~65. This tells us silver is cheap compared to gold at current prices.
Silver last traded over $20/oz. in March 2008.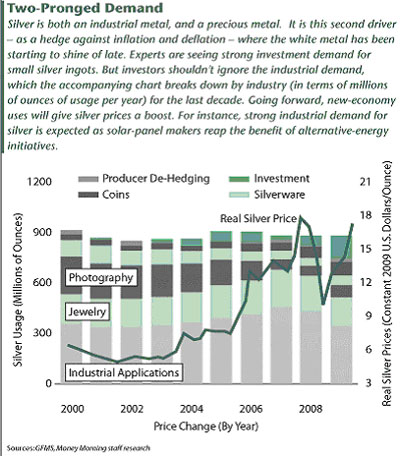 Time to Make Your Move
Clearly, it's time to add silver to your long-term investment strategy. Demand is rising in emerging markets, as inflation fears hit export nations. Meanwhile, in developed nations, silver is shining again due to deflationary fears. Make it a core component of your portfolio.