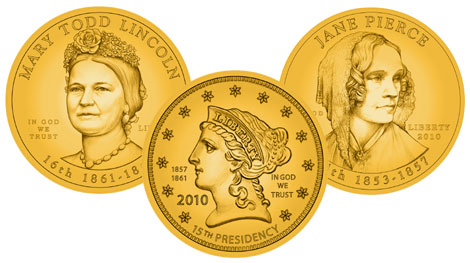 The series created to honor the spouses of the Presidents will enter its fourth year in 2010. First Spouse Gold Coins have been issued each year since 2007, featuring the First Spouses in the order of the Presidencies. Generally, four different First Ladies are presented per year, but there have been some notable exceptions along the way.
In three cases, a President served without a spouse. The authorizing legislation for the series provides that in this situation an image emblematic of Liberty will be used for the obverse of the coin and images emblematic of the President will be used on the reverse. In another exception to the general trend, there were five different First Spouse Coins issued for the year 2009. This was due to the fact that President John Tyler had a first and second wife, who were both honored on a separate coin.
For the 2010 First Spouse Gold Coins, there will be four different designs released. Three of them feature a First Lady and one of them is the Liberty type since President Buchanan served as President without a spouse. The following coins will be issued in 2010: Abigail Fillmore First Spouse Coin, Jane Pierce First Spouse Coin, James Buchanan's Liberty Coin, Mary Todd Lincoln First Spouse Coin
Each of the coins will contain one half ounce of 24 karat gold and be struck in proof and uncirculated qualities.
Highlights for next year's offerings will be the James Buchanan's Liberty coin, which reproduces the classic Liberty Head Quarter Eagle design by Christian Gobrecht. A second highlight will be the Mary Todd Lincoln coin, which will be issued shortly after the
Abraham Lincoln Presidential Dollar
.