Gold:
Markets nervously await data this week, including the important monthly jobs number which will likely again underline the risks of a double dip recession. While Asian shares advanced, European shares (London closed for a public holiday) have been more tentative this morning and the U.S. futures are marginally positive. Currencies markets have not seen much movement but the yen is stronger again today despite concerns that the government action will not be able to control currency price movements.
Gold - 10 Day (Tick)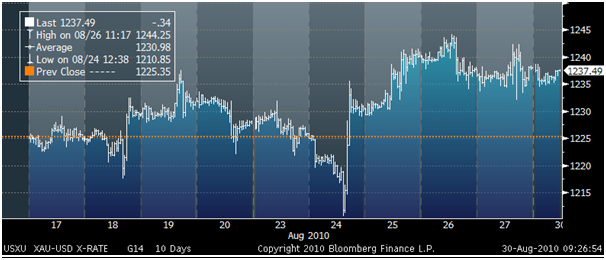 Gold and silver are marginally lower after last week's 1% and 6% gain, respectively. Gold is only a few percentage points below its record (nominal) high seen in June (see chart). Many analysts suggest new record highs could be achieved in gold's traditionally strong September, especially as Indian gold demand looks robust as the festival season kicks off on the subcontinent.
Gold - 6 Month (Daily)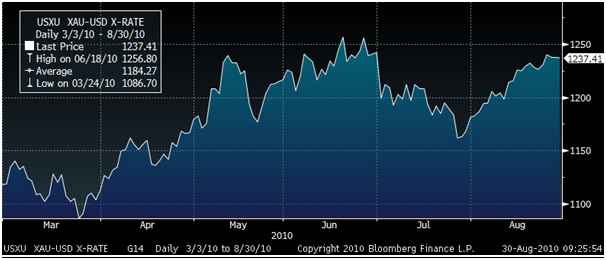 Silver:
Silver remains well below its all-time record high of nearly $50/oz in 1980. Silver is looking extremely positive technically and the correction and consolidation of the last 2 and a ½ years may be the foundations for higher prices in the coming months.
Silver - 5 Year (Daily)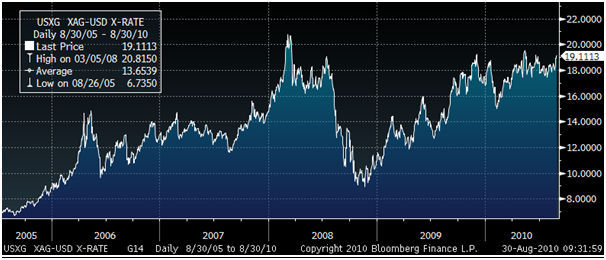 Value buyers continue to see silver as very attractive with the gold-silver ratio near 65. Most analysts believe that the gold-silver ratio will fall over time, resulting in higher silver prices versus gold. Should this trend continue, which seems likely, then silver's ratio to gold could return to the levels seen in the 1970s - between 40 and 15.
Gold-Silver Ratio - 50 Years (Yearly)