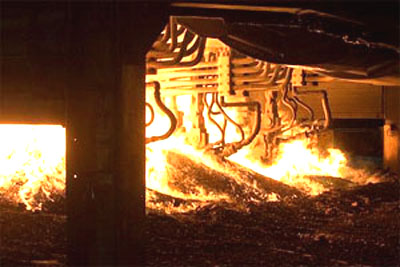 An enormous amount of heat is lost when a 3,000ºF (1,650ºC) furnace melts quartz rock to extract silicon at this alloys plant, but a Recycled Energy Development system aims to capture that heat to generate electricity.
What if every lump of coal in our power plants did extra duty? What if our fuel worked harder? That's the basic idea of waste-heat recovery systems. Alphabet Energy aims to take the decades-old idea and deploy it on a massive scale, cheaply, with a little help from nanotechnology and the semiconductor industry.
By providing a thermoelectric chip to be inserted into any exhaust flue or engine to convert heat into electrical power, the company hopes to become the "Intel of waste heat," said CEO Matt Scullin, who believes this could represent a $200 billion global market.
Recently, a bipartisan group of lawmakers, led by N.Y. Democratic Representative Paul Tonko, former head of N.Y. public power research authority,
introduced a bill
that would provide a 30% investment tax credit for industrial installation of waste-heat recovery systems.
According to a
2008 report
more than 2/3 of the fuel used to generate U.S. power is lost as heat.
Technologies for recovering waste heat have been around for more than a century, according to Tom Casten of Recycled Energy Development, which aims to retrofit factories to convert waste heat into electricity. . .then sell it to the grid or nearby facilities.
The 2008 report revealed 3,300 U.S. cogeneration sites comprised nearly 9% of its total electricity-generating capacity, and pushed to raise it to 20% by 2030—a level already exceeded by some European countries.
Casten believes Tonko's bill is an important step toward waste-heat technology adoption. "There are 95 ways to recycle energy. Open the door for them," by removing regulatory barriers, he said.