Who'd have believed that small investors have deserted the stock market in droves this year? We'd thought just about everyone but Larry Kudlow was out of shares by early 2009, and that the only players left were the high-speed trading computers maintained by the likes of Goldman Sachs and J.P. Morgan. Apparently not. Investors pulled $33 billion from equity mutual funds so far in 2010, according to
The New York Times.
If they keep up the pace, it would be the biggest run on mutual funds in more than two decades, not counting the panic stirred up by the banking crisis in 2008. The little guys appear to be "losing their appetite for risk," a spokesman from Credit Suisse told
NYT
, putting it mildly.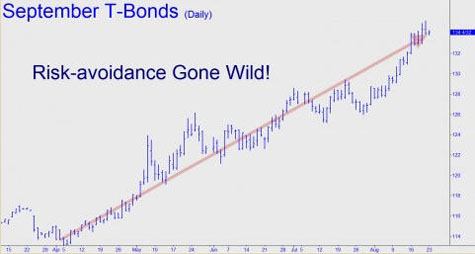 They're in good company, as it would seem money managers have thrown in the towel on shares too. Take a gander at the chart above if you want to see where all of their cash has been going. The chart should hearten those who are worried the U.S. government's recent decision to embark on a second round of quantitative easing will require a blowout of printing-press money. In fact, the demand for Treasury debt from sources other than the Federal Reserve seems all but insatiable at the moment. Are we being churlish to suggest this mania will not last forever?