Gold has been an increasingly popular trade, but as shares seem to have put in a lower high, there are several ways to play a pullback.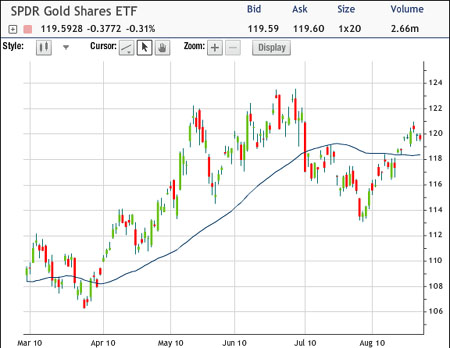 Many hedge funds and institutions have poured money into gold, and the SPDR Gold Trust Fund (GLD) is a popular vehicle for the precious metal. GLD is down 0.31 percent today to trade at $119.59, back below the key $120 level.
The GLD was a key topic of discussion on Friday's Options Action. Dan noted the crowded nature of the trade as well as the inability of GLD to hold above $120. He suggested a 1-by-2 put ratio spread to either protect a long position or simply take a moderately bearish view. Dan liked buying the September 116 puts for $0.80 and selling 2 of the 112 puts for a total of $0.60.
The net of $0.20 is the risk if shares are above $116 at expiration. GLD must fall 3.50 percent to reach breakeven, and maximum gain comes with shares fall 6.50 percent to $112 at expiration. Clearly this is a moderately bearish trade, not expecting a crash, but for a bit of pullback. It does have the risk of getting long the GLD at $112 if GLD falls too far too fast, but Dan sees that as an unlikely event.