A little over a week ago, Treasury Secretary Geithner wrote an article for
The New York Times
, entitled
Welcome to the Recovery
in which he touted the great strides that the U.S. economy was making. But, with unemployment still dangerously high, foreclosures and personal bankruptcies continuing at all-time records, shrinking manufacturing, burgeoning national debt and massive budget deficits, I can't see any recovery. I think all the economic rescue package did was save a few financial institutions from going extinct.
What's fascinating is how most people have "blind faith" in what they are told by their governments. No matter the rhetoric, the facts speak for themselves; and, statistic after statistic shows that the economic fundamentals continue to get progressively worse in the U.S.
Currently, given the fact that gold represents less than 1% of all global financial assets, as more people wake up and diversify into gold, prices will head much higher. In the long run, gold always maintains its value—unlike fiat currencies, which, historically, end in total failure. In 1933, when gold was confiscated from U.S. citizens, they were paid $20.67/oz. by the government. Imagine if you were not beguiled by your government into surrendering your gold, today you would be getting over $1,200/oz. Instead, you are getting less than $2 for the $20.67 you had in 1933.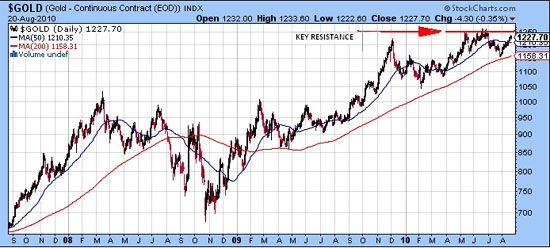 The primary trend for gold remains very much intact and upward. The recent drop in price from the historical high of $1,265 to $1,155 looks to have been nothing more than a small correction in the bigger picture. However, I expect to see some formidable resistance at $1,250 level. But, I believe that this level will be breached and we will soon see a new historical high for the gold price.