A remarkably bullish view of metals prices in 2012 was put forward by Credit Suisse Metals and Mining Analyst Michael Shillaker in a
Financial Times
article. Shillaker feels the market is unduly focused on near-term slowing in China and globally, believing China has merely bottomed out from the government-enforced cooling cycle and the economy will start to accelerate again from year-end and throughout 2011.
Looking as much at shares as metal prices, he says China's economy will be the next catalyst for mining shares to outperform, similar to those witnessed in 2001, 2005, 2007 and 2009. Not only will China increase demand through 2011 and into 2012, but demand "normalization" in the rest of the world will add fuel to the fire, "We still think that copper will reach $10,000 a ton by 2012, and relatively simple supply/demand analysis supports this." Shillaker predicted share prices have considerable upside potential, "We believe there is 30% upside potential to current share prices for the miners into year-end and, in some cases, potentially more than 100% upside over the next two–three years," he said.
We are not sure we are that bullish across all metals. Copper demand fundamentals appear quite sound on the face of it.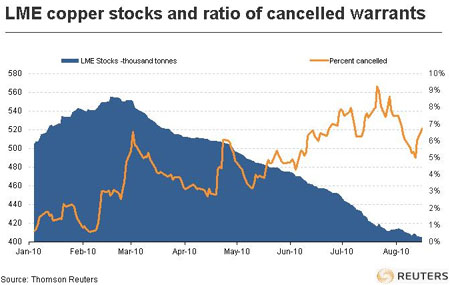 Copper inventory has been falling for much of this year even though this is usually the cyclical summer restocking period.
Many investment bank analysts are now advising clients to look through the broader "risk on-risk off" macro-trading picture and take strategic long positions to capitalize on the copper market's improving microdynamics (Analyst-speak for 'get over the short-term worries and focus on the longer term').