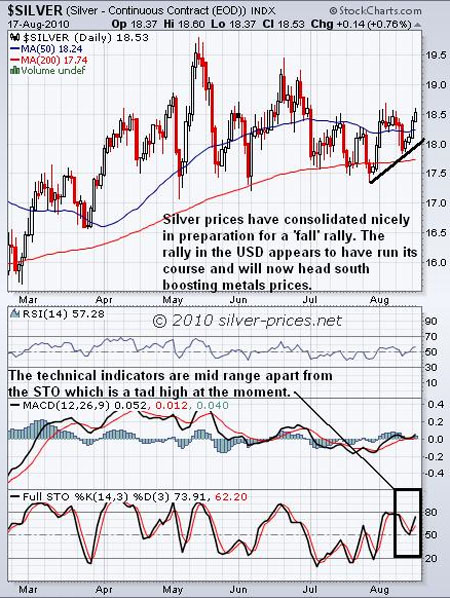 We kick off with a lighthearted review of silver, taking a quick look at the chart for silver prices where we can see that they have been consolidating nicely over the last three months or so. The technical indicators are more or less in the middle of their respective ranges and, as so, have room to move higher. This current setup bodes well for silver to make some real progress from now through January 2011.
The economic landscape does not appear healthy as the trillion-dollar stimulus packages already unleashed by various governments worldwide have done very little to boost the economies of any country. We now have a follow-up jab to ensure the patient doesn't die in the operating room—in the form of the QE2 LITE. What's the QE2 LITE, you ask? It's the printing presses going full tilt and producing dollars out of thin air once again. The Federal Reserve is pursuing the only answer it knows—creating cash from nowhere, which will eventually lead to a massive inflation. But you knew that as the decade-long rise in gold prices has been telling us.
Get into position to take advantage of the upcoming surge in silver prices by whatever vehicle best fits your objectives and investment criteria.
Now, if we look at the USD chart, we can see its demise came to a sudden halt as the broader markets rocked a little and stocks were sold off resulting in a small boost for the dollar. This short rally appears to have run its course and we now expect it to retest the 200-day MA once again. The technical indicators are mid-range except the STO, which is a tad high and is about to curl over and head down.