Gold prices were resilient Wednesday and were near session highs despite some earlier profit- taking.
Gold for December delivery was adding $1.30 to $1,229.60 an ounce at the Comex division of the New York Mercantile Exchange. The gold price Wednesday has traded as high as $1,229.70 and as low as $1,218.90 on light volume. The U.S. dollar index was losing 0.05% to $82.18 while the euro was slipping tentatively to $1.28 vs. the dollar. The spot gold price Wednesday was up $3, according to Kitco's gold index.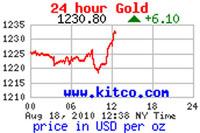 Investors Wednesday flirted with profit-taking and bargain-hunting as the majority of them were reluctant to sell out of big gold positions and held the metal as a safety net against volatile stocks. Gold prices had sold off earlier in the trading session but the dip was met with steady buying. This dedication to gold could set the stage for a rally in the fall.
Gold prices historically can rise as much as 2.5% in September, which would push prices towards their intraday high of $1,264 an ounce.
Other analysts are not so bullish. Some expect a deeper correction in the coming months.
"I think over the last couple of weeks the U.S. dollar has put in a major bottom," says Pratik Sharma, managing director at Atyant Capital. "As long as you see continued U.S. dollar strength I think gold will remain in a corrective/consolidated phase."
Over the long term, consistent downbeat economic data and cautious outlooks from companies could curb risk appetite and prompt another flight to safety into gold.
Gold prices have rallied almost 2% in the past week as investors fled into the metal as protection. The popular gold exchange-traded fund, SPDR Gold Shares(GLD), added almost 8 tons Tuesday. Shares were trading slightly higher at $120.11.