Last week, the USD staged a strong rebound following the FOMC monetary policy meeting statement in which it said the U.S. economy's growth track will be more modest than the Fed had expected in recent months. "The pace of economic recovery is likely to be more modest in the near term than had been anticipated," the FOMC said in a statement after meeting today in Washington. "To help support the economic recovery in a context of price stability, the committee will keep constant the Federal Reserve's holdings of securities at their current level." The Fed retained a commitment to keep its benchmark interest rate close to zero for an "extended period."
The selloff in U.S. equities intensified following a string of disappointing data and the DJI fell 3.3% by the end of the week. After hitting a major support level of 80, the U.S. Dollar Index rallied strongly, possibly due to short covering initiated at this level. Even though the USD rose almost 3% on the week, gold prices remained firm.
During the past 10 years investment demand for gold has increased 250. In China, sales of gold bars and coins increased 40% in the past six months. And, with the introduction of the new liberalized trading rules recently introduced in China, eventually hundreds of millions of Chinese citizens will have access to gold-linked investment products. The country is expected to increase mine production by 5% this year to 330 tons, again solidifying the nation's position as the world's number one producer.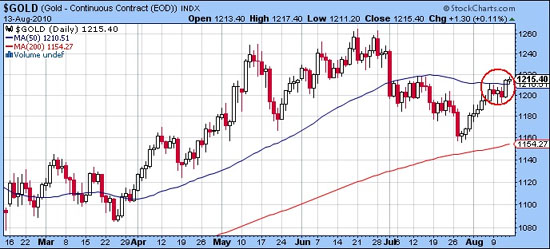 Gold has now rebounded $60 since its recent low made toward the end of July. In the last week, the price consolidated above $1,200/oz. (red circle) and it looks set to break above the 50-day MA. I believe that the prices will soon test the $1,220/oz level.