As shown in the chart below, September has traditionally been the strongest month for gold bullion with a rise of 2.6% above the August price. Gold has risen 65% of the time since 1970. November through February are also typically strong months.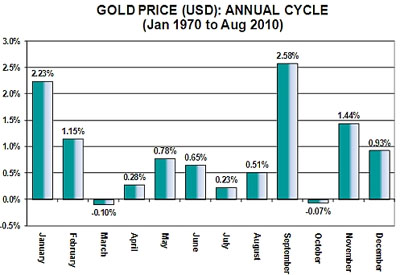 Source:
Plexus Asset Management
The following explanation for the seasonal pattern is offered by
U.S. Global Investors
:
If history is any guide, gold is about to get even more attractive because we are heading into the fall and winter gift-giving season. This is the time of year that gold jewelers typically do their biggest business.
The kickoff is the Muslim holy month of Ramadan, which starts next week and ends with generous gift giving in early September.
After Ramadan comes India's post-monsoon wedding season, and in November there's Diwali, one of
India's most important festivals. During the fall, jewelry makers in the U.S. and Europe stock up in advance of the Christmas shopping season. And in China, there are two big gold opportunities: the weeklong National Day celebration starting October 1 and Chinese New Year in early 2011.
With the demand/supply situation looking very favorable (including China encouraging its rapidly growing middle class to stock up on the yellow metal) and the U.S. putting the printing press to maximum use, gold bullion remains one of my preferred investments.