Weather is one of the major swing factors that dictates natural gas prices, because 40% of annual consumption is tied to warming U.S. up in the winter and cooling U.S. down in the summer. This year the natural gas industry has been remarkably lucky. Amidst rising production from the infamous shale plays, last winter was quite cold in the big consuming regions of the United States. Depressingly low prices, like those witnessed in spring 2009, were averted this year.
Now the blazing sun is helping too. Figures 1a and 1b show this year's weekly cooling degree days by region compared to 2009 and the five-year average. Yet prices really haven't moved up that much.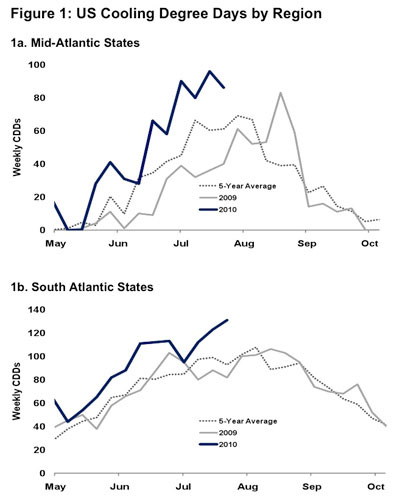 Those in the natural gas industry lament the good ol' days of last decade when a cold winter followed by a hot summer would have yielded prices above $10.00/Mcf. That's because gas production over the past decade was always assumed to be steady-at-best with a constant threat of gradual decline when rigs eased up on drilling activity
But today, production continues to rise regardless of weather. U.S. gas wells, led by shale producing regions, are now pushing the most amount of natural gas into pipelines since 1974. By the end of this year it's likely that U.S. production will hit an all time high. In short, this coming winter had better be cold again.
But the real issue remains; the business of producing natural gas has fundamentally changed over the past decade. The threat of abundance now drives prices more than the risk of seasonal scarcity. That dynamic is not going to change meaningfully until North American gas producers can serve growing overseas customers. Only then will the industry be able to flourish, whatever the weather.