We remain convinced gold has yet to make its 2010 high and expect an assault on $1,300 to begin in about a month. However, we are not convinced that buying more call options on gold is the right move for now, as we expect upside action to be fairly limited over the next few weeks. This is partially due to seasonality weakness in gold and the heavy selling we saw in 'out of the money' gold call options and futures this week whenever gold showed some strength. Thus, many trapped speculative longs could be looking to exit positions when the price turns slightly in their favor, creating a dampening price effect.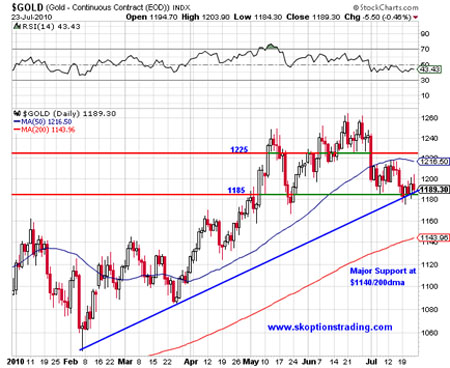 A gold close above $1,225 will signal the major rally to a new all-time high is beginning. It now appears that the $1,185 support level we previously saw is slightly lower but didn't drop further.
If gold were to break down, major support is at $1,140 and on the 200-day moving average (MA). In this bull market, gold has remained below its 200-day MA for a long period only onceóduring the 2008 financial crisis.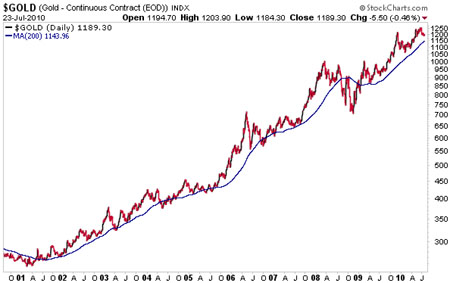 We see limited short-term upside with higher prices expected later this year and short-term downside at $1,140.
For those using unleveraged vehicles such as GLDówait it out. However, if you want to increase your positionóbuy half now and another half in one month or on drop in gold towards its 200-day MA, whichever comes first.
Selling August puts with strikes below $1,140 is also a possibility. Once they expire, we'll consider buying 'out of the money' call options on gold again with strikes above $1,250, expiring in January 2011. We believe it's the right way to go for the next month.